Lately, it seems like everyone is talking about content marketing. That's because more and more businesses realize how important compelling content is to draw in new customers and keep the ones they have.
Even if you're unfamiliar with the term "content marketing," you've almost certainly been exposed to it. And there's a good chance you've even consumed some content created by a company trying to sell you something without realizing it.
Content marketing is beautiful when executed well and doesn't feel like marketing. Instead, good content marketing provides readers with valuable information that entertains, educates, or inspires them.
If you're still not convinced of the power of content marketing, consider these examples to see how some of the best brands in the world are using it to drive actual results.
What Is Content Marketing?
Content marketing involves multiple formats of creating and sharing online material (such as videos, blog posts, long-form articles, visual content, white papers, and social media posts) that does not explicitly promote a brand but is intended to stimulate interest in its products or services.
Many businesses use it to build rapport with their audience segments and create a more personal connection with potential and existing customers. When done correctly, it can be an extremely effective way to drive leads and sales and perform well in search engines.
Some of the most popular content formats include:
Blogging: A content format that includes publishing articles or writing blog posts such as company news, a success story, or quotes on a company website or blog.
Video marketing: Creating and sharing video content, such as product demos, tutorials, or viral ads.
Social media marketing: Sharing written content on platforms such as Facebook, Twitter, and LinkedIn.
Infographics: Creating visuals that explain complex topics or data in an easy-to-understand way.
Podcasts: Creating and sharing audio content, usually in interviews or discussions.
Email marketing: Sending subscribers newsletters, special offers, or other email content.
If you're looking to get started with content marketing, it's essential to understand the basics and how they can be used to achieve your business goals. Let's take a more in-depth look at some of the most compelling examples.
20 Examples of Successful Content Marketing
Content marketing is a popular and effective way for businesses to attract and engage with customers. Here are 20 examples of successful campaigns from various industries.
One of the most famous examples is Canva's Design School. The company, which offers a graphic design platform, has a robust blog post full of design tips and tutorials. This provides valuable content for their audience and positions Canva as a thought leader in the design space.
Graphic design platform Canva launched its weekly "design challenge" series on Instagram. They encourage their followers to recreate a featured design with their software and share it for a chance to be featured on Canva's Instagram page. This creates user-generated content while also demonstrating the capabilities of the Canva platform.
Key Takeaways
Offer valuable written content related to your industry and position yourself as a thought leader in your own blog
Utilize user-generated content to showcase your product or service in a real-life setting and to provide social proof to potential customers
Use social media platforms for unique and interactive campaigns to aid lead generation.
MailChimp's All in a Day's Work Series
MailChimp, a popular email marketing platform, launched its "All in a Day's Work" series to showcase how small businesses use their platform in unique and creative ways. Each episode highlights a different business, delving into its day-to-day operations and how they utilize MailChimp for its marketing efforts.
This campaign educates potential customers about the platform and highlights the success of real businesses using MailChimp. This is a fantastic way for the company to showcase its product in action and establish thought leadership within the industry.
Key Takeaways
Showcase how your product or service can benefit real businesses through case studies or customer stories
Educate potential customers about the capabilities and benefits of your offering
Establish thought leadership within your industry.
Frequently, content marketing campaigns can feel gimmicky or inauthentic. However, Spotify's annual "Wrapped" campaign is a prime example of successful, engaging content marketing. Each year, the streaming platform compiles personalized data for each user, including their top listened-to artists and songs and their total minutes streamed over the past year.
This campaign encourages users to continue using the platform and sparks conversation and interaction amongst friends as they compare and contrast their Wrapped statistics. In addition, Spotify utilizes user-generated content by allowing users to share their Wrapped results on social media, further expanding the campaign's reach.
Key Takeaways
Provide personalized content for your audience to encourage continued engagement with your brand
Create a sense of community and conversation amongst customers.
Sitting at over 4.5 million followers, Duolingo's TikTok account is a premium example of successful content marketing. The language-learning app uses its platform to showcase the unique and entertaining ways its product can be used, such as learning sign language or speaking in a foreign accent.
Their videos also often feature clever animation and catchy music, making them visually appealing and highly shareable. Additionally, Duolingo smartly includes a call-to-action as a link to their app in the video description.
Overall, Duolingo's TikTok presence successfully showcases the benefits and fun aspects of its product engagingly, ultimately driving more users to download the app.
Key Takeaways
Utilize social media platforms in unique and visually appealing ways
Highlight the entertaining and beneficial aspects of your product or service
Include a call-to-action to drive conversions on your landing page.
Starting as a funny YouTube channel, You Suck at Cooking has grown into a successful channel with hundreds of thousands of subscribers. The host, Bryan, uses humor and relatable cooking blunders to connect with his audience and make cooking approachable for the everyday person.
Bryan's ability to consistently create new and engaging content sets this channel apart from others, from recipe videos to tutorials to product reviews. He also promotes products and brands naturally and authentically, making him an attractive partner for companies looking to reach his audience.
Key Takeaways
Don't be afraid to use humor in your strategy
Use multiple platforms, such as a YouTube channel and a physical product, to promote yourself and your brand
Take advantage of running gags or themes to make your content stand out and build a devoted audience.
Hailing as one of the top business communication platforms, Slack used its Frontier Conference to showcase the value and power of its platform by bringing together thought leaders and industry experts to share insights on team collaboration and productivity.
The conference provided attendees with valuable information and allowed Slack to position itself as a go-to resource for companies looking to streamline their communication and improve their overall performance.
The videos of the forums are also published on the company's YouTube channel, allowing a broader audience to access and benefit from the content. This not only strengthens Slack's brand as a thought leader in the industry but also drives traffic to its website and potentially converts viewers into customers.
Key Takeaways
Use events to showcase the value and power of your product or service
Position yourself as a thought leader in your industry
Repurpose existing content to expand the reach and drive traffic to your website.
Founded in 2010, Warby Parker disrupted the eyewear industry by offering high-quality prescription glasses at a fraction of the price. One of their key strategies for success has been their email marketing campaigns.
From clever subject lines to personalized recommendations, their emails consistently drive customers back to their website. Additionally, they offer exclusive promotions and deals to email subscribers, creating a sense of exclusivity and boosting customer loyalty.
Key Takeaways
Email marketing can drive customers back to your website
Personalization and exclusive deals can boost customer loyalty
Use creative and eye-catching designs in email campaigns.
Design Personality by Airbnb
Airbnb's marketing campaign not only promotes their services but also taps into the interests of their audience – interior design and travel.
By partnering with Domino magazine, a well-known authority in the design world, they can add credibility and appeal to customers looking for both practical and aesthetic inspiration.
Additionally, the interactive nature of the quiz engages users and encourages them to think about how they can incorporate the results into their future Airbnb experiences.
Key Takeaways
Partner with industry leaders to add credibility and appeal to your marketing campaign
Create content that engages users and promotes your services at the same time
Use quizzes or other forms of interactive content as a sales funnel for recommendations and additional information.
In recent years, HubSpot has gained immense popularity in content marketing for its approach to inbound marketing. They focus on creating high-quality content that attracts customers organically.
One example of their successful content strategy is the HubSpot Academy. This platform offers a range of free courses with downloadable templates and certifications for digital marketing, sales, and customer service professionals.
By providing this valuable resource, HubSpot positions itself as a thought leader in the industry and attracts potential customers interested in its services. Another example is their blog posts, which offer a wealth of information on various aspects of digital marketing.
Key Takeaways
When creating content, focus on providing value to your audience, which can be extremely helpful.
Also, consider different mediums, such as online courses, blog posts, white papers, or your podcast, to attract many inbound links and diversify your blog content strategy.
Consider how your content can help position you as an industry thought leader and attract potential customers.
BlendTec
Viral YouTube videos demonstrating the power of their blenders by blending random objects (think iPhones and marbles) allowed BlendTec to showcase their product's capabilities while attracting a large online following.
The company saw an increase in sales thanks to these creative content marketing efforts. The "Will it Blend" challenge series on YouTube has helped build a strong brand identity for BlendTec and drive sales and customer loyalty.
Key Takeaways
Unique and creative content can attract attention and build a strong brand identity.
Use various channels, such as social media, to reach a wider audience and drive sales
Amazon's Garage Delivery Service
The online retail giant Amazon launched a new service called Garage Delivery in 2019. This service allows customers to deliver their Amazon orders directly to their garage or car trunk using innovative technology and secure entry access.
This marketing example highlights the convenience and innovation of Amazon's services and its dedication to customer satisfaction.
By offering this option, they cater to a specific customer need and create loyalty among those who may have previously faced challenges with package delivery.
By addressing a pain point and offering a solution, they not only attract new customers but also reinforce the value and trust in the Amazon brand.
Key Takeaways
Cater to specific customer needs and pain points
Offer innovative solutions
Reinforce the value and trust in your brand.
Indeed "New Beginning" Commercial
One content marketing example that stands out to us is Indeed's "New Beginning" commercial. In this YouTube video, a gender non-conforming job candidate named Taylor goes through the process of preparing for an interview and discussing their preferred pronouns with the interviewer.
This commercial showcases Indeed's platform and highlights its belief in inclusivity and diversity in the hiring process. This YouTube video ad is an excellent example of how content marketing can touch on serious issues and showcase a brand's values to potential customers.
Overall, this commercial is a strong example of utilizing content marketing to advertise a product or service. It also brings attention to critical societal issues and conveys that a brand-diverse group of individuals is shown starting new chapters in their careers with the help of Indeed's job search platform.
Key Takeaways
Content marketing can be used to highlight critical societal issues and a brand's values
Showcasing diversity and inclusivity can attract potential customers
Advertising can also go beyond just promoting a product or service and convey a brand's identity and beliefs.
A Johnson & Johnson brand, Neutrogena launched its Creator Studio in 2020 to allow influencers and content creators to share their experiences with the brand's product lines. The platform allows creators to submit their content for the chance to be featured on Neutrogena's social media channels or even be selected for sponsored campaigns.
This strategy has allowed Neutrogena to tap into diverse content creators and deliver authentic, relatable marketing to their audience. Additionally, the Creator Studio allows for customer feedback and reviews, providing valuable insight into the brand's product development.
Key Takeaways
Utilizing influencers and content creators can add diversity and authenticity to your brand's marketing efforts
Incorporating customer feedback can also improve product development.
Buffer, a social media management tool, uses content marketing to attract and retain customers. The Buffer team shares valuable insights on social media strategy and effective online marketing tactics through their blog.
They also consistently produce engaging visual content, such as infographics and video tutorials, to offer a fresh perspective on common industry topics. The combination of informative blog posts and visually appealing content helps position Buffer as a thought leader in social media, resulting in organic brand awareness and customer loyalty.
Key Takeaways
Consistently producing valuable blog content can lead to organic brand awareness and customer loyalty
Mixing blog posts with visually appealing content, such as infographics and videos, can keep your marketing strategy fresh and engaging.
The Washington Post's TikTok account features short, engaging videos that highlight news headlines and current events. These bite-sized snippets of information attract a younger audience and make the sometimes daunting task of staying informed more enjoyable.
Key Takeaways
Utilizing popular platforms can help attract a wider audience
Providing easily digestible information can make the act of staying informed more enjoyable
The Washington Post successfully implements this strategy on its TikTok account.
Apple's "Shot On an iPhone" Campaign
One of the most successful content marketing campaigns in recent years has been Apple's "Shot On iPhone" campaign. The campaign showcases stunning photographs taken entirely on iPhone cameras, highlighting the device's impressive photography capabilities.
As part of the campaign, Apple hosts photography challenges, such as the recent "macro challenge," where iPhone users submit their macro photography taken on the iPhone 13 Pro and Pro Max. Winners may have their photos featured in Apple's digital campaigns, store locations, billboards, and public exhibitions.
This campaign highlights the features of the iPhone camera and allows customers to engage with the brand and share their creative content. It's a great example of how a brand can showcase its products through UGC.
Key Takeaways
Encourage user-generated content to highlight your product's features
Highlighting product features through creative campaigns can engage customers and showcase the brand in a positive light.
Venngage's Free Product
As one of the top online design platforms, Venngage offers various templates and graphic elements for creating infographics, presentations, reports, and more. But did you know that they also offer a free product version?
This allows users to try out the platform and see if it fits their needs before committing to a paid subscription. Not only does this drive conversions by giving potential customers a taste of what Venngage has to offer, but it also showcases the value and usefulness of its product.
This is an excellent example of using content marketing to attract new customers and retain them by providing valuable and accessible resources.
Key Takeaways
Offering a free product or trial may attract and retain customers and showcase the value and usefulness of your product through content marketing.
Use visuals and graphics to enhance your blog content and make it more engaging for your audience.
This famous commercial campaign features a likable character, Jake, who interacts with State Farm customers in various situations and showcases the company's services. This campaign has been praised for its relatable storytelling and clever use of social media to extend the reach of the advertisements.
It has also effectively positioned State Farm as a helpful and approachable brand.
This campaign also incorporates user-generated content. State Farm often encourages customers to share their experiences with Jake and State Farm, adding a personal touch to the company's social media presence.
Key Takeaways
Use relatable storytelling, incorporate user-generated content to provide social proof to potential customers, and showcase your brand's personality.
Lifestyle and wellness company MINDBODY promotes its software solutions to businesses in the fitness industry through its Education Content Hub. This section of their website features blog articles, podcasts, infographics, and videos, all aimed at helping gym owners and fitness professionals improve and grow their businesses.
This positions MINDBODY as a thought leader in the industry and showcases its software solutions' value in helping businesses succeed. By providing helpful and informative content to their target audience, MINDBODY can establish trust and credibility with potential customers, ultimately leading to sales.
Key Takeaways
Another successful example of content marketing is the Crunchyroll Collections. This online platform for anime fans provides streaming services for popular shows and curates collections of merchandise and apparel based on fan-favorite characters and series.
By utilizing their audience's love for specific franchises, Crunchyroll can market both their streaming service and their merchandise in a more targeted and engaging way. Furthermore, the platform offers exclusive content such as interviews with voice actors and behind-the-scenes footage, further appealing to their audience and strengthening their brand loyalty.
Key Takeaways
Utilizing target audience interests can be a key tool in your content marketing arsenal
Offering different interactive content format can increase brand loyalty and engagement.
Benefits of Content Marketing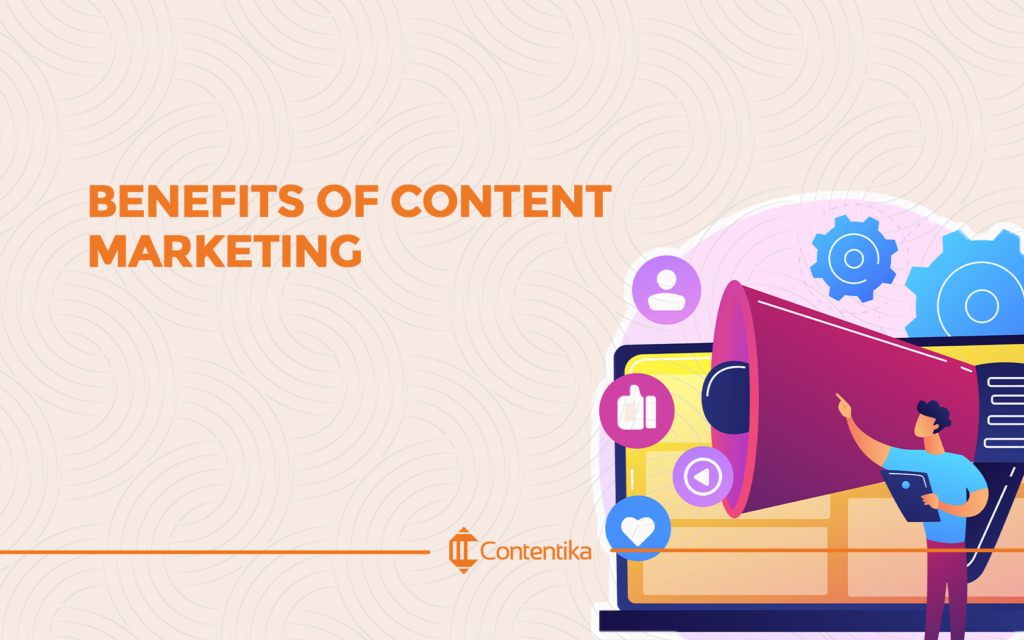 There are many benefits to incorporating content marketing into your overall marketing strategy.
First, it can help drive traffic to your website, attract guest posts, and improve search engine optimization (SEO) by using keywords and valuable content that keeps users engaged.
You can establish yourself as an industry expert and thought leader by providing helpful information to your audience, leading to increased credibility and trust among potential customers.
Additionally, your content marketing teams can help generate leads and conversions by giving readers a call to action or offering downloads of valuable resources in exchange for contact information through content marketing.
It can also aid in customer retention and loyalty, as it provides a way to continually engage with your audience and offer them valuable information even after purchasing. Overall, content marketing can provide long-term results and ROI for your business.
Bottom Line
In this day and age, it is essential to have a solid content marketing strategy in place. By offering valuable information on a particular subject to your audience and establishing yourself as an expert in your industry, you can drive more traffic to your blog post, generate leads, and improve customer loyalty.
Considering these examples, consider implementing content marketing into your overall marketing efforts. Some examples of successful content format include how-to guide, blog posts, newsletter campaigns, white papers, social media posts, video content, and ebooks.
Regardless of your tactics, always remember to provide valuable and relevant information to your audience and continually engage with them through various channels. This will ultimately lead to a successful and profitable content marketing strategy.