Email marketing remains one of the most effective marketing strategies for businesses. Not only is it an inexpensive way to reach potential customers, but it also offers measurable and trackable results, making it easier for you to understand how successful your campaigns are.
To really take advantage of how well email marketing works and get the most out of a campaign, you need to have access to key metrics and know how to analyze them.
Only then can you see which emails are working well or identify areas where changes may be needed, as well as determine whether particular campaigns have achieved their objectives. So what statistics should you look at when trying to improve your email marketing? Here's a guide on how to use activity data to get the best possible results.
The Top Email Marketing Stats To Improve Campaigns
Email Usage Statistics
Email usage statistics have come a long way in the past few decades. With over 4.3 billion users worldwide projected for 2022 and expected to reach 4.6 billion by 2025, email marketing is an opportunity that businesses shouldn't pass up on.
With an expectation of 333.2 billion emails being sent and received each day, email marketing has proven to be resilient and strong despite newer forms of communication emerging in the digital age. As this figure is expected to rise to an astonishing $392.5 billion by 2025, businesses have a great deal of opportunity to take advantage of this effective form of customer engagement and communication.
If your business operates in the developed world, chances are your customers are using email, regardless of its size. Therefore, email marketing campaigns can be a powerful tool to reach out to them 24/7. Compared to other channels like TV advertising or print media, email provides businesses with a cost-effective way to expand their customer base with minimal effort.
It lets them organize their plans better and connect with their audiences right away. This shows how powerful email can be in reaching out to its target audience and stirring action among them. As the world continues to embrace email and digital technologies, it's important for businesses to ensure they're keeping up with the trend and capitalizing on emails as a marketing tool.
Mobile Email Marketing Statistics
Mobile email marketing stats are telling and should be a major factor when optimizing your campaigns for success. With over 50% of all read emails coming from mobile devices, you need to ensure that your emails look great on any screen and are easy to navigate.
If your content isn't optimized for mobile devices, 75% of people will delete it right away, making all the hard work put into designing those campaigns go down the drain! So make sure your emails have responsive templates to guarantee they'll display properly across different devices.
It's also important to note that if an email is opened on a mobile device but then opened again later on a desktop, there's a 65% higher likelihood of click-through. So don't forget to optimize for both mobile and desktop use, or else you might be missing out on all the opportunities that come with emails read multiple times.
Content Distribution via Email
Email marketing is an incredibly powerful and effective method of content distribution. It's a great way to extend the reach of your content by tapping into your partners' email databases or just pushing it out to your own list.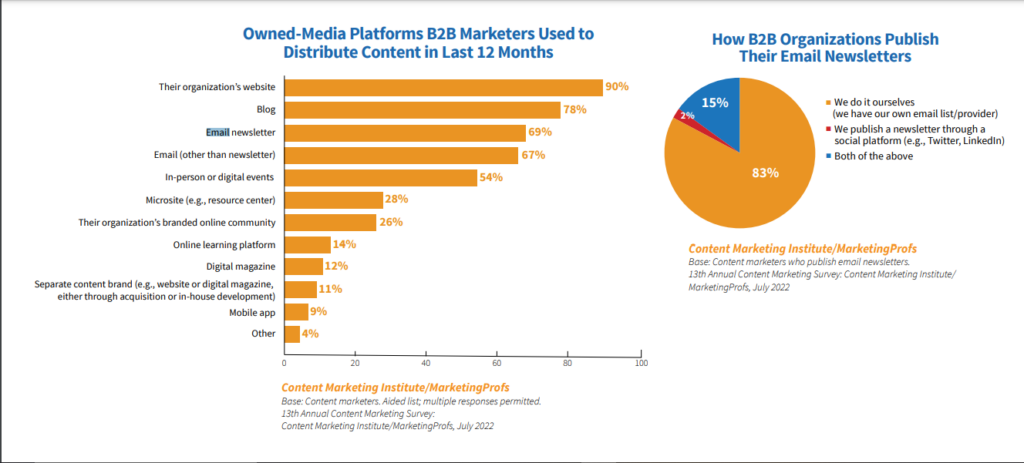 Source: ContentMarketingInstitute
Statistics show that up to 69 percent of marketers use email marketing to share their content. This makes it the third most popular way to share content, after company websites and blogs.
You can increase user engagement with your content by using email to spread the word, which will result in higher open rates, click rates, and downloads—all metrics that 83 percent of marketers use to gauge success.
Paid collaborations are also working well in this area, with more than a third of marketers using them to spread the word about their content. Email marketing is a great way to ensure your content reaches even more people and should be an integral component of any successful content distribution strategy.
Email Marketing in Facilitating Business Growth
Email marketing has been proven time and again to be the most effective way for small and midsize businesses to reach their target audience, capture leads, and increase sales. A recent study by Emarsys found that 81% of SMBs rely on email as their primary customer acquisition channel, while 80% view it as an essential tool for customer retention.
Furthermore, this data shows that emails have significantly higher open rates than organic search, paid search, or social media content. It's easy to see why—not only is it extremely cost-effective (often free or low-cost), but it also offers a highly targeted approach with measurable results.
Not only can you keep track of who's opening your emails and clicking through, but you can also easily adjust your campaigns according to customer behavior in order to maximize ROI.
Email Campaigns With Visual Content
Email campaigns with visual content can be extremely effective when engaging your readers. Videos are the most popular choice for email marketers, as shown by the stats: embedding a video in an email increases CTR by 96%, and using the word "video" leads to a 19% increase in open rates and a 65% increase in click-through rates.
Photos are also incredibly powerful, with two-thirds of people preferring emails that consist mostly of images. However, it's important to note that users won't wait forever for your images to load, so it's essential to keep picture sizes small and make sure they load quickly.
Finally, remember that 43% of recipients read emails without images turned on, so it's important to include text and other visuals in the body of your message. By taking advantage of these statistics, you can ensure that your visual content is as effective as possible in helping to engage and convert your readers.
Personalized Email Marketing Statistics
Personalized emails are becoming increasingly important in email marketing campaigns. With 78% of marketers now using personalization to create more relevant messages, and 6x higher transaction rates when emails are personalized, it's clear that personalization is a strategy worth investing in.
From demographic-based personalization, such as gender and age, to product-based personalization, like Netflix recommending TV shows and movies based on what users have watched and loved, using customization can be incredibly powerful when done right. And, according to 66% of marketers who personalize based on age data, it pays off!
When your emails are tailored specifically to each user, they'll be far more likely to engage with the content, making personalized email marketing statistics an invaluable tool for your email strategy.
By using personalized email marketing statistics, you can make more interesting and relevant campaigns for each user.
By understanding which strategies and tactics work best for different segments of your user base, you'll be able to craft messages that truly resonate with them, increasing engagement and transaction rates as a result. Investing in personalization is sure to pay off in the long run, so don't miss out on these amazing opportunities!
B2B Email Marketing Statistics
Email marketing is an invaluable tool for B2B businesses, allowing them to reach out to their customers and prospects in a more direct and efficient manner. Recent statistics show that 77% of B2B companies use an email newsletter as part of their content marketing strategy, and 79% of marketers find email to be the most successful channel for distributing content.
On top of this, emails sent by B2B marketers have a 23% higher click-to-open ratio than those sent by B2C companies, making them even more effective when it comes to converting leads into customers. Furthermore, 59% of B2B marketers cite email as their top revenue generation channel, highlighting just how vital this tool is for business success.
Therefore, make sure to take advantage of email marketing statistics so you can optimize your campaigns and reach your business goals.
B2C Email Marketing Statistics
Email marketing has also become an invaluable tool for B2C businesses to boostcustomer retention and drive sales. According to a survey, 59% of respondents believe that marketing emails influence their purchase decisions, while 80% of business professionals agree that email marketing increases customer loyalty and retention.
In addition, 42.3% of Americans subscribe to email lists to get discounts and savings. Moreover, roughly one in three US retail email list subscribers has purchased something from the brand whose emails they receive.
Email ROI
Email marketing offers a high return on investment. For every dollar spent on email marketing efforts, the average return on investment (ROI) is an incredible $45. That's significantly more than what you'd get from SEO and keyword ads, which yield an ROI of $22.24 and $17, respectively.
This impressive ROI serves as proof that businesses can rely on email marketing campaigns to bring in reliable revenue while also engaging their existing customers and building relationships with potential ones.
With its ability to offer both monetary and non-monetary returns, investing in email marketing is one of the best ways your business can grow its bottom line without breaking the bank.
Statistics on Interactive Emails
Interactive emails are the way forward if you want to maximize user engagement. With click rates increasing by up to 300% when videos are included in emails, it's clear that taking a more dynamic approach will help ensure customers take notice of your campaigns.
Adding elements such as sliders, collapsible menus, and GIFs makes it easier to capture their attention. When creating interactive emails, however, make sure they are optimized for mobile devices; this will ensure all customers have the best experience possible when engaging with your content.
Statistics on Abandoned Cart Email
Abandoned cart emails are undoubtedly one of the most powerful marketing tools available to e-commerce businesses today. It is a great way to entice customers back into shopping with you once again by offering them special deals or discounts on items left in their cart. Not only will this help you win back sales, but it also improves customer loyalty and brand recognition.
Statistics show that when merchants send three abandoned cart emails, it leads to an increase of 69% in orders compared to a single email. This means that you can turn potential customers who were about to leave your website without making a purchase into paying customers by strategically using abandoned cart emails.
With such significant results, it is clear why this type of email should be utilized by any e-commerce business looking to drive more revenue.
Not only do these emails bring back lost buyers, but they also provide valuable insights that can be used as part of broader marketing strategies, helping you understand what your customers like and don't like as well as how to create more effective emails in the future.
Email Engagement Statistics
Email engagement statistics are key to improving your email campaigns. It's important to have a catchy, timely subject line that will draw subscribers in and compel them to open the email. Experian found that emojis can increase open rates by 56%, making them an effective way to grab attention from subscribers.
After you've grabbed their attention, be sure to keep it with relevant content and clear calls to action. Subscribers who come from emails are much more likely to take action than those from search engines or social media—3.9x more likely to share on social media, and 4.24% of visitors from emails buy something compared to 2.49% of visitors from search engines and 0.59% from social media.
However, don't send too many emails or you risk losing subscribers—the top three reasons for unsubscribing from an email list are too many emails, information no longer being relevant, and not recognizing the brand or remembering signing up. By following these tips, you can ensure that your email engagement statistics remain high!
The Effects of Welcome Emails
Welcome emails are a great way to kick off your email marketing campaigns. With an open rate of 91.43%, they offer a fantastic opportunity for you to engage with your audience and get them excited about what's to come in the rest of your email marketing campaign.
You can use the welcome email to introduce yourself, share some unique value that comes with being part of your mailing list, and make sure you're giving them something they won't want to miss out on.
Additionally, you can use this as an opportunity to set expectations for future emails by providing information about how often they will be receiving messages from you or letting them know what types of content they can expect from you going forward.
By setting clear expectations in the welcome email, you can ensure that your subscribers are engaged and anticipate future emails from you. Utilizing the power of welcome emails in this way will help to keep your audience excited and engaged, paving the way for a successful email marketing campaign overall.
Email Automation Statistics
Email automation is quickly becoming a necessity for businesses of all sizes and industries. On average, 51% of companies use some form of automated email to reach their customers. This number increases significantly to 64% among B2B respondents.
The statistics don't lie when it comes to triggered emails; these outperform comparison batch and nurture ones three times over! Triggered emails have been found to result in eight times more opens than typical bulk emails, as well as 0.58% lower unsubscribe rates and 0.06% lower spam rates.
The best tactics for automation are mapping the customer experience and personalizing messaging. Overall, the three major benefits of email automation for businesses are time savings, lead generation, and increased revenue. All this data shows that automated emails are a great tool to use in your company's email marketing strategy.
Other Email Marketing Stats
17% Of Us Check on Our Emails Immediately Upon Waking
This presents a great opportunity for savvy marketers to capture their audience's attention first thing in the morning and provide them with informative content about the latest products and services they can offer.
As customers plan out their days, emails can be used as an effective tool to inform them of upcoming sales or special offers on essential products they may need. For example, you can use email marketing campaigns to alert people about discounts available on winter boots before the cold weather hits—something they may not have been expecting but could definitely use.
Customers Are Interested in Hearing From You
Do you ever worry that if you send emails to your customers too often, they'll start to view them as annoying?
Well, fear not! Many customers actually enjoy hearing from their favorite brands on a weekly basis. In fact, according to Statista, 49% of consumers would like promotional emails sent to them at least once per week.
This is great news for those looking to run an email marketing campaign and make sure it's successful. By understanding the frequency with which consumers want to hear from you, you can be confident in your campaigns and know that people are more likely to engage with them positively.
Email Affects Purchasing Choices
When it comes to influencing purchasing decisions, email marketing continues to be an invaluable tool for any small business. 97% of businesses uses email marketing to convert email recepients to potential buyers.
With a comparatively low-cost investment in email marketing and the latest bells and whistles, you can reach tens of thousands of potential customers on a regular basis over the course of the year.
This is far more cost-effective than other forms of digital advertising like Google or Facebook Ads, which would require much larger amounts of money to achieve a similar amount of touches. Plus, recent studies have shown that people are more likely to act on emails than they are on ads from social media platforms.
Every email sent out is an opportunity to engage with your audience and potentially drive sales up – making it one of the most important parts of your marketing strategy. Use these email marketing statistics to ensure that your campaigns are as effective and successful as possible!
For Permission-Based Marketing Messages, 77% Of Customers Prefer Email
Email marketing is an incredibly powerful tool, and according to statistics, 77% of customers prefer it for permission-based marketing messages. This makes sense, as email provides a great way to communicate with potential customers in an environmentally friendly way that also happens to be relatively cost-effective.
Not only that, customers who receive emails are more likely to make purchases than those who don't. This could be because they feel like they have been invited into the conversation and can easily compare different offers without having to sift through piles of physical catalogs.
With this data in mind, marketers should take advantage of email campaigns by ensuring that their offers are engaging and personalized so as to draw people in.
FAQs
What Is the Success Rate of Email Marketing?
In 2021, the average conversion rate for email campaigns peaked at an impressive 8.87%. This past year, however, saw a small decline in the overall conversion rate to 8.17%. Despite this dip, email marketing remains an incredibly powerful tool for reaching customers and converting them into paying customers. 
What Is the Average ROI for Email Marketing?
For every dollar you invest, you can expect an average of $36 in return! Targeted emails and list-segmented emails are especially effective, driving as much as 36% of your total email marketing ROI. When it comes to email marketing, investing in the right strategy can make a huge difference when it comes to ROI.
Is Email Marketing Still Profitable?
Yes, email marketing remains an incredibly profitable channel. In fact, 65% of small businesses are taking advantage of it to reach their customers, with 35% sending 3-5 emails per week. However, the true value lies in understanding how your campaigns perform and using the data to improve them. 
Why Does Email Marketing Fail?
Email marketing is a great way to connect with your customers and build relationships. However, if your efforts fail to show results, it's likely that you're making some common mistakes. One of the most important things when running an email campaign is to ensure that it stands out from the crowd. This means avoiding boring and spammy lines, having a clear and strong call-to-action, and segmenting your email lists. 
Which Industry Uses Email Marketing the Most?
Retail is at the top of the list, with multiline and monobrand retailers dominating. Following behind them are financial services, travel and hospitality, manufacturing and natural resources, consumer goods, and healthcare – all industries that benefit from using email marketing to engage customers.
Conclusion
Email campaigns are a key part of any business's marketing plan, and it's important for success to keep track of your email stats. Monitoring the open rate, click-through rate, list growth, and unsubscribe rate of each campaign you send out allows you to gain valuable insights into what works and what doesn't.
Then, you can use this information to improve future campaigns by making better content that people like. Investing time in tracking and analyzing your email metrics will help ensure that every message you send is as impactful and successful as possible.
As we've seen in this blog post, there are many ways to use email marketing statistics to enhance your campaigns. From optimizing subject lines to trying out different content formats, the insights you get from your email metrics can be a powerful way to get your customers more involved and make your email marketing efforts more successful.