Content marketing can be overwhelming. However, content marketing analytics is essential if you want to understand how your content is performing and ensure that it effectively reaches its intended audience.
With the right marketing analytics software, you can monitor how well your content is performing, identify any weaknesses in your strategy, and make appropriate changes that will help you reach your desired objectives.
From measuring KPIs such as social media engagement to assessing customer sentiment towards your brand, there are a number of different metrics and data points that need to be tracked in order to understand the success or failure of your content campaigns.
In this article, we'll explore 11 of the most important content marketing analytic tools to use today so that you can get the most out of your efforts. Read on for all the details!
What Are Content Analytic Tools?
Content analytic tools are software applications designed to help marketers understand and analyze the effectiveness of their content. They are used to measure things like engagement, reach, conversions, and ROI.
These tools give marketers the ability to see how well their content strategies are performing in terms of reaching their desired goals. Using these tools helps businesses quickly gain insights into which pieces of content are doing well or not so well.
Analytical insights generated by these tools also help marketing teams easily adjust their content strategies accordingly and optimize them for better visibility and results.
Benefits of Content Analytic Tools
Content analytics tools provide powerful insights into your content performance. Leveraging these insights can help your business better understand its customer base, create more effective marketing campaigns and make data-driven decisions. Here are some of the key benefits that content analytic tools can offer:
1. Measure Content Performance
Having access to the right content analytic tools can help you measure and analyze the performance of your content marketing efforts. This data allows you to see how well your content is performing, identify gaps or opportunities for improvement, and make informed decisions about what content to create in the future.
Content analytics tools allow you to track key metrics like views, shares, clicks, likes, comments, conversions, and more. For example, if you want to know which blog post drove the most traffic last month you can use a tool such as Google Analytics or Hotjar to get that information quickly and easily.
In addition to tracking website metrics, these tools also provide insights into other areas such as email campaigns or social media engagement allowing you to evaluate how effective your strategies are.
And by understanding what content is performing well and what needs to be improved you can refine your approach, create more impactful and engaging content, and ultimately improve the return on investment of your content marketing efforts.
2. Understand Your Audience
Content marketing analytic tools provide marketers with a wealth of information about their target audience. It's important to have an accurate understanding of who your customers are, what they like and dislike, as well as what drives them to purchase or engage with your brand.
Leveraging content analytics tools can help you gain insights into customer behaviors and trends that will inform your future campaigns.
You can track metrics such as time spent on website pages, the number of visits to particular pages or sections of your site, and the types of devices used for accessing the content. This marketing and sales data will help you better understand user preferences so you can create more engaging experiences that keep people around longer.
3. Improve SEO
Content analytic tools provide a way to track and measure the performance of your content marketing strategy. These tools allow you to quickly identify areas where improvements are needed to help improve your SEO efforts.
For example, by tracking which keywords drive the most traffic to your website, you can develop better strategies for optimizing each page for specific keywords. You can also use such tools to identify potential competitors and their content strategies in order to stay ahead of the competition.
Additionally, these tools can show how users interact with your content on social media so that you know what types of posts perform best and which ones need more attention or adjustments.
4. Increase Engagement
Content analytic tools can help increase user engagement with your website or blog. Understanding the type of content that interests your audience gives you the insight to create more engaging and effective content.
For example, a content analytic tool can tell you which topics have been viewed the most on your site by tracking customer behavior. With this data in hand, you can optimize existing content or produce more related posts that they are likely to be interested in.
Content analytic tools also tell you what type of media works best for each topic, so you can tailor images and videos to match the subject matter. This helps keep users engaged, ensuring they stay longer and view more pages on your website or blog.
5. Maximize ROI
Analytics tools are essential for measuring the return on investment (ROI) of your content marketing efforts. Tracking the performance of your campaigns and initiatives can ensure that you're getting maximum impact from each piece of content you produce.
Analytics tools help you easily identify which pieces are resonating with your audience and make calculated decisions about where to invest resources in the future.
For example, if one blog post has generated significantly more traffic than another, it may be worth investing in a similar content idea or engaging with influencers who have helped promote that particular piece of content.
6. Monitor Competitors
Competitor monitoring is an important part of any successful content marketing strategy. Content analytic tools provide detailed insights into the performance of your competitors, enabling you to make informed decisions about how to improve your own campaigns.
For example, these tools will help you identify and track keywords used by your competitors, measure their social media reach and engagement rates, and compare their blog post topics and audience interests.
With such data in hand, you'll be able to tailor your content and strategies more effectively so that you can outrank your competitors and drive more traffic to your website.
Having these powerful insights into how your content is performing can help you make informed decisions about what type of content to produce and promote to maximize ROI. Use these tools today and start seeing amazing results tomorrow!
The Top 11 Content Analytic Tools
1. Google Analytics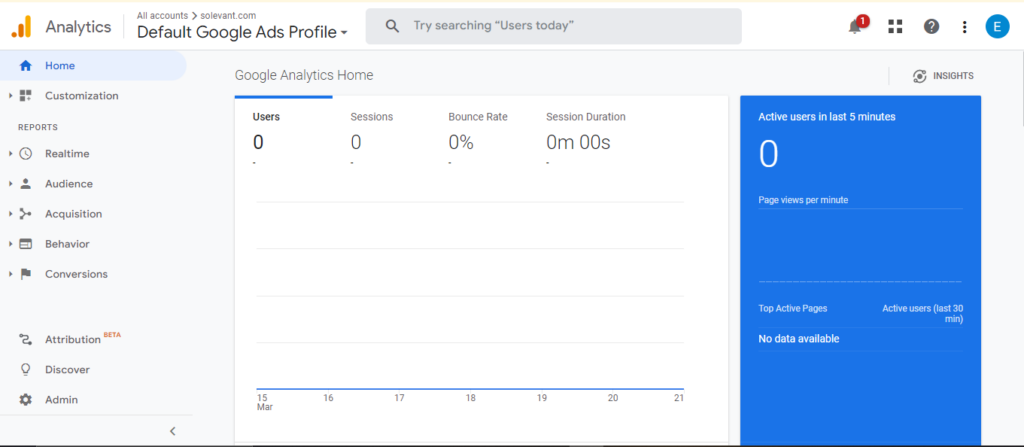 Source: Google Analytics
Google Analytics is one of the most powerful and comprehensive content marketing analytical tools available today. It offers a wide range of features that track data points such as website traffic, navigation patterns, conversions, and organic search performance.
The intuitive interface makes it easy for marketers to understand how their content is performing across multiple marketing channels and can be used to develop strategic decisions based on data-driven insights. Google Analytics also allows you to track user-level interactions to gain insight into how your audience engages with your content.
This feature helps marketers make more informed decisions about which type of content resonates best with their target audience.
Additionally, Google Analytics integrates seamlessly with all other Google business software so that users can access all of their analytics data and insights in one place. This makes it easy for marketers to track their progress, make adjustments when needed, and create more effective content marketing strategies.
Pricing: It has both a free plan and a paid plan. The free plan is best suited for small businesses, while the paid plan is best suited for large enterprise companies and requires contacting a sales representative.
2. Hotjar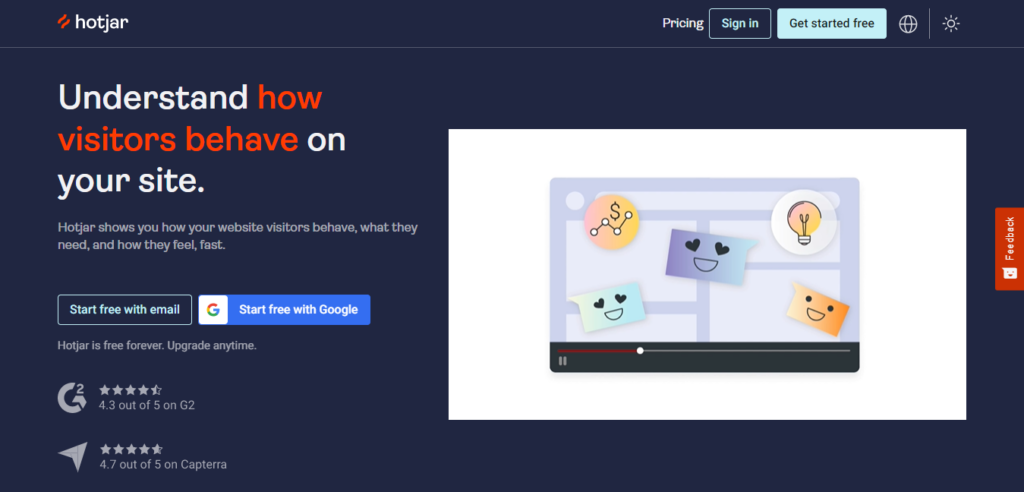 Source: Hotjar
Hotjar is an invaluable tool for content marketing analytics. It offers heat maps that enable you to track and visualize sessions on your website, giving you a visual representation of how customers are engaging with your content.
This insight allows you to spot which pieces of content draw the most attention from visitors, enabling you to hone in on what works and continue producing successful content.
Hotjar's real-time videos provide a wealth of valuable details about user behavior on your site, helping you understand which areas users are struggling with or when they opt out at certain stages of the buyer's journey.
Plus, Hotjar's convenient automatic recordings show you exactly where people drop off, so you can make improvements to capture more leads.
Pricing: Hotjar offers three plans, each designed to meet the needs of different website owners. The free plan is ideal for personal and low-traffic websites, while the Business plans are tailored for higher levels of traffic and range between $99-$989. Finally, an Agency plan can be customized by speaking with a Hotjar representative.
3. Buffer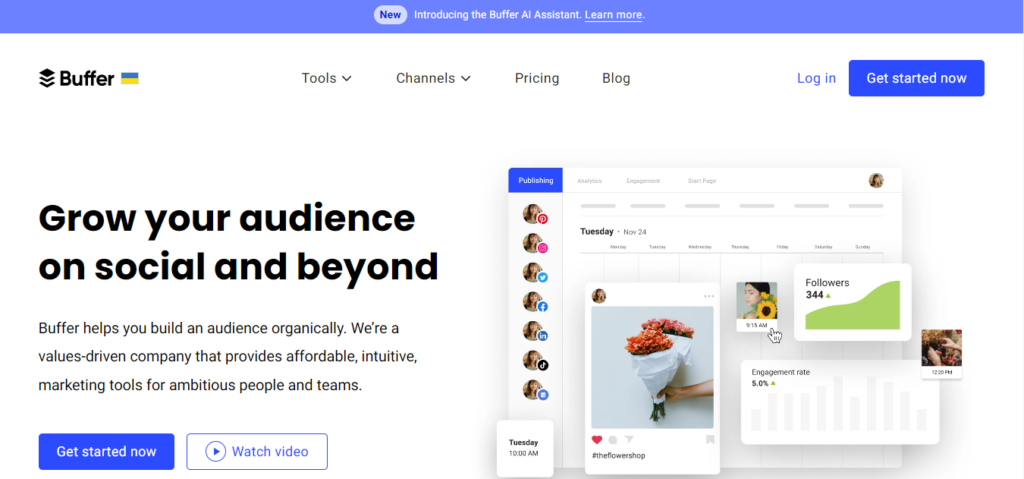 Source: Buffer
Buffer is a great choice for content marketers who are looking to gain detailed insight into the performance of their social media accounts. It offers customizable reports that you can tailor according to your goals and objectives. Furthermore, it provides timely data, updated daily, so you can always stay on top of how well your content is performing.
Analyze by Buffer also helps you measure stories, posts, and hashtag performance as well as access demographic information about your audience across channels. This makes it easier than ever to understand how customers are engaging with your content on different marketing platforms.
Overall, Buffer offers an excellent platform to measure the performance of your content marketing efforts on social media, allowing you to gain deep insight into how customers interact with your posts and what areas need improvement.
It provides enough flexibility so you can tailor it according to your goals and objectives without having to miss out on any important metrics.
Pricing: The Analyze product has two payment options – $35/month or $50/month, each with its own features and flexibility. The higher-priced option would be suitable for larger businesses that need access to more features. The lower-priced option is great for smaller teams and those just starting out, who are looking to get their feet wet in analytics without breaking their budget.
With its two different payment plans, everyone can take advantage of this great tool regardless of the size or budget of their business.
4. Clicky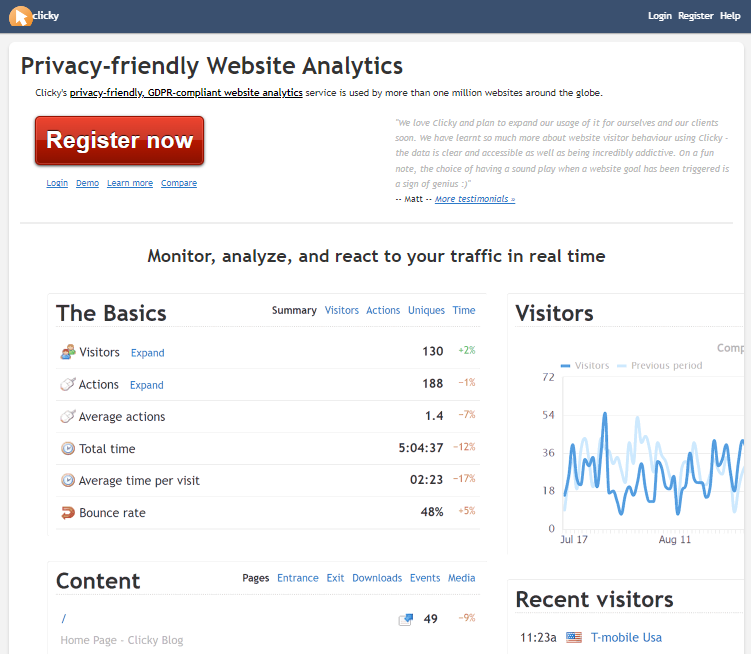 Source: Clicky
Clicky is one of the most popular web analytics tools available today, and it's easy to see why. It provides not just basic metrics such as page views, unique visitors, and bounce rate, but also real-time visitor tracking and heatmaps, which are incredibly useful for identifying trends in user behavior across a website.
The tool is highly intuitive and easy to use, even if you're new to the world of content marketing analytics. One feature that really sets Clicky apart from other analytics solutions is its Twitter integration capabilities.
For example, you can easily monitor mentions of your website or brand on Twitter, including links, hashtags, and sentiment, as well as keep track of any activity involving your account or keywords related to it. You can also get an unlimited history of tweets and access a summary report.
Whether you're a newbie or a seasoned content marketer, you should think about using Clicky as part of your analytics strategy. It gives you real-time information about how visitors interact with your content and helps you measure how well your campaigns are doing.
Pricing: Clicky is free to use for smaller sites with up to 3,000 pageviews per day—great for those just getting started with content marketing analytics. For larger websites or those looking for additional features, the service can be upgraded to a subscription plan starting at $9.99 per month.
5. Semrush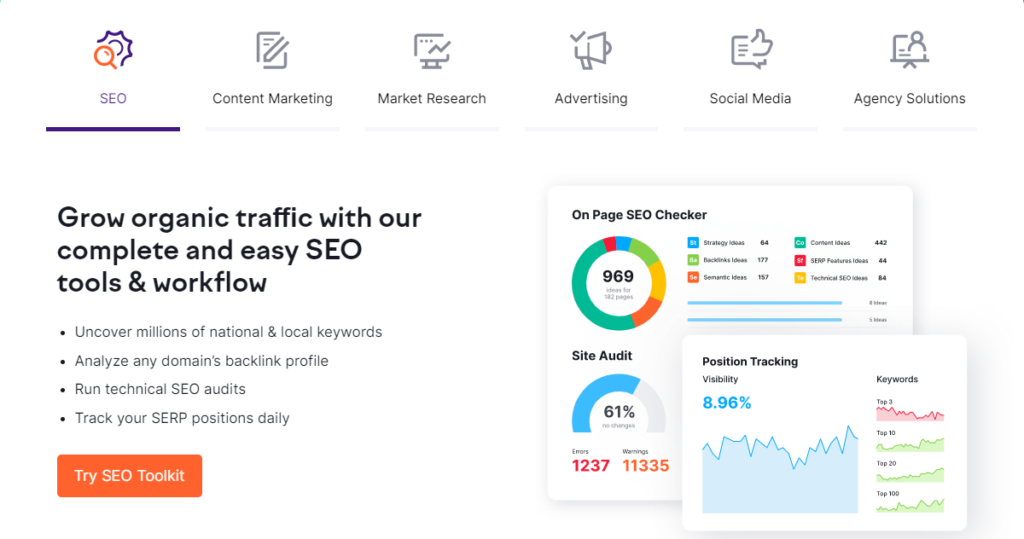 Source: Semrush
When it comes to content marketing analytics, Semrush is a powerhouse tool that you need in your arsenal. With its comprehensive suite of features, this platform helps marketers track SEO and keyword performance across their web pages and content strategies.
This allows them to optimize campaigns for maximum visibility and conversion. Semrush can also monitor brand mentions on various platforms, helping companies maintain their online presence. Additionally, the tool tracks Google rankings to help marketers identify which websites are performing well and which ones need some work. They can then adjust their content accordingly for better results.
The platform also provides detailed reports that show users how visitors interact with their website once they land there—what pages do they visit? How long do they stay? What do they click on? And more. This helps marketers pinpoint their critical areas of success and failure and make informed decisions.
Semrush is a great content marketing analytics platform that helps users get the most out of their campaigns and maximize their ROI.
Pricing: Pricing ranges from $119 to $449 per month, making it an affordable option for businesses of all sizes.
6. SE Ranking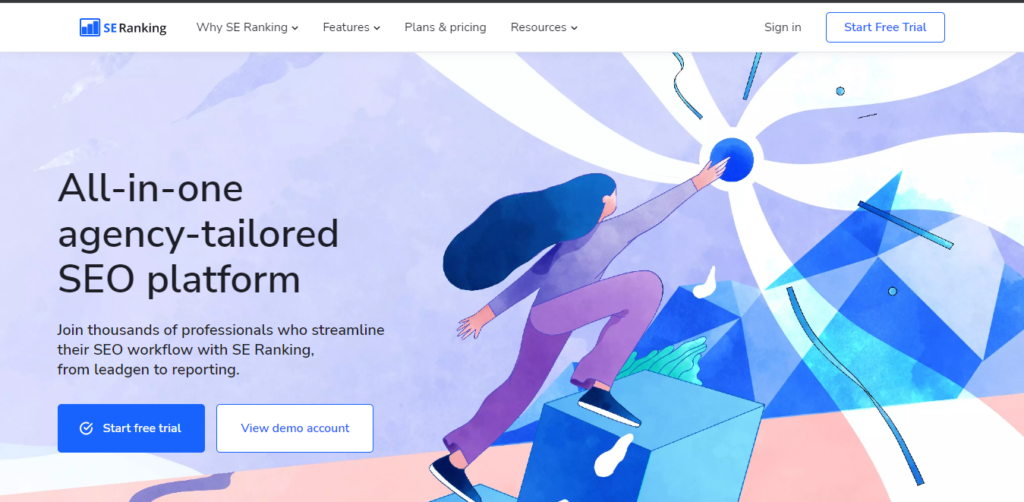 Source: SE Ranking
SE Ranking is the perfect tool for content marketers who want to get a better understanding of their website's performance. With its all-inclusive cloud-based SEO analysis, you can easily see detailed insights into how your content is performing on search engines.
This content analytics software has a lot of features, such as researching keywords and keeping track of them, auditing websites, and keeping an eye on backlinks. What makes SE Ranking stand out is its user-friendly interface, which provides a lot of valuable options in one place.
You can research, track, and optimize your content for search engines with ease. Plus, you can get an idea of a keyword's traffic breakdown from backlinks, organic search, and paid search without much effort.
On top of that, the software allows you to automatically create powerful white-labeled reports and instantly track progress on all your projects. With this tool, you can gain insight into how your content is performing and make necessary changes to get the most out of it.
If you're looking for a content analytics solution, SE Ranking should be at the top of your list. It helps content marketers stay ahead in organic and paid searches by providing valuable insights into keyword rankings, performance trends, and other data that can help optimize your articles for better ranking on search engines.
Price: It's worth mentioning that SE Ranking offers a 14-day free trial to test out if it fits your needs before opting for a paid plan, which starts at $39 per month.
7. Moz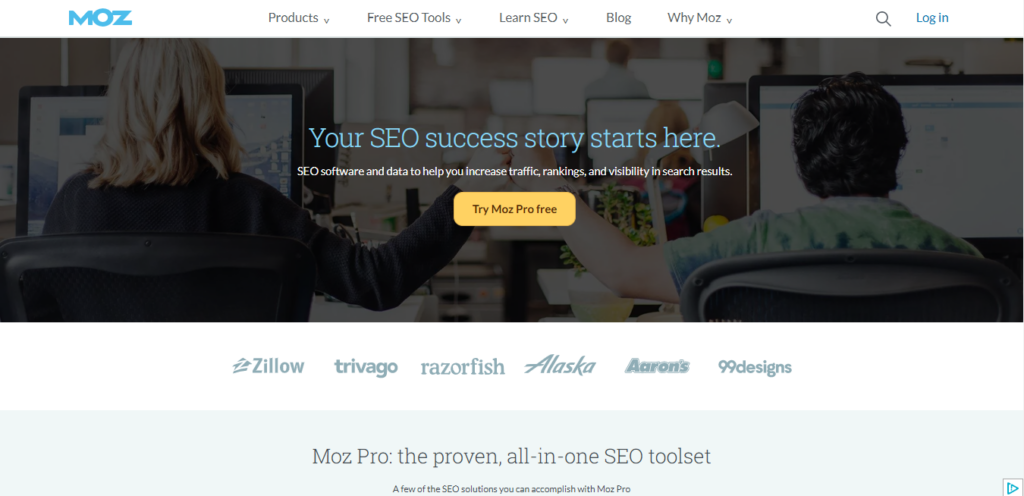 Source: Moz
Moz is one of the best content marketing analytics tools for measuring your SEO content strategy and determining which keywords you should be using. With Moz, you can gain valuable insight into how well your work is ranking among others in your industry and which keywords are most effective to use.
Using Moz's software, track the keyword rank of your website to understand what is working and what isn't performing well with audiences. Additionally, monitor competitor rankings on SERPs so that you can spot areas for improvement and use these insights to target them.
To help with this, utilize Moz's detailed reports to analyze how your content is reaching audiences and how it can be improved. Overall, Moz provides an effective solution to help measure your content marketing strategy and make informed decisions when creating content for SEO purposes.
Pricing: When it comes to pricing, there are two main plans offered by Moz: – Local and Pro. The Local plans start at $129–299 per month, while the Pro plan costs between $99–599 per month. With these different options, you can choose the one that best suits your needs and budget.
8. ClickFlow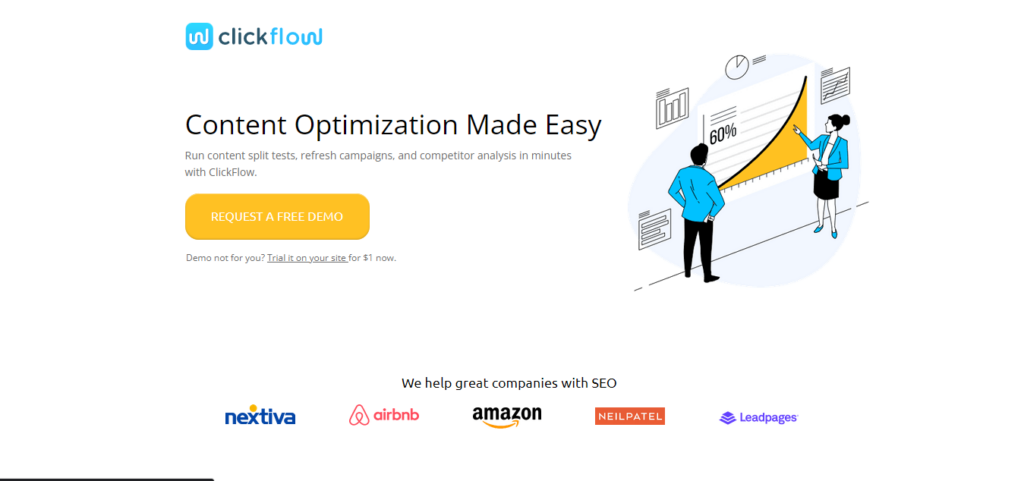 Source: ClickFlow
ClickFlow is an essential analytics tool for content marketers that allows you to delve deeper into your website's performance. It provides actionable insights about which articles are getting the highest impressions but low CTRs, enabling you to make changes (title tags, meta descriptions, body content) and evaluate how those changes impact the results.
This software solution also offers the unique feature of running experiments where you can compare optimized web pages with their originals. This helps in understanding the variables driving success or failure and getting detailed real-time insights for optimization purposes.
This is an amazing tool to ensure that your content marketing efforts are data-driven and yield maximum ROI.
Pricing: With ClickFlow, you can get started with a free 21-day trial to test it out before making any commitment. For more extended benefits like advanced reporting and analysis capabilities, it costs $99 per month, billed annually.
9. Quintly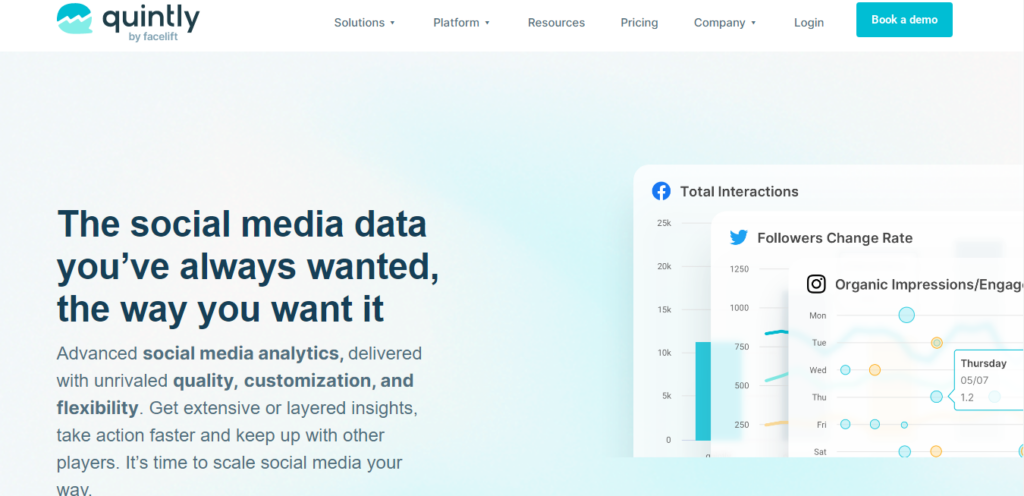 Source: Quintly
Quintly is a powerful content marketing analytics tool that can give you the insights you need to improve your social media marketing strategy. With customizable metrics and automated reports, it gives you the information your team needs to make informed decisions.
Quintly's deep dive into all of your accounts makes sure that the metrics matter to your goals and teams, so everyone has access to the data they require. It also provides API integration options with popular software like Google Search, allowing users to overcome data overload.
Quintly gives you a detailed analysis of how well specific campaigns are performing in terms of reach, engagement rate, likes, and shares, helping you optimize for success. You can even sort and share reports by team or automate them and measure their impact with Quintly's machine-learning system.
With such a powerful analytics tool, businesses can be confident that their content marketing efforts are on point and in tune with industry trends. By keeping an eye on and analyzing key performance indicators, you'll be able to make the right changes to your strategy to get the most out of it.
Pricing: It starts at just $300 per month.
10. BuzzSumo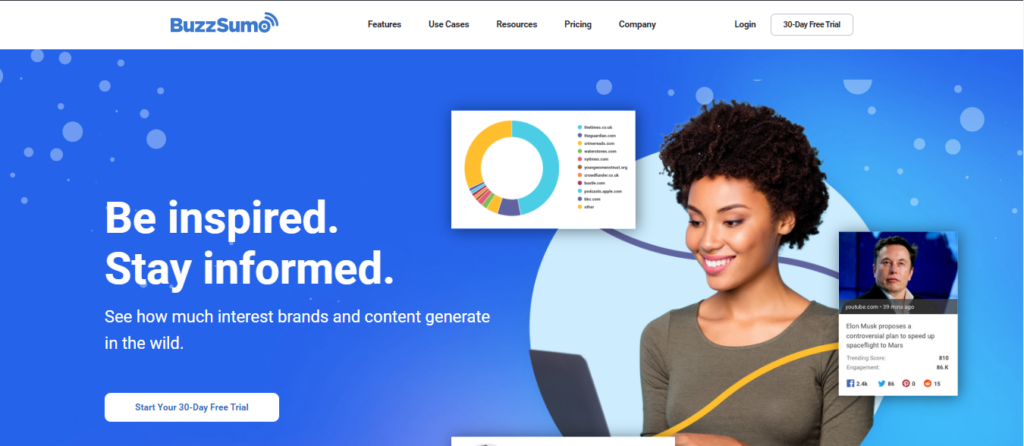 Source: BuzzSumo
BuzzSumo is a powerful content marketing analytics tool for tracking trends in real-time and creating tailored content to reach your target audience. With BuzzSumo, you can customize your feed to get the most relevant data and keywords that will drive traffic to your campaigns. You can also filter trends by location, so you know what's popular in different regions.
What's more, BuzzSumo offers plenty of examples of successful content formats and templates, which users can leverage. This helps users create better-performing campaigns as they have access to already-proven strategies and tactics.
With this being said, marketers must pay attention to the constantly changing trends and use tools like BuzzSumo to refine their strategies accordingly.
With its easy-to-use interface and advanced analytics capabilities, marketers can quickly make sense of the data and adjust their strategies according to changing trends.
From finding relevant keywords to understanding what's popular in different regions, BuzzSumo has everything you need to create content tailored to your target audience and improve your campaign performance.
Pricing: BuzzSumo offers four different plans that range from $99 to $499+ per month, making it a great option for all types of businesses.
11. Kissmetrics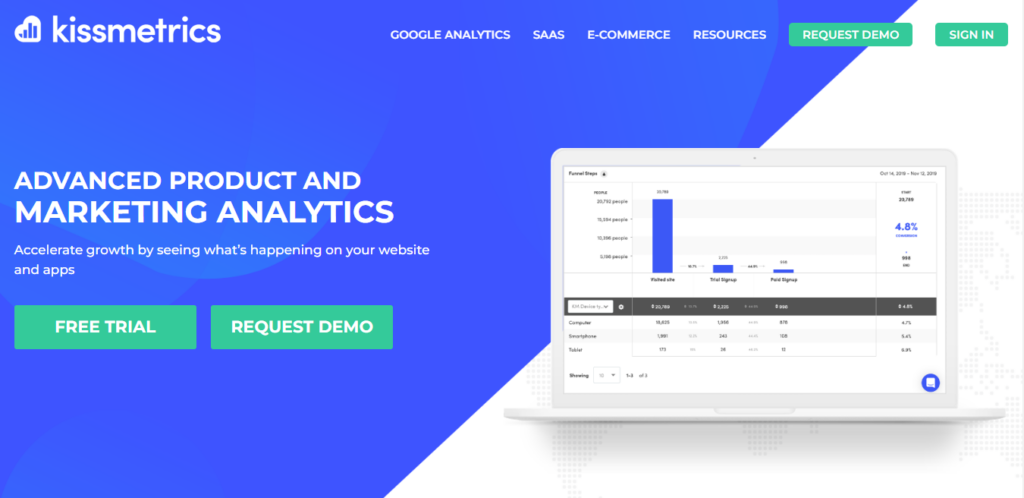 Source: Kissmetrics
Kissmetrics is one of the most comprehensive content marketing analytic tools on the market today. It enables users to track customer interactions and behaviors across multiple devices and platforms, converting metrics into actionable insights for website optimization.
With Kissmetrics, you can gain invaluable insight into how your customers are engaging with your content, such as their bounce rate, time on site, and other key metrics. This allows businesses to identify what works best for their target audience and tailor content accordingly so that visitors keep coming back.
Businesses of all sizes can benefit from a deep understanding of how their customers behave and how they react to their content. This will help them optimize their website in the best way possible for their customers.
All in all, it is definitely a tool worth checking out today if you want to make informed decisions about your content strategy.
Pricing: Kissmetrics also offers a wide range of pricing plans depending on the needs of your business. Their two main products, one meant for SaaS companies and another for e-commerce, allow for three payment plans, each with different features and prices.
For SaaS companies, the options range from $299 to a custom price based on your specific requirements. The same three payment tiers are available for e-commerce businesses, ranging from $299 to a customized price depending on what you need.
Conclusion
Content marketing is a powerful tool for growing and engaging your audience. But without the right data and analytics tools, you won't be able to measure the success of your efforts. That's why it's important to use analytic tools that give you insights into how your content is performing and what needs to be done to improve it.
The top marketing analytics tools we have discussed in this article will help you accurately measure your campaigns, track ROI (return on investment), understand customer behavior better, and optimize your content strategy based on those findings.
Leveraging these tools can help you build an effective content marketing program that drives growth and engagement for your business or brand. So don't delay, start testing them out, and make sure you're getting the most out of your content marketing efforts today.
No matter what kind of content you create, these powerful tools will give you the data and analytics you need to make informed decisions and continue improving your content.