Coca-Cola's "Share a Coke" campaign was a fantastic example of the power of authentic user-generated content (UGC). The campaign, which started in Australia in 2011, encouraged customers to personalize bottles with their names or the names of friends and family. It was so successful that it soon spread around the world!
The idea behind this campaign was to engage customers with the brand while offering them a unique and personal experience. The result? Coca-Cola experienced increased sales, higher consumer engagement, and stronger customer loyalty.
In this article, we will examine UGC's strategy, power, advantages, and how it can help you create a powerful brand.
What is User Generated Content?
User-generated content is precisely what it sounds like: content created by users, which in this case includes text, images, videos, and more. This content is often shared online in a public forum like a website or social media platform. It can be created for any purpose, from entertainment to education and promotion.
One way to think of user-generated content is as a giant collaboration. In this sense, it allows users to share their perspectives and experiences with others in an open setting, creating something that wouldn't exist without the help of many people working together.
Utilizing user-generated content marketing can be incredibly advantageous for businesses regarding marketing and promotion, as this approach allows them to leverage the knowledge of an extensive social network instead of relying on their resources alone.
Types of User-Generated Content
Aside from text-based user-generated content examples such as reviews, ratings, and comments, other types of user-generated content (UGC) can be leveraged by businesses. These are the various types of UGC:
Images
Unsurprisingly, visuals are the most effective form of user-generated content. After all, seeing is believing! A single image speaks volumes – it says a thousand words in one glance. This is why pictures often make the strongest statement at any given moment.
Customers relish sharing pictures of themselves with their purchases or using your product, as this helps foster an interactive experience between them and the brand.
Videos
Instagram posts, stories, Snapchat videos, video clips, YouTube videos, TikToks… Videos are everywhere! They're a powerful way to connect with your customers and amplify your message.
User-generated video content can help you show off the authenticity of your brand and create an emotional connection with your viewers. User-generated video content is an incredible way of establishing credibility and commitment from your customers, free of charge!
Testimonials
Testimonials are one of the most potent forms of user-generated content, providing potential customers insight into a company's products that no advertising can match.
Data indicates that nearly all online shoppers consider reviews before purchasing. Testimonials take the word of mouth recommendations to an entirely new level and can be a powerful tool for increasing sales.
Product Reviews
Product reviews are a compelling form of user-generated content. They inform prospective customers about the product and provide valuable insights from users who have already purchased it.
Having many positive online reviews can go a long way in convincing people to make the purchase. The more customer reviews you have, the better your chances are of making a sale.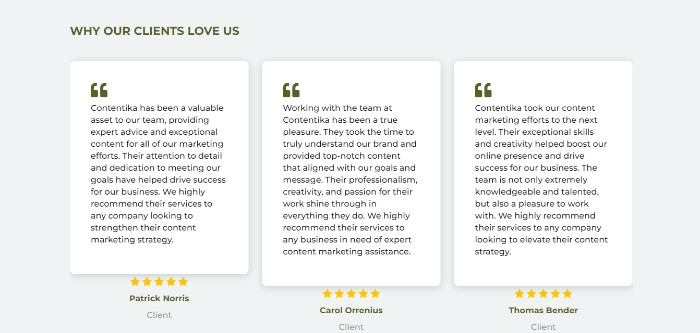 Product reviews can also be thought of as having their currency. A good rating can be a helpful review and is considered "currency" exchanged between customers and businesses. This currency helps build trust and loyalty and gives the company a competitive edge.
Social Media Content
Regarding the power of user-generated content, the elephant in the room is social media. Social media has become so crucial in our lives that it's hard to remember a time before it. It's like the milk in your cereal- you just can't start the day without it!
Calvin Klein famously used user-generated content to launch their 'My Calvins' campaign. The Calvin Klein brand effortlessly gained credibility and trust among its target audience segment by featuring real people who had taken photos of themselves wearing their products.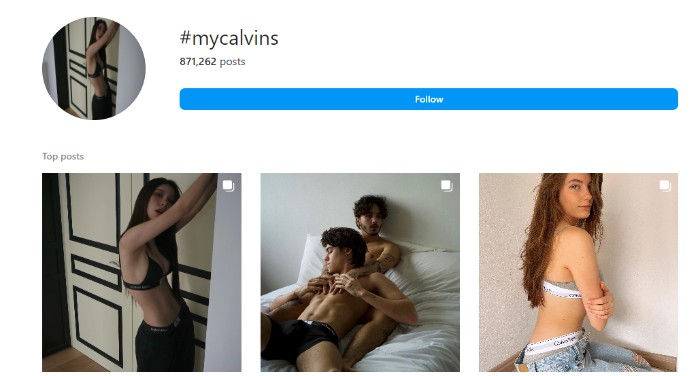 Social media is also an excellent way for brands to connect with their customers directly. Not only does it give them an insight into what the real customers are saying and thinking, but it also allows brands to join in on conversations about their industry.
Case Study
If your customer reviews are in the form of a case study, it is a great way to showcase your product or service to potential customers.
Case studies provide detailed qualitative and quantitative information that brands can use to influence their target audience.
Case studies offer an unbiased view of the product based on real-life experience, which can help build trust with potential buyers. They can also be used as an effective marketing tool to showcase a product's or service's benefits.
Case studies also provide valuable data and insights to help brands make informed decisions about improving their products or services.
Blog Posts
Imagine if your brand had an entire army of passionate fans writing and promoting your products on their blogs. That's the power of user-generated content (UGC).
Blogging is one of the most potent forms of creating UGC because it has the potential to reach a large audience while also introducing a personal touch.
Readers get to know the author's opinion and feelings about a product, providing a unique insight that standard marketing campaigns can't achieve. Plus, the content is often more authentic and trustworthy because it comes from someone who's used the product or service.
Hashtags
RedBull's hashtag campaign "#PutACanOnIt" is an excellent example of utilizing brand hashtags for user-generated content.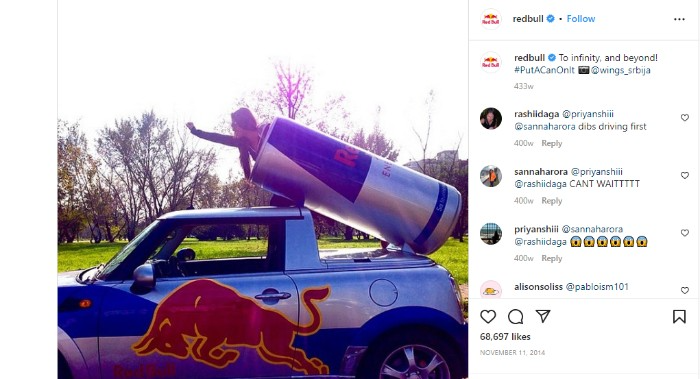 Hashtags are words or phrases prefixed with the hashtag symbol (#) that act as keywords and enable users to search social media posts containing a specific topic quickly. This type of UGC encourages people to create creative content around particular topics, allowing marketers to curate content from multiple social platforms.
Brands can also have social media marketers create hashtags to track user-generated content and quickly gauge engagement around a particular topic or event. By utilizing hashtags, brands have the potential to reach new audiences and engage more deeply with existing followers.
Who Creates User-Generated Content?
User-generated content (UGC) is created by all types of people, from everyday users to businesses and professionals. People who make UGC can be found across all ages, genders, and nationalities. Some familiar creators include:
Content Creators (Influencers)
Unboxing videos or product reviewers, People generate content about products they have purchased or received for free. They often go into detail about the product page's unboxing experience, features, and benefits, as well as their overall opinion.
Unboxing videos can be found on our YouTube channel and other video platforms, while reviews are often posted in blog posts, on social media, and on retailer websites. UGC also comes from people who have no affiliation with the product or service they're reviewing, making it valuable to consumers.
Customers
Customers have purchased a product and can provide valuable feedback on their experience. This kind of consumer-generated content is handy because it comes from the perspective of someone who has used the product, making it more genuine and trustworthy. Customers can leave reviews, rate products, create review sites, upload photos or videos, or create blog posts about their experiences.
Here's an example from a customer who purchased products from Sohome: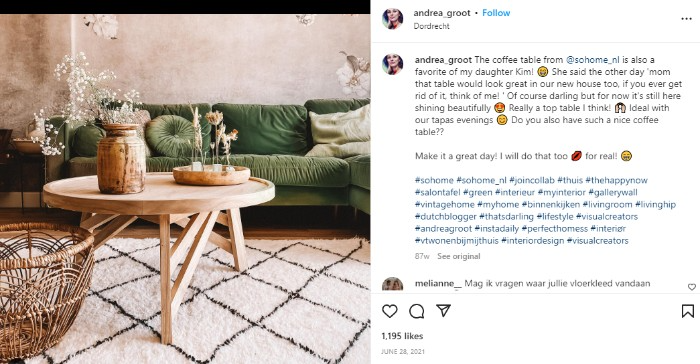 This kind of feedback not only helps other customers make decisions about whether or not to purchase from Sohome, but it also helps the company improve its products and services. It's a win-win for both!
Brand Loyalists
Fans of a product or brand tend to be more passionate about it and often provide detailed, positive feedback on their experiences. Brand loyalists are especially valuable to businesses because they can create UGC that drives sales and builds relationships with potential customers.
Not only can this type of user-generated marketing content inspire others, but it also has the remarkable ability to aid brands in gaining visibility and connecting with additional customers.
Here's an example: A customer of a well-known coffee shop posted an image of the shop's logo along with their favorite drink on Instagram.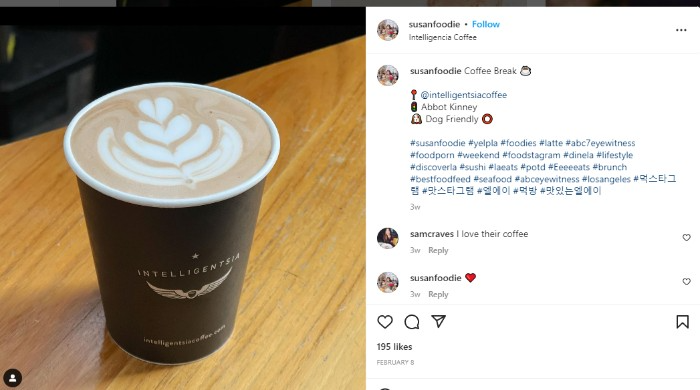 The post was liked and shared by many users, which helped to spread awareness about the business, resulting in an uptick in revenue for that month.
Employees
Lastly, employees of a business or organization can also be UGC content creators. This type of content is especially beneficial because it comes from someone with in-depth knowledge of the company's products and services, and its mission and values.
Employees' content can create reviews, blog posts, videos, social media updates, and more to give customers an inside look into the brand. Employee-generated content is eight times more likely to garner engagement than brand-specific content created and published by brands.
Benefits of User-Generated Content
Tons of advantages come with utilizing user-generated content marketing, from creating more engaging experiences for your customers to boosting SEO performance. Let's take a look at some of the critical benefits of UGC.
Increased Reach & Engagement
With over 95 million posts getting liked every minute on Instagram and over 500 million tweets sent out daily, it's easy to see how a user-generated content strategy can significantly increase brand awareness.
By leveraging UGC, you can create conversations that engage your customers with your brand, thereby increasing brand interaction with consumers. This engagement is invaluable, as research has shown that consumers are more likely to purchase from brands they're confronted with.
Additionally, user-generated content helps you reach like-minded audiences that your traditional marketing may need to catch up on. By featuring UGC from influencers and other users who are similar to your target audience, you can quickly expand your brand's influence beyond its core demographic.
Improved SEO Performance
Marketers know content is key for SEO, and user-generated content (UGC) can play a huge role in helping your website rank higher on search engine result pages. That's because UGC increases the amount of fresh, relevant content across your site —exactly what search engines seek.
SEO value for the world's top 20 largest brands has been known to improve with user-generated content, according to Kissmetrics, which found that 25% of search results were attributed to such sources.
Strengthening user-generated content through backlinks from other bloggers discussing your brand can increase rankings even more. These external links act like votes of confidence coming from credible outside sources, which strengthens the quality of your website from Google's perspective.
Cost-Effective Advertising
User-generated content (UGC) offers a cost-effective way to advertise and promote products. According to a recent survey, UGC can save brands the expense of a dedicated content producer. Instead, brands can simply tap into the power of their existing customer base and leverage their trust to market products. Best of all, user-generated content only requires a one-time investment with no additional costs for production or distribution.
UGC is also highly influential in terms of reach. Studies show that messages spread faster through user-generated content than traditional advertising campaigns. In addition, a UGC campaign can reach an audience that is more engaged and has higher trust in the shared content.
This means more people will be more likely to buy your products or services after seeing their friends share positive feedback.
Enhanced Authenticity & Trust
Authenticity is not something you can buy. It has to be earned and nurtured over time, and it's essential for any brand wanting to build trust with its audience. Customers are more likely to purchase from a brand they trust.
The key here is transparency, and user-generated content (UGC) is the perfect tool for doing this because it acts as a social proof point, showcasing how real people use your product or service in their everyday lives.
In fact, according to a survey conducted by BusinessWire, 84% of consumers said user-generated content had some effect on their purchase decisions, meaning potential consumers trust content created by existing customers more than brands.
Gain Audience Insights
User-generated content (UGC) can be invaluable for gaining insight into your audience. It allows you better to understand their interests, preferences, and opinions. This, in turn, helps you create more targeted campaigns by posting content that will resonate with them better.
There's no greater social proof than the numbers; according to an ODM Group study, 74% of consumers rely on social media to guide their purchasing decisions. UGC provides you with raw data that can be used to inform your influencer marketing strategy.
UGC also allows you to better understand customer trends and behaviors by analyzing the content your fans or customers generate. This type of analysis is beneficial for identifying areas where you can improve or innovate your product or service.
Boosts Sales
UGC is like the turbocharger of content marketing. It boosts customer engagement and loyalty and can significantly increase sales. Studies have found that 64% of online consumers are more likely to purchase a product after reading user-generated reviews.
Many consumers now rely on user-generated content when deciding whether or not to make a purchase. UGC helps potential buyers make intelligent decisions and feel more confident.
7 Ways of Leveraging User-Generated Content
User Generated Content (UGC) is the Holy Grail of marketing. It involves incorporating customers' experiences, opinions, and feedback into your content.
UGC is the best way to increase trust and engagement with your brand, and when done right, it can have a tremendous effect on your bottom line.
Here are the seven ways you can leverage UGC to boost your marketing efforts:
Build an Online Community
Encouraging your customers and followers to become members of a membership site is one surefire way to build an engaged online community. Creating a sense of belonging can help your customers build trust in your brand, which leads to more loyalty and repeat purchases.
Having an active online community helps create a solid presence and a loyal customer base. It has more engagement and encourages users to connect and share their experiences, which can help you identify potential buyers and encourage users to make content that resonates with them.
Transform Adverse Content into an Advantage
If something can be said about user-generated content strategy, it's that it isn't always rosy. Negative comments on social media pages, for instance, aren't uncommon and can damage an organization's reputation if not managed properly.
But rather than viewing these adverse reactions as something to be hidden away or deleted, savvy marketers are now leveraging them as an opportunity to turn a negative into a positive.
By responding quickly and efficiently to customer feedback, organizations can show their commitment to customers, improving customer satisfaction and brand loyalty. In fact, research shows that 89% of consumers have a more positive opinion of brands that respond to their feedback.
Leverage Social Media Platforms
When you use social media to raise awareness, build brand awareness, and showcase user-generated content, you tap into the power of word-of-mouth marketing and reach a much larger audience than you would generally get by posting user-generated posts and content on your SM platform. Don't just post the customer content, be sure to engage with people who comment on it.
If you find content about your brand worth sharing, always give proper credit to the creator and reward them for their effort. Offering rewards such as discounts or gift cards can incentivize customers to generate more content about your brand.
Create Contests and Giveaways
As said above, incentivizing customers to create content about your brand can benefit your business. One way to do that is by launching contests and giveaways, such as a photo or video competitions. This will encourage people to share content related to your brand in hopes of winning rewards.
Statistics show that, when done correctly, UGC contests can increase engagement with your customer base by up to 57%. Not only will contest participants create user-generated content, but they will also share it with their friends and family. This results in a broader reach for your contest and helps more users spread the word about your brand or product.
Feature Customer Testimonials
Customer testimonials are one of the best ways to leverage user-generated content. This type of UGC is a powerful tool for businesses and brands, as it directly highlights real-life experiences with your products from people who have used them. Not only do these types of content pieces encourage trust in customers, but they also act as an emotional connection between the customer and your brand.
One of the biggest benefits of featuring customer testimonials is that it eliminates customers' doubts about purchasing a product or service. This type of UGC speaks directly to the authenticity of your business, showing customers you're genuine, reliable, and trustworthy– three qualities that customers value in a brand.
Promote Customer Content
Promoting customer-created content gives the creator visibility and recognition for their efforts while genuinely showcasing your brand's products to customers.
Looking out for content your customers produce and sharing it with your audience is a great way to reward them for their efforts. It also gives you the more creative freedom to develop your content and ideas, as you can simply repurpose existing user-generated content.
Just be sure to always follow up on comments, likes, and shares. This marketing strategy shows that you value their input and appreciate them for taking the time to create content about your product pages or brand. A simple thank you or follow-up blog post can go a long way in fostering customer loyalty.
Integrate UGC Into Your Website
Another way to tap into the power of user-generated content is by integrating it into your website. This can be done in various ways, such as by incorporating customer reviews or displaying images and videos created by customers or followers.
This type of content gives customers insight into how real people use your products and services and gives them a better understanding of your brand and purchasing decisions. It's also a great way to showcase the loyalty of existing customers and build trust with potential ones.
Challenges of UGC and Best Practices for Overcoming Them
UGC has the potential to drive customer engagement, create word-of-mouth buzz, and establish trust that encourages buying decisions. However, challenges associated with a UGC campaign can only limit its effectiveness if they are appropriately addressed.
Managing Content Quality
People create differently and share user-generated content; some may need to meet quality standards. Businesses must have a system to ensure all shared posting of user-generated content meets specific quality criteria.
To ensure that only high-quality content gets published, businesses must have clear criteria for vetting submissions. Additionally, they should consider providing tools and resources to help contributors improve the quality of their work.
Ensuring Legality & Rights
Evaluating user-generated content (UGC) can be a challenge. Although it's often an invaluable asset, UGC strategy requires extra special attention to ensure the online content abides by legal standards and respects the rights of all involved parties.
The issue of legality comes into play regarding copyright, trademarks, publicity rights, and other intellectual property rights. Content posted by users can include material that violates these laws and regulations, meaning companies have to take extra precautions to ensure their content is legally obtained and used.
Rights are also a concern when curating user-generated content. Many people post their photos online without realizing they are giving away the right to use them. Companies may not be aware their content was acquired without permission. To prevent this, companies must get explicit consent from users before using their content.
Handling Customer Service Issues
User-generated content can also present customer service issues, especially since customers can use UGC to provide feedback or share their experiences with particular products and services. Companies must be prepared to respond to customer inquiries promptly and have an escalation process for when complaints require additional attention.
Additionally, companies should develop guidelines that cover how they will handle customer service issues on their social media networks, such as how quickly they will respond to complaints and how they should interact with customers.
By proactively setting up suitable systems and processes, businesses can ensure their UGC is managed efficiently and appropriately.
Protecting Brand Reputation
User-generated content has the potential to make or break a company's reputation. Companies must proactively protect their brand and guarantee that any UGC posted adheres to its established standards.
This includes monitoring online conversations to identify potential risks and taking swift action when negative comments are made about the company or its products.
Companies should also have the plan to respond quickly and appropriately when negative sentiment arises. This can help minimize the damage done and restore customer trust more quickly. Companies should also consider providing tools that allow customers to report issues with UGC, allowing businesses to take action before harmful content gets out of hand.
Luckily, there are best practices to help businesses overcome these challenges. For example:
Establish a comprehensive content review process that lets you easily monitor and moderate user-generated content quickly and efficiently.
Proactively draft a comprehensive set of legal guidelines that outline the rights and responsibilities associated with UGC.
Create a customer service policy that clearly outlines how your company will handle inquiries, feedback, and complaints on social media channels.
Develop a strategy for monitoring online conversations to address any negative sentiment around your brand quickly.
Set up systems and processes to ensure that all UGC adheres to your standards.
FAQs
What Is an Example of User-Generated Content?
User-generated content (UGC) is any content created by users of a website, application, or service. Some examples of UGC include blog posts, reviews, images, videos, and audio files.
What Is UGC and Why Is It Important?
User-generated content is a form of online engagement where customers and other users interact to create content that conveys their opinion, experience, or engagement in service. UGC is influential because it increases brand awareness, encourages loyalty, improves SEO rankings, and provides unique insights into customer opinions.
Is TikTok a UGC?
Yes, TikTok is a form of user-generated content since it is an online platform where users can create videos to share on the app. These user-generated videos can be used to convey their opinion and experience with the service. UGC on TikTok helps with brand awareness, customer engagement, and SEO rankings.
What are the advantages and disadvantages of UGC?
One of the greatest advantages of user-generated content (UGC) is its authenticity. However, there are also some potential drawbacks to using UGC. It requires much time and resources to monitor user content for quality assurance.
Does UGC perform better?
You bet it does! Across various platforms, user-generated content (UGC) has been proven to perform better than other types of content.
Conclusion
With all being said, leveraging user-generated content (UGC) can help your business reap several benefits, from increased engagement and reach to improved SEO performance. UGC is also cost-effective, offers insights into customer trends, and boosts sales.
To take full advantage of these advantages, you can leverage UGC, from building an online community and winning strategy, transforming adverse content into an advantage, leveraging social media platforms, creating contests and giveaways, featuring customer testimonials, promoting customer-created content, and integrating UGC into your website.
When done correctly, user-generated content can be a powerful tool that helps build customer trust and loyalty — ultimately leading to increased sales for your business. So if you haven't already done so, it's time to start leveraging UGC to give your marketing efforts the boost they need.