Do you ever feel like time slips away when it comes to managing your brand's social media presence? Do you ever forget important dates or struggle to come up with creative ideas for social media posts in the midst of a busy marketing plan?
If so, then implementing a social media calendar is essential for optimizing your success on each social media platform.
Utilizing a consistent social media posting schedule that covers all of your content production and scheduling tasks can help streamline the entire process while also providing a clearer overview of what's been accomplished and where extra attention might need to be placed.
Read on as we discuss how creating an effective social media calendar—and sticking to it—can save you loads of time down the road and make tracking results much easier!
What is a Social Media Calendar?
A social media calendar is a content curation tool for organizing and planning all of your social media marketing activities to ensure success. By creating a central hub for all of your content, it helps streamline the process and ensures that you are producing quality content in an efficient manner.
A social media content calendar also provides helpful insights into when each piece of content should be published and shared with an audience, how it will be tracked, as well as ensuring that messages across multiple platforms remain cohesive. It's an invaluable resource for staying organized and on top of all your digital marketing goals.
Benefits of a Social Media Calendar
Better Organization
For busy professionals or entrepreneurs managing multiple social networks, having a clear plan and schedule with a social media calendar can help bring much-needed structure and organization to their marketing campaigns.
Using a social media calendar helps content creators easily track the launch dates of new social media posts and share content across different platforms without worrying about missing important due dates.
Content creators are able to focus on other creative tasks that help to further raise the profile of their product or service by having an organized plan. With the right social media content calendar in place, content creators will work smarter, not harder, when it comes to creating an effective social media marketing campaign for their business.
Higher Quality Content
A social media calendar is an invaluable tool for anyone looking to produce higher quality content. Rather than rushing to brainstorm and create content on the fly, a social media calendar provides the structure to plan ahead and can help save time in the long run.
This structure also allows users to clearly identify objective-driven roles for each content piece, creating quality assurance for any follower's progress over time. With a social media calendar at your fingertips, you are sure to be able to build more purposeful narratives throughout your overall strategy, resulting in cohesive and well-thought-out posts that align with your goals.
Easier Scalability
Social media calendars offer a great advantage for marketers when it comes to scaling content production. Without one, it can be hard to manage production with a limited budget and staff size.
But by planning out the content ahead of time, you can factor in your social media team's bandwidth and other responsibilities to make sure you're not able to burn them out or hit deadlines.
As your business grows and you create more content, it's important to track the performance and analytics of posts on a regular basis in order to determine what content resonates most with your audience.
Some may think there is a perfect post frequency number, but in reality, every business should learn how their content performs best. An effective social media calendar allows social media marketers to do this on a regular basis and scale their production accordingly.
Saves Time and Leads to Higher Engagement
A social media calendar is an invaluable time-saving tool for businesses. It helps companies better plan and manage their online presence, enabling them to create high quality content in a timely fashion.
Such a calendar can also be used to ensure that each post has the appropriate focus based on the company's objectives. By managing posts with a social media calendar, businesses are able to streamline processes, reduce stress, and maximize the impact of their campaigns by avoiding redundant or irrelevant postings.
Furthermore, having an organized strategy in place leads to higher engagement rates among a company's followers since they understand what can be expected from them.
Overall, it is clear that using social media calendars saves businesses time and money while still allowing them to stay connected with customers and engaged with their target audience.
Consistency
A social media content calendar is a great way for businesses to ensure that they are keeping up with their online presence. Having a set schedule of social media posts makes it easier to ensure posts come out regularly and also plan ahead for events or sales that you want to promote.
Being organized with your social media accounts will also help keep content ideas and topics fresh, as it can be easy to repeat the same kinds of messages without structure.
Additionally, if multiple users have access to your accounts, the calendar outlines the responsibilities of each person, so everyone on the team stays informed and content goes out on all social media platforms accordingly.
Time Your Content to Coincide With Important Holidays and Events.
By allowing users to keep track of their upcoming plans and posts, it ensures content is timely and relevant for important holidays, seasonal events, and special anniversaries.
An effective calendar also ensures good social media practice: spacing out social media posts appropriately so as not to overwhelm followers with too much material at once. Through careful timing of your content according to a social media calendar, you can create a cohesive narrative that communicates with viewers while consistently delivering your message throughout the year.
In this way, it helps to establish a brand identity that resonates with audiences far beyond the normal surface-level interactions of regular postings.
Reduce Typos and Avoid Mistakes
A social media calendar is an invaluable tool for businesses looking to avoid costly social media marketing missteps. Not only does making a plan ahead of time help ensure important dates, messages, and images don't slip through the cracks, it also helps reduce typos and mistakes that often happen in the heat of the moment.
From taking the time to double check posts for accuracy before going live, to having another set of eyes on any content posted by multiple users, a well-crafted social media calendar can help companies stay on message and protect their brand reputation in a space where mistakes get noticed—and quickly corrected or commented on.
Monitor and Improve What Works
Since no two platforms work the same, having a well-planned out calendar helps to make sure that you are delivering the right message to the right audience at the right time.
This can include tracking metrics such as engagements and impressions, so that you can continually monitor what works and make improvements if needed.
With tools like analytics dashboards, it's easier than ever to determine what your followers respond positively to and what doesn't work.
13 Social Media Content Calendar Apps and Tools
Google Sheets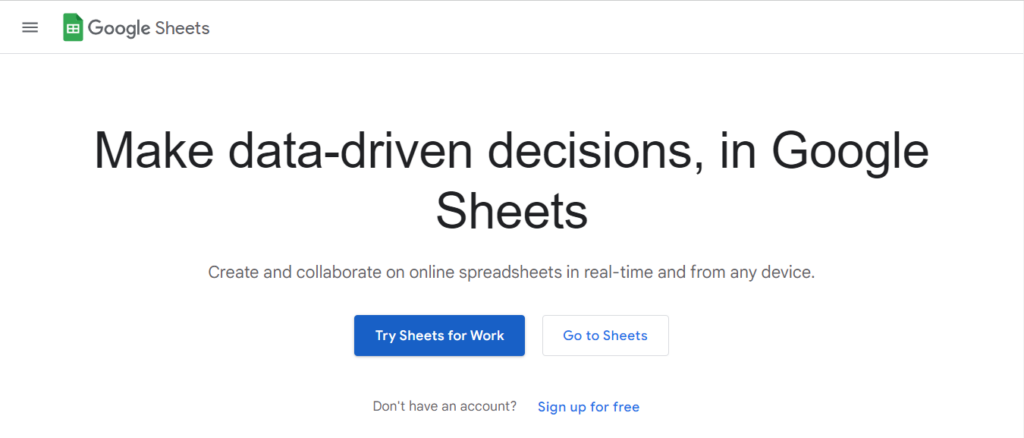 Google Sheets are quickly becoming one of the most popular and versatile social media content calendar apps and tools.
With its user-friendly interface, easily shareable format, and customizable scheduling options, those looking to streamline their social media content have found an invaluable ally in this app.
Additionally, users can design a social media template for a faster workflow, automate time-consuming back office jobs, create custom reports, embed spreadsheets into web pages, collaborate on projects with other team members from around the world, and much more.
Features
Spreadsheet editing and formatting.
Google product integration.
Data visualization.
Offline editing.
Machine learning-based features.
Compatibility.
Collaboration features.
Security.
Pricing
Free
Hootsuite Planner
Hootsuite Planner is an excellent tool for streamlining and organizing your social media content calendar.
This app provides you with the ability to manage multiple social media accounts all from one place, while letting you schedule, plan, review, and organize posts up to three months in advance.
With its intuitive user interface and robust features, Hootsuite Planner makes it simple to create a social media content calendar for all your accounts. You can even sync the app with team members so everyone has access to the same information and campaign objectives.
The social media calendar you can create with Hootsuite's Planner is flexible and interactive, as opposed to a static spreadsheet. If you want a post to go out at 4 p.m. on Thursday instead of 9 a.m. on Sunday, simply drag and drop it to the new time slot, and you're done. Hootsuite even recommends the best time to post on each social media platform.
From the detailed analytics that give insight into how posts are performing to links back to campaigns directly on their site, Hootsuite Planner makes staying organized on social media easier than ever.
Features
Automatic Scheduling
Social Media Monitoring
Performance Reporting
Basic Task Management
Activity Tracking
Alerts/Notifications
Audience Targeting
Brand Tracking
Calendar/Reminder System
Conversion Tracking
Customizable Templates
Dashboard
Drag & Drop
Editorial Calendar
Email Alerts
Image Editing
Image Library
Influencer Tracking
KPI Monitoring
Keyword Filtering
Keyword Tracking
Multi-Account Management
Third-Party Integrations
Trend Analysis
Pricing
Professional Plan: $99 monthly
Team Plan: $249 monthly
Business Plan: $739 monthly
Notion
Notion provides users with an all-in-one workspace to collaborate, organize and share data, and automate the workflow.
Its versatile platform allows individuals to create a variety of customizable views, so they can easily switch between tasks and prioritize activities. Notion provides a social media team with everything they need to take content productivity to a whole new level.
With Notion, you can use their social media content calendar feature to easily manage and plan out when to post your next content so that you don't have to keep up with all your social media posts on your own.
Not only does this make promoting your brand on social media easier for you, but it also gives you the chance to be consistent in engagement and build relationships with followers. It's an invaluable tool for businesses and individuals who want to ensure they stay connected to their networks.
Features
Task Prioritization and Scheduler
Shared Team Calendar
Mobile Application
Document Storage
File Sharing
Communication
Single Sign-on (SSO) Integrations
Account Permissions
Pricing
Personal: Free
Personal Pro: $4/month
Team: $8/month, per user
Enterprise: Contact for pricing
Monday.com
The Monday.com social media calendar is the perfect way to stay organized and plan your campaigns ahead of time. Strategically outlining posts and plotting peaks in activity, Monday.com empowers users with intuitive visuals and the ability to collaborate with their social media team in one place.
This makes it simpler to manage publishing schedules, optimize performance based on analytics, and track key goals more readily than ever before. Not only is it an incredibly efficient process, but it also allows brands to remain consistent while staying in front of their audiences as often as necessary.
Monday.com makes tracking social media campaigns easy and efficient with their unique templates. With the social media calendar template created specifically for that purpose, you can have two distinct boards to monitor both the ideas and suggestions related to your campaign, as well as the progress and status of your current initiatives.
However, its utility goes beyond just social media management; Monday.com offers a variety of innovative features that aid in managing marketing activities across multiple boards at an organizational level.
You can view data from all your projects in an overview orientation to gain instant insights. Moreover, you can customize the type of data displayed on each board or create multiple iterations for better visualization, creating a more accessible structure for remotely organizing marketing activities.
Features
Content Management
Multi-User Collaboration
Social Media Calendar
Marketing Project Management
Teams / Collaboration
Customer Support
Project Automation
Deep and Extensive Integrations
Pricing
Individual: Free
Basic: $8 monthly
Standard: $10 monthly
Pro: $16 monthly
Enterprise: Contact for pricing
Trello
Trello is an incredibly versatile tool that can be used as a social media calendar to help keep track of all your social media activity. It allows you to create boards and cards for each day, giving you the ability to manage multiple projects in one place.
With the drag-and-drop interface, it's easy to rearrange tasks and prioritize them accordingly. You can also add descriptions and images to cards, set due dates for upcoming social media posts, assign tasks, and mark them complete when they're finished.
Trello streamlines your content planning workflow so you can make sure everything is organized and cohesive. Plus, it allows you to collaborate with other users on projects and tasks, making it a great tool for remote teams or anyone working together on a social media strategy.
Features
Detailed & Quick Overviews of Front/Back Cards
Easy, Drag-And-Drop Editing
In-Line Editing
Easy Organization With Labeling, Tags, and Comments
Progress Meter Checklist
File Attachment
Deadline Alerts and Notifications
Automated Email Notifications
Activity Logs
SSL Data Encryption
Mobile-Friendly Views
Customer Support
File Attachment
Voting Options
Discussions
Pricing
Free Trial: Free
Trello Gold: $5 Monthly
Trello Business Class: $5 Monthly
ContentCal
ContentCal is the perfect tool for planning and managing your social media accounts. Easy to use and totally intuitive, the software provides drag and drop functionality that allows you to create, design, and schedule content quickly and efficiently.
The platform has all of the features necessary for a comprehensive social media calendar strategy, including auto-publishing, analytics, rule customizations, and more! With its powerful collaboration capabilities, multiple users can easily review content before it goes live.
ContentCal can be used to help even the busiest team stay organized. Its approval workflows will make sure all your posts get consensus before being published, while collecting analytics so you can constantly assess and optimize results.
The ability to easily save content for future use and collaborate with multiple teams ensures everyone works together to save time, money, and resources, resulting in more optimized social media content.
What's more, with the added integration of tools like Slack and Trello, everyone is always on the same page, regardless of their location, and you never miss an update or detail again.
Features
Social Media Monitoring
Posts Scheduling
Multi-User Collaboration
Multi-Account Management
Auto Publishing
Analytics (Social Media)
Social Media Template Creation
Search
Rule Based Publishing
Rich Text Editor
Permission Management
Document Management
Approval Process Control
Version Control
Pricing
Hobbyist: Free
Pro: $17 monthly
Company: $59 monthly
Premium: Custom
Loomly
Loomly is a great way for both novice and experienced social media managers to plan their calendars quickly and easily. The platform allows users to save time by quickly creating new posts and enables them to track post performance, collaborate with peers, and even access a library of post ideas.
The innovative visual calendar allows team members to view when items are scheduled and tag each other in tasks to ensure everything is on track. From its intuitive calendar-style dashboard, social media marketers can easily plan their content and set up posting schedules for popular platforms like Facebook, Twitter, LinkedIn, Instagram, and Pinterest.
It even gives users tips on how to make their posts stand out from the competition. Best of all, its integrated approval workflow ensures that everyone involved in the process can review posts before they are published – a great way to minimize mistakes and maximize success.
Features
Asset Library
RSS Feeds
Audience Targeting
Social Media Content Creation
Post Optimization Tips
Post Previews
Post Approval Workflow
Version Logs
Automated Publishing
Social Media Calendar
Analytics
Pricing
Base: $25 monthly
Standard: $57 monthly
Advanced: $199 monthly.
Premium: $249 monthly
Enterprise: Contact for pricing
Sendible
Sendible is an incredibly helpful tool for modern entrepreneurs managing their businesses across multiple social media platforms. It acts as a centralized calendar where you can plan, schedule, and track your posts in one easy-to-use interface.
Planning ahead is made even simpler since you have the ability to sort postings by schedule, team member, and even hashtag, allowing you to quickly identify gaps or overlaps in your strategy.
Not only does Sendible provide advanced scheduling features, it also brings post ideas straight to your dashboard via AI powered content recommendations, saving you time and energy in selecting relevant content that matters to your audiences.
Ultimately, Sendible takes the guesswork out of managing and optimizing a successful social media marketing presence.
Features
Access Controls/Permissions
Activity Tracking
Ad Hoc Reporting
Alerts/Notifications
Automated Publishing
Brand Tracking
Calendar/Reminder System
Campaign Management
Customer Engagement
Customer Support
Dashboard
Data Import/Export
Email Alerts
Email Marketing
Image Library
Keyword Filtering
Keyword Tracking
Live Chat
Marketing Automation
Mobile Access
Mobile Alerts
Monitoring
Multi-Account Management
Multi-Channel Social Integration
Performance Metrics
Post Scheduling
Sentiment Analysis
Social Media Integration
Tagging
Pricing
Creator: $29 monthly.
Traction: $89 monthly.
Scale: $199 monthly.
Expansion: $399 monthly.
Custom White Label: Contact for pricing
SocialPilot
Using SocialPilot as a social media calendar helps you keep your content organized and on-schedule. It simplifies the process of creating, scheduling, and optimizing your posts to ensure that your message is reaching the largest possible audience.
This helps streamline campaigns and visualize what upcoming activity might look like so that you can plan ahead for success. SocialPilot allows greater control over how, when, and where your content is seen. It has an intuitive user interface that helps you manage your business's social media presence to achieve maximum impact quickly and easily.
You also get monthly, weekly, and daily views; content rescheduling capabilities; and the ability to filter your calendar by group or account. With this robust set of features, you can easily visualize your entire posting strategy in one place and make quick adjustments as needed.
It's also perfect for those who manage multiple social media accounts since you no longer have to juggle different calendars for each one.
Features
Automated Publishing
Calendar Management
Campaign Management
Campaign Planning
Channel Management
Content Management
Customizable Branding
Engagement Tracking
Influencer Tracking
Lead Management
Multi-Account Management
Post Scheduling
Reporting/Analytics
Social Media Integration
Social Media Monitoring
Pricing
Professional: $30 monthly.
Small Team: $50 monthly.
Agency: $100 monthly.
Agency+: $200 monthly.
MeetEdgar
MeetEdgar is a fantastic social media calendar tool for businesses looking to step up their social media posting game. It allows you to plan ahead easily and create an optimal publishing schedule that caters to your customer base, making sure your content reaches the right audience at the right time.
With the ability to shuffle posts, access old content, and edit or tweak scheduled messages when needed, MeetEdgar makes it easy to tailor your messages to fit specific milestones and occasions.
With its user-friendly interface and powerful features, MeetEdgar is an amazing resource for businesses seeking maximum value from their social media presence.
Features
URL Shortener.
In-App Tracker.
Category-Based Scheduling.
Automated Social Sharing.
Auto-Expiring Content.
RSS Feed Import.
Direct Video Uploads.
Automatic Post Re-Sharing.
Auto-Refill Queue
Browser Extension
Unlimited Content Library
Social Media Scheduler
Pricing
Edgar Lite: $29.99 monthly.
Standard Edgar: $49.99 monthly.
Iconosquare
Iconosquare's social media calendar is the perfect solution for anyone looking to manage their social media presence. It makes planning your social media marketing strategy easy by allowing you to create an organized post schedule and track performance over time.
With their drag-and-drop social media content calendar, users can easily plan their monthly and weekly posts with just a few clicks, while keeping an eye on upcoming holidays and other events to stay ahead of the game.
Additionally, Iconosquare spares users the hassle of manually entering posts into each social media platform by allowing them to easily schedule posts across all major networks at once.
Whether you're trying to keep on top of your Tweets, Facebook statuses, Instagram posts, carousels, or stories, this tool has it all. Its drag-and-drop functionality makes planning content a breeze, and its unique features, like the ability to preview your Instagram feed before posting and categorize images for easy retrieval.
Take things up a notch by scheduling your first comment ahead of time with hashtags – the perfect ingredient for increased reach and engagement. The innovative Media Library even tags images, so you never have to worry about posting the same content twice.
Features
Reporting
Analytics
Comments and Likes Count
Real Time Post Performance
Data Filters
Hashtag Tracking
Follower Growth Measurement
Daily Lost/ Gained Followers
Follower Locations
Top Follower Identification
Competitor Performance Tracking
Influential Posts Tracking
Location Based Post Tracking
Influential Profile Spotting
Pricing
Starter Plan: $9 Monthly
Pro Plan: $39 Monthly
Advanced Plan: $79 Monthly
Agency Plan: Contact for Pricing
Agorapulse
Agorapulse's social media calendar allows users to manage and schedule their posts, optimizing the reach and effectiveness of their content. It also grants insight into customer behavior by providing in-depth analytics regarding user engagement with each post.
Whether you need to create complex structures to coordinate across multiple accounts or just want to keep track of upcoming scheduled posts, Agorapulse makes it easy with its drag-and-drop interface.
Its intuitive layout allows for a clear view of any scheduled, queued, live, or approved posts, giving users an easy way to stay organized and ensure posts hit the target audience at the right time.
The shared calendar add-on is an especially attractive feature for agencies that need client approval on content before it is published. Without compromising other parts of the dashboard, clients can have access to the calendar and approve or decline scheduled content with ease.
Features
Access Controls/Permissions
Alerts/Notifications
Brand Tracking
Calendar Management
Campaign Analytics
Collaboration Tools
Communication Management
Competitive Analysis
Content Management
Conversion Tracking
Customer Engagement
Customer Social Profiles
Employee Advocacy
Engagement Tracking
Gamification
Influencer Tracking
Keyword Filtering
Keyword Tracking
Lead Engagement
Mobile Alerts
Monitoring
Multi-Language
Performance Metrics
Post Scheduling
Promotions Management
Search/Filter
Sentiment Analysis
Social Media Integration
Tagging
Trend Analysis
Pricing
Standard Plan: $49 Monthly
Professional Plan: $79 Monthly
Advanced Plan: $119 Monthly
Sprout Social
Sprout Social has revolutionized the way companies schedule, collaborate, and engage on their social media channels. With a secure online platform, Sprout Social makes it easy to keep all of your social media organized.
It takes care of posting on time and helps maintain consistency with content. With automated notifications, it's easier to review tasks, assign team members to posts, and stay on a timeline.
The features don't stop there—no matter your goals as a business owner—whether that be customer service, marketing, or brand awareness—Sprout Social is equipped to provide something for everyone.
Plus, no more missed deadlines; you can keep track of campaigns that are due in the future and make sure they happen!
Features
Activity Tracking
Ad Hoc Reporting
Audience Targeting
Automated Publishing
Automated Scheduling
Brand Tracking
Calendar Management
Campaign Analytics
Categorization/Grouping
Charting
Collaboration Tools
Competitive Analysis
Content Library
Conversion Tracking
Customer Engagement
Customer Experience Management
Customer History
Customer Social Profiles
Customer Support
Data Security
Data Visualization
Digital Asset Management
Editorial Calendar
Engagement Tracking
Feedback Management
Image Editing
Image Library
Influencer Tracking
Keyword Tracking
Layout & Design
Media Library
Monitoring
Multi-Account Management
Multi-Channel Management
Performance Metrics
Post Scheduling
Publish Scheduling
Real-Time Analytics
Reporting/Analytics
Response Management
Review Monitoring
Search/Filter
Social Advertising
Social Listening
Tagging
Task Management
Task Planning
Task Progress Tracking
Third Party Integrations
Trend Analysis
User Profiles
Visual Analytics
Web Tracking
Workflow Management
Pricing
Standard Plan: $249 Monthly
Professional Plan: $399 Monthly
Advanced Plan: $499 Monthly
Enterprise Plan: Contact for Pricing
Conclusion
Having a social media calendar can help you take your content to the next level! By being able to plan out and curate compelling content weeks in advance, you can stay one step ahead of the game. Not only does this save time, but it also helps you create an organized social media strategy that keeps your posts relevant and captivating.
You don't have to worry about forgetting ideas or dates. There are plenty of affordable tools and apps out there that specialize in creating social media calendars, so taking advantage of one should be easy and cost-effective.
To wrap up, investing in a social media content calendar is essential for sustained growth and success on social media – so if you're serious about getting the most out of your social media channels, consider adding one to your social media marketing efforts today!