The competition in the marketplace is fierce, and businesses must stay ahead of their rivals. That's why understanding Share of Voice (SOV) is important.
SOV is a metric that helps companies measure how much social media share and attention they're getting relative to their competitors—and if used correctly, it can provide valuable insight into your competitive landscape.
By understanding your SOV and that of your competitors, you can make informed decisions about maximizing your visibility in the marketplace.
Here's a closer look at SOV and why it is important for competitive analysis.
What Does Share of Voice Mean?
A marketing concept, Share of Voice (SOV), measures the level of visibility a brand has compared to its competitors. It measures how much attention and market space a company occupies relative to its rivals. A company's SOV can be measured using advertising spend, measurable brand awareness, surveys, and other similar activities.
For example, if two brands have an equal amount of ad spending, but one has more brand mentions on social media, then the brand with more social mentions will have a higher share of voice.
By calculating a company's SOV, marketers can better understand how effectively their campaigns reach audiences. With this data, companies can adjust strategies to increase visibility and dominate the market.
What's more, by understanding competitors' share of voice, businesses can also devise strategies that strategically position themselves against rival brands.
Examples of Share of Voice in Business Contexts
Here are some examples of Share of Voice (SOV) in business contexts.
Marketing
A company can use SOV to measure its brand's visibility and reach in the market. This can be done by tracking the percentage of social media mentions, advertising, and media spending compared to competitors.
Hootsuite's report for 2023 reveals that Instagram is the most popular social media platform for marketing. This platform's massive user base and wide range of features make it an ideal choice for businesses looking to reach new audiences and engage with customers.
PR
A PR team can use SOV to track the media coverage of their brand or product compared to their competitors. They can monitor the percentage of media mentions or news articles related to their brand. For example, they may look at the number of articles a brand is featured in compared to their competitors.
SEO
A digital marketing team can use SOV to track their website's online visibility or specific keywords in search engine results pages (SERPs). They can track the percentage of website visits or clicks compared to their competitors.
Sales
A sales team can use SOV to track the awareness and consideration of their brand or product among potential customers. They can track the percentage of brand mentions or product reviews compared to their competitors.
For example, a 2021 survey by BrightLocal found that 77% of consumers read online reviews when researching local businesses, highlighting the importance of monitoring SOV in online reviews.
Measuring Share of Voice
Here are some tips for brands to measure their share of voice:
Measuring SOV Across Digital and Traditional Media Channels:
To measure SOV across digital and traditional media and different marketing channels, businesses must first understand their target audience and the media platforms that resonate most with them.
For instance, if a business targets millennials, it may want to focus on social media channels like Instagram, Facebook, and Twitter. On the other hand, if their target audience is older, they may want to focus on traditional media channels like TV, radio, and print.
Once the relevant media channels are identified, the next step is to analyze the amount of content produced by the brand in each channel, compared to their competitors.
Digital tools like SEMrush, SimilarWeb, and BuzzSumo can provide insights into the volume of content published across digital marketing channels alone. Traditional media marketing channels can also be analyzed using Nielsen ratings or Kantar Media.
Analyzing Conversion Data:
SOV is only part of the equation. To understand the effectiveness of a marketing campaign, businesses must analyze conversion data.
Conversion data refers to the number of people who take a specific action, such as purchasing, filling out a form, or subscribing to a newsletter.
Businesses can track conversion data across digital channels using the same tool, Google Analytics. It provides detailed information on user behavior, including which pages they visit, how long they stay on a page, and whether they convert.
Traditional media channels may require more manual campaign tracking, such as tracking the number of coupon redemptions or customer inquiries generated by a specific keyword and campaign settings.
Using Monitoring Tools to Track Trends and Spot Opportunities:
To stay ahead of the competition, businesses must monitor industry trends and stay on top of emerging opportunities.
Tools like Google Trends, SEMrush, and Hootsuite Insights can provide insights into search trends and social media chatter, allowing businesses to create content that resonates with their audience.
In addition to monitoring trends, businesses can use monitoring tools to track their competitors' activities across various media channels. By analyzing their competitors' SOV and conversion data, businesses can identify gaps in their strategies and adjust accordingly.
Why is Share of Voice Important in Competitive Analysis?
Determining a brand's share of voice is essential in competitive analysis. It enables you to understand how well your brand performs relative to competitors and how well the competition is doing compared to your advertising and marketing efforts alone.
Share of voice indicates how frequently a particular brand or product is mentioned compared to its competitors. It helps marketers assess how their brand is performing with specific audiences and helps them determine where they stand in the market.
A brand's share of voice is a strong indicator of its overall success. The higher the share of brand voice, the more likely your customers will hear about, discuss, and buy your product or service.
Additionally, a higher share of voice implies that your brand is standing out among its competitors and resonating with consumers.
What can you achieve with a better understanding of the share of voice?
Competitive Analysis
First and foremost, a better understanding of the share of voice can help you with competitive metrics and gain useful insights into your competitors' strategies.
You can analyze how they position themselves in the marketplace and benchmark your performance against theirs.
This social listening tool can include tracking their messaging and tone, assessing their content performance across multiple platforms and channels, and analyzing sentiment to understand their success or failure better.
Brand Awareness
You can also learn more about your brand's visibility by tracking its share of voice (SOV). By studying your SOV, you can understand your brand's visibility in the marketplace.
If your brand's SOV is low, it likely has less visibility than other brands competing for the same space. To increase visibility and improve brand awareness, a business must work to increase its SOV.
One of the best ways to do this is by improving your content and marketing strategy. This includes developing better content that resonates with customers, optimizing your website traffic with SEO tactics, tracking key performance indicators (KPIs), and utilizing social media to showcase your brand's voice.
Campaign Effectiveness
With SOV, you can see your marketing campaign's effectiveness. By tracking changes in SOV after a campaign, you can measure its impact on your brand's visibility and market share.
For instance, it was a success if the number of people talking about your brand increased substantially during and after a campaign launch. Similarly, a decrease in SOV could indicate that the campaign was less effective than you had hoped.
In addition to measuring changes in SOV before and after campaigns, you can get insights into how your campaigns resonate with your target audience by analyzing sentiment data. If most of the conversations are about your brand
Strategic Planning
Finally, understanding your share of voice can help you plan for the future. Using SOV data to gain insights into customer trends and behaviors, you can develop more effective strategies to increase brand awareness and reach new audiences.
Additionally, SOV data can help you create more targeted ad campaigns. By analyzing the conversations around your brand, you can understand which topics people are talking about and use this information to craft ads that speak directly to their interests and needs.
How to Calculate Share of Voice
Share of Voice (SOV) is an important metric for measuring your brand's market presence. You can better understand your brand's standing compared to competitors and identify areas that require more attention by dividing your brand's mentions by the total number of market conversations.
(Your brand mentions / Total market conversation) x 100
For instance, if you divide the number of mentions for your brand by the total number of mentions in your market or industry, you can get a rough estimate of your percentage of SOV.
Multiply this number by 100 to get the exact percentage. If your brand's hashtags are seen 45 times while the whole market's hashtags are seen 66 times, then you have a share of voice of 68.2%. This means that you are the leader in your field.
There you have it! A very easy way to calculate your share of voice.
Tools for Measuring Share of Voice
Some people might find it hard to measure their share of voice and understand how it impacts their brand. Good news! There are many tools available to help you measure your share of voice.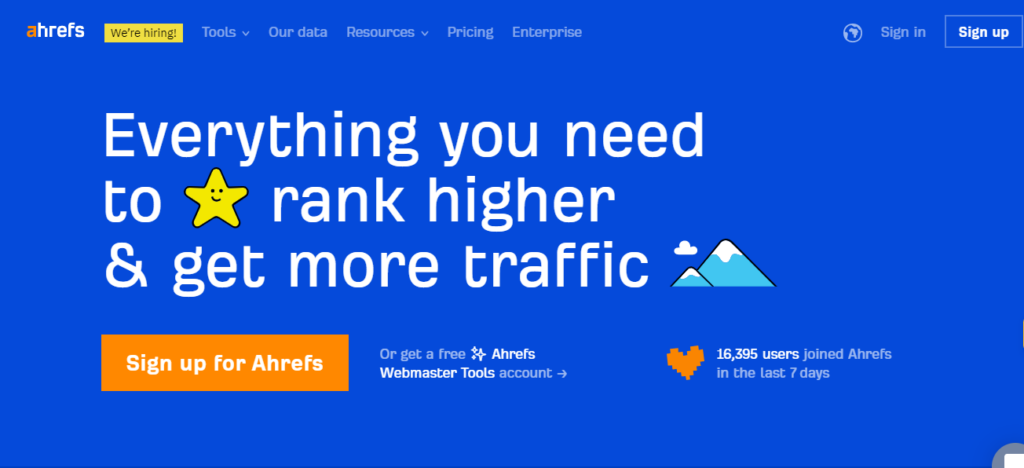 This tool is the Sherlock Holmes of the digital marketing world. It can help you uncover hidden treasures of information about your website's search engine performance, competitors, and backlinks.
With its powerful keyword analysis and site explorer features, you can track your share of voice in organic search results and even find new content opportunities. Its sleek interface makes it feel like you're a digital spy on a top-secret mission.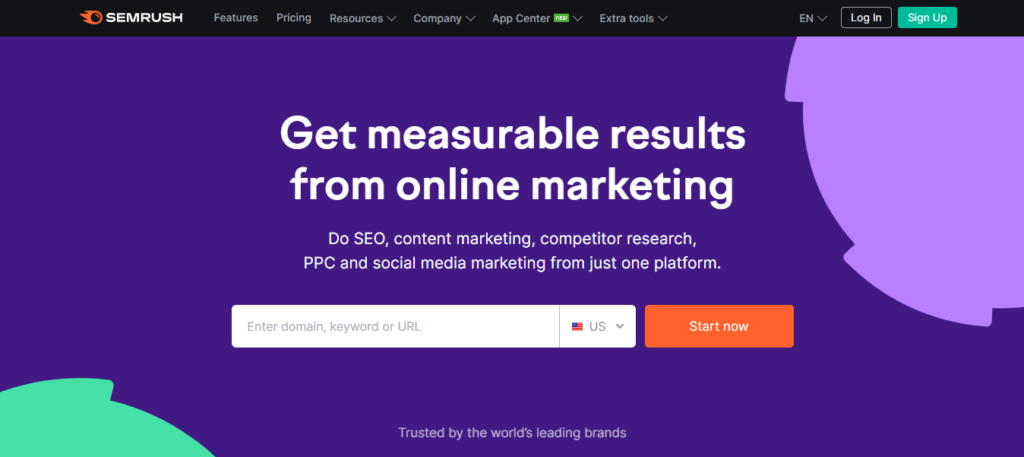 SEMRush has many features that can help you with everything from SEO to social media to content marketing. With its share of voice features, you can see how much visibility you have in search results compared to your competitors.
Plus, its keyword research tools are second to none, making finding new opportunities to rank higher in organic search results easy. It's like having a marketing Swiss Army knife in your pocket!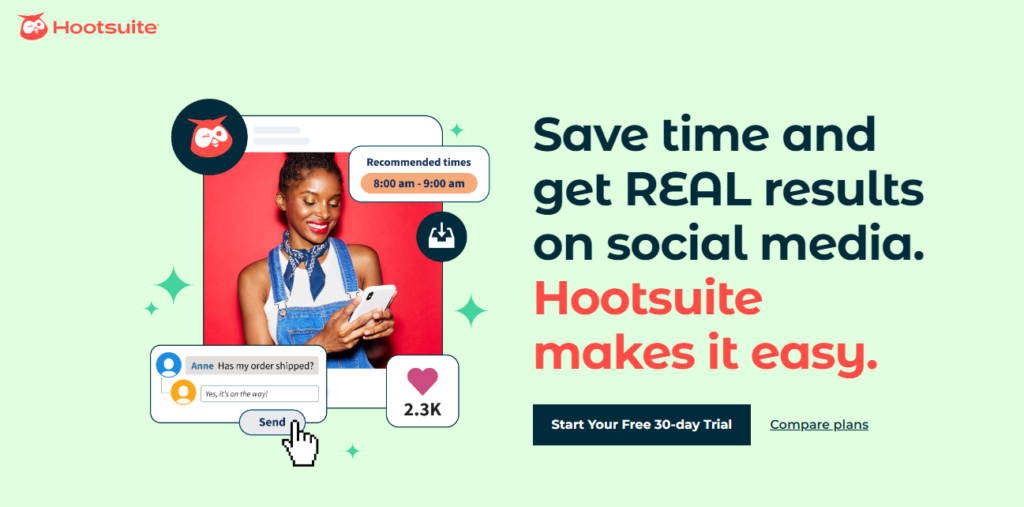 If you're a social media manager, Hootsuite is your best friend. It allows you to manage all your social media accounts in one place and schedule posts in advance.
With its analytics features, you can track your share of voice on major social networks and your social media share and see how your content is performing.
Its team collaboration features make it easy to work with others to create the perfect social media strategy. It's like having a social media butler who always has your back!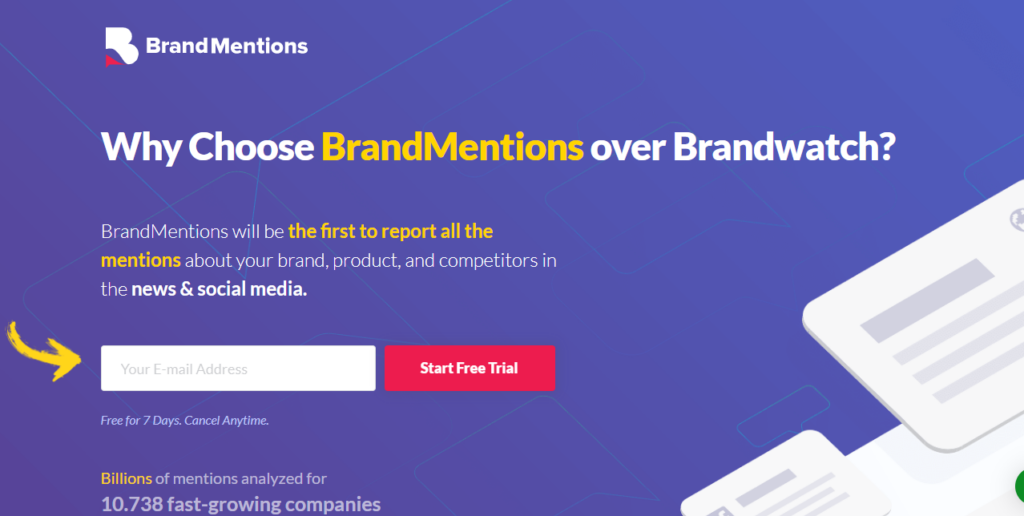 Brandwatch is a social listening tool and the perfect tool for monitoring online mentions and conversations about your brand. You can track mentions of your brand on social media, in news outlets, sites, blogs, and forums.
With its sentiment analysis feature, you can see if people say positive or negative things about you.
Its influencer identification feature makes it easy to find people who can help spread the word about your brand. It's like having a personal brand detective who always has their ear to the ground!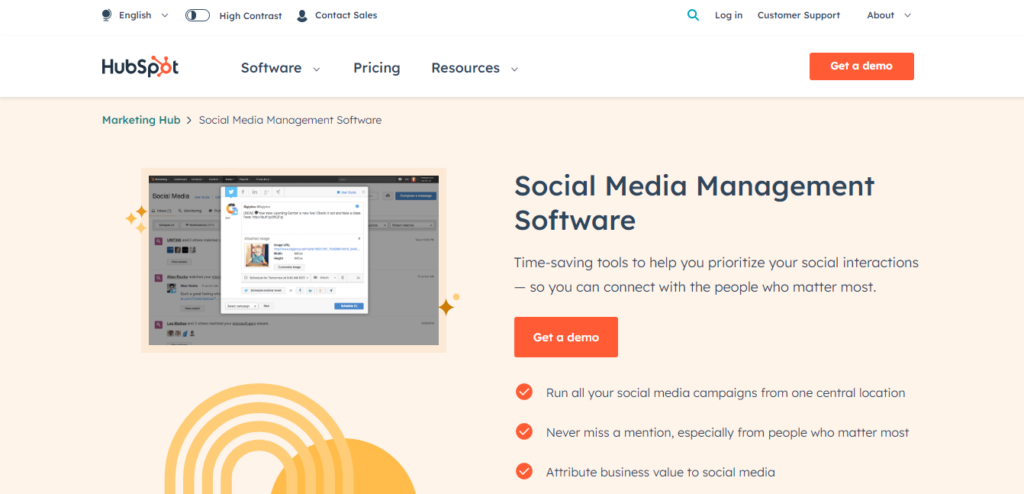 HubSpot is the ultimate all-in-one marketing tool. It has everything from email marketing to customer relationship management (CRM) to sales automation.
With its share of voice features, you can see how your website performs in search results compared to your competitors.
Additionally, this tool's lead generation and nurturing capabilities facilitate the conversion of website visitors into customers.
Strategies for Improving Your Share of Voice
Improving your Share of Voice (SOV) is essential to increasing brand visibility and staying competitive in today's digital world. Below are some strategies for improving your SoV:
Utilize SEO and Content Marketing:
One of the most effective ways to improve your SOV is to focus your marketing budget on SEO and content marketing. This involves optimizing your website and content for search engines, ensuring your brand is easily discoverable online.
You can achieve this by researching keywords, creating high-quality content, and optimizing on-page elements such as meta titles and descriptions.
Leverage Social Media Platforms:
Social media platforms are a powerful tool for improving your SOV. By creating engaging content using social listening tools and leveraging the power of social media advertising, you can reach a larger audience and increase your brand's visibility.
Choosing the right platforms that align with your target audience and focusing on building relationships with your followers is important.
Build Relationships with Influencers:
Influencer marketing is another effective strategy for improving your SOV. By partnering with influencers, you can tap into their audience and increase your brand's reach. It's important to choose influencers that align with your brand's values and message and focus on building long-term relationships rather than one-off collaborations.
Establish a Strong Brand Identity:
Establishing a strong brand identity is crucial for improving your SOV. This involves creating a consistent brand message and visual identity that resonates with your target audience.
Your brand identity should be reflected in all aspects of your marketing, from your website and social media channels to your paid advertising efforts and customer service.
Frequently Asked Questions
What Does Share of Voice Mean?
Share of voice (SOV) is a metric used to measure the attention specific brands, products, or campaigns receive compared to their competitors. It is often represented as a percentage and is measured by tracking the total number of mentions online or in the media for each brand compared to its competitors over a given period.
How Do You Determine Share of Voice?
It's calculated by taking the total number of online mentions your brand has and dividing it by the total number of mentions across all competing brands and multiplying that number by 100. This helps you determine your influence in the industry, understand where the brand stands, and how to increase it.
What Is the Share of Voice Rule?
The Share of Voice Rule suggests that if brands allocate more resources towards advertising (SOV) than their actual market share (SOM), they are likely to experience growth. Conversely, if they allocate fewer resources toward advertising than their market share, they may experience a decline.
What Is the Difference Between Share of Market and Share of Voice?
Share of Market refers to the amount of a specific market held by an individual, organization, or brand. It is usually expressed as a percentage or ratio. On the other hand, Share of Voice refers to measures of how much attention or visibility a particular brand has relative to its competitors regarding advertising and marketing efforts.
Is SOV the same as Impression Share?
Share of Voice (SOV) and Impression Share (IS) are different metrics. SoV measures the attention specific brands receive compared to their competitors. In contrast, the impression share metric IS measures how often an ad appears on a search engine or website for a specified keyword.
Conclusion
Share of Voice is one metric that does not get the attention it needs. In other words, "SOV" is often overlooked in competitive analysis and marketing strategy.
However, a brand's SOV provides valuable insights into how its social listening content performs against its competitors and their level of visibility and awareness in the social listening market.
By understanding SOV, businesses can develop better strategies for increasing brand visibility, improving brand awareness and customer engagement, and optimizing marketing campaigns for maximum effectiveness.
With the right tools and strategies, businesses can leverage SOV data to understand their market share position better and take steps to improve it. In short, monitoring the share of voice is an invaluable tool in any business's competitive analysis arsenal.