Beyond content creation, repurposing, and publishing, one other important aspect of generating and converting leads for your business is SEO. In this context, SEO means all the tactics and techniques involved in getting your content to rank high on search engine results pages (SERPs).
Blog posts are a surefire way to generate traffic for your sites and create helpful content for your audience. With more internet users spending more time on blogs than email,
blog posts have become a vital content form in the content marketing strategy of different industries across industries.
No one wants to do work no one else will ever see. Unfortunately, your content marketing efforts will go to pieces if your target audience does not find your content. And this is what happens when you do not optimize your content for search engines like Google.
In this article, you will gain a better understanding of blog SEO, the process of optimizing your blog posts so that they rank higher in search engines by doing keyword research, optimizing titles and metatags, building links, and other blog SEO tips.
It is important to mention here that the rest of this article will focus on blog SEO on Google as Google is the most used search engine, holding over 90% of the search engine market and processing over 8.5 million queries daily.
What Is Blog SEO and How Does It Work?
Search Engine Optimization (SEO) is an important concept in content marketing. SEO is the entire process of making your website visible when people search for products, services, or content you offer.
When your page is visible to users, you have the potential to attract enough traffic to generate leads and conversion for your business. Conversely, a poorly optimized site does not get the traffic it needs to communicate directly with your target audience.
Search Engines use bots to crawl site pages and index and rank them to determine the results of a search. There are different ranking factors that affect exactly where a site appears in a relevant query.
SEO is generally categorized thus:
On-page SEO
Off-page SEO
Technical SEO
Blog SEO is an aspect of search engine optimization that can involve different aspects of SEO. Blog SEO involves using blog posts as a content form for improving your search engine rankings.
It is an important concept for blogging because when you have a blog, the content of your posts must be optimized for search engines, just like any other page on your website. This will allow your content to come up as responses to direct queries and searches by users who are most likely your potential customers.
When it comes to optimizing blog posts for SEO, there are some specific techniques that need to be employed, including; keyword research, creating titles and meta tags, using images properly, writing quality content, building links, and more.
Once you understand how blog SEO works, your blog posts will be more likely to serve their purpose of attracting traffic and generating leads for your business.
How to Write Blogs for SEO
Writing blogs for SEO is easier than one might think. All it takes is a few thoughtful steps to ensure your blog posts are optimized for search engine visibility and relevance. Here are some tips on how to write compelling blog posts for SEO:
Outline Your Content Direction
Before you start writing a blog post, it is essential to have an idea of what your content will be about. You can use existing content or competitor insights to develop ideas and create an outline for an amazing blog.
When it comes to content creation, it is easy to assume that you know what your audience needs or what the best content strategy for your business. But it is always best to take the time to map out a comprehensive content direction that includes blogs, videos, infographics, and other effective content forms.
Find a Keyword
Once you've determined the content direction for your blog, it's time to find a keyword that will be relevant to your topic. This can include the main or related keywords that could help you rank higher on search engine results pages (SERPs).
You can use tools such as Google keyword planner and Ubersuggest to find keywords that will be relevant to your content and help optimize your blog post.
Research Your Audience
When creating content for SEO, you need to understand who your audience is. Take the time to research the interests and needs of your readers so that you can create content that resonates with them. This will also help you determine which topics and keywords will be most effective when it comes to SEO.
Check Search Intent
When creating content for SEO, it's important to check the search intent of your target keyword. Search intent simply means understanding why people are searching for a particular term or phrase.
For example, if you're targeting "SEO tips," you need to ensure that your content provides helpful and informative information about search engine optimization rather than just trying to sell a product or service.
You can use a tool such as Ahrefs to see which keywords have the highest potential for ranking on SERPs. This will help you determine which topics and keywords will most likely bring organic traffic to your website.
Create a Topical Cluster
A topical cluster is a group of related blog posts focusing on the same topic. This helps create more organized content and allows search engines to identify it as relevant to specific queries easily.
To create a topical cluster, you can start by identifying the topics or keywords most relevant to your blog post. Then, write multiple blog posts that encompass the same theme or keywords. This will help you create more relevant content to your target audience and increase your chances of ranking higher on search engine results pages.
Create an Outline
Once you've identified the keyword, researched your audience, and established a topical cluster, it's time to create an outline for the blog post. This will help you organize your content and ensure that each section is cohesive and relevant to the overall topic.
Write Well-researched Content and Optimize for Search Engine
Finally, it's time to write your blog post. Ensure you create high-quality content containing relevant information about the topic. Additionally, optimize your content for SEO by including keywords in the heading tags and meta descriptions.
This will help ensure that search engine algorithms can crawl and index your content quickly and accurately. Once you've completed your post, proofread it for any errors or typos and then publish it on your blog.
How to Optimize Blogs for SEO
BLOG SEO CHECKLIST ✅
. Do Keyword Research
. Check Search Intent
. Write a Compelling Title
. Add Meta Tags and Meta Descriptions
. Include Internal and External Links
. Write Quality and Engaging Content
. Use Videos and Infographics
. Share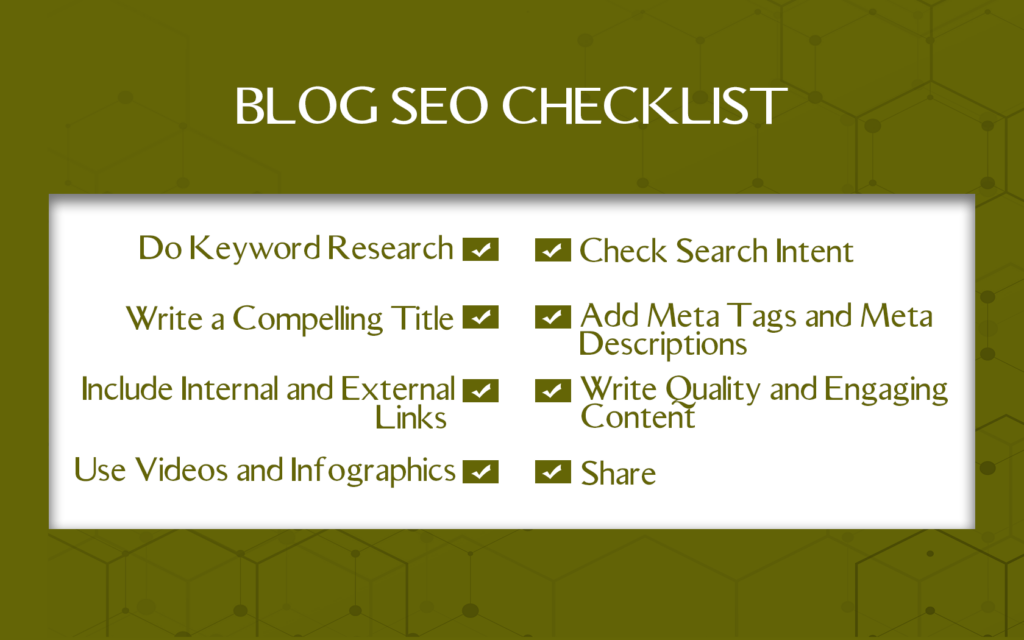 To take advantage of blog SEO techniques, there are best practices for writing blog posts to optimize them for search engines. Search engines, specifically Google, emphasize on content that puts people first to connect people with helpful information.
While SEO is primarily about making the best use of search engine algorithms, ironically, content that is specifically tailored to fit the demands of search engines without the reader in mind will not perform well on search engines.
To optimize your blog posts for search engines while meeting the helpful content threshold, here are some best practices to abide by:
Use Keywords
It is important to use keywords correctly. This means taking the time to research the specific keywords for your content. Consider using long-tail keywords that are more specific and closely relate to what you want to promote.
Try also to include variations of the focus keyword, as well as synonyms, and related terms, throughout your post. This will help search engines understand the context of your content and easily crawl it.
Title Tags and Header Tags
Including keywords in your post's title tag and meta description is important. The title tag is a crucial element of SEO as it signals to search engines what the content is about to search engines. Including relevant keywords will help you rank higher on SERPs (search engine results pages). Additionally, make the title descriptive and exciting to encourage readers to click.
Headings and subheadings also play an important role in SEO. They help search engine algorithms understand the structure of your post and break it down into sections. Again, including relevant keywords in headings and the title tag will signal to search engines what the content is about and increase your chances of ranking higher on SERPs.
Also, ensure your content is properly stratified into H1, H2, and H3 headers as the case may require, and your blog post title is not just keywords.
Use Short, Evergreen URLs
The URL of your blog post should be short and contain keywords relevant to the content. It should also be evergreen, meaning it won't become irrelevant over time. This will make it easier for search engines to crawl and index your content quickly and accurately.
Optimize Images With Alt Text
It is important to include images in your blog post to make it more attractive and engaging for readers. However, you must also optimize these images for SEO by including informative alt text.
Alt text is a short description of an image used by search engine algorithms to understand the context and relevance of an image, so including relevant keywords in this text will help you rank higher.
Use Videos and Infographics
Videos and infographics are a great way to supplement your blog post and make it more engaging. Including these elements will also help you rank higher on SERPs, as search engine algorithms prioritize multimedia content over plain text.
Just be sure to include descriptive titles, tags, and alt text for the videos and infographics so they can be indexed appropriately.
Add a Table of Content
Including a table of contents at the beginning of your post can help readers navigate through the content quickly and easily. It gives readers a preview of what your content is about and allows them to decide if it will be helpful to them.
It can also help search engines better understand the structure of your post.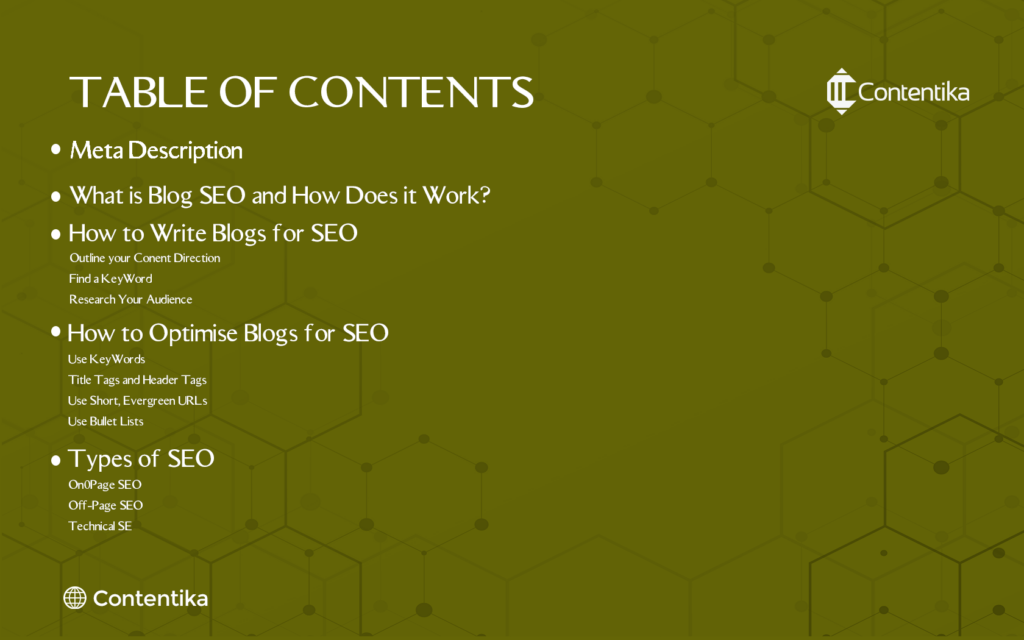 Use Bullet Lists
Bullet lists are a great way to break up long paragraphs and make it easier for readers to scan your content quickly. They also help search engine algorithms easily identify the key points in your post, making it easier to crawl and understand by Google.
Include Linkable(Featured Snippet)
A featured snippet, also known as a rich answer, is a special type of answer that appears above the other search results on Google. Featured snippets are designed to give users a quick answer to their questions without them having to click through to another website.
Including a featured snippet or linkable content can help readers find the information they are looking for quickly and easily. This helps search engines identify the most important points in your post, making it easier to rank higher on SERPs. It also encourages people to click and read more, helping you get more traffic.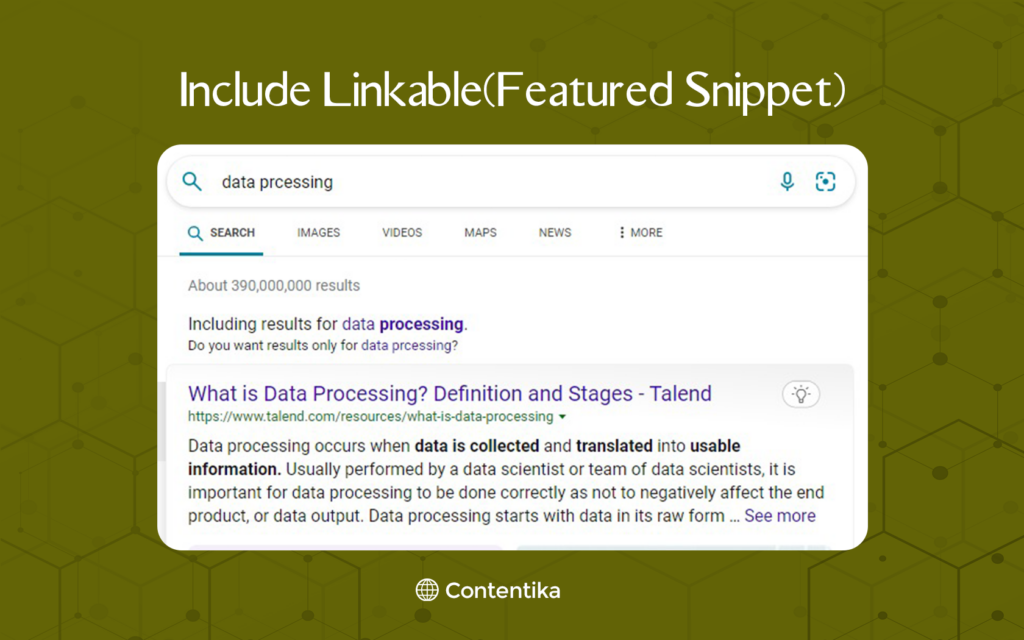 Add Schema Markup
Schema markup is a type of code used to help search engine algorithms understand the context and relevance of your content. It allows you to provide descriptive information about your post, such as author, date published, keywords, images, etc., allowing search engines to understand your content better.
Add Internal Links
Internal links are links from one page on your website to another. This helps search engine algorithms crawl your content more efficiently, indexing it faster and helping you rank higher. Internal linking provides readers with more relevant information on the website and encourages them to click on other pages.
Noindex Category and Tag Pages
If your blog post is included in any category or tag pages, make sure to noindex them by adding a meta tag. This will help search engine algorithms avoid indexing irrelevant and duplicate content and instead focus on the relevant posts. It also ensures that only the most important pages of your website are indexed correctly.
Create a Blog Sitemap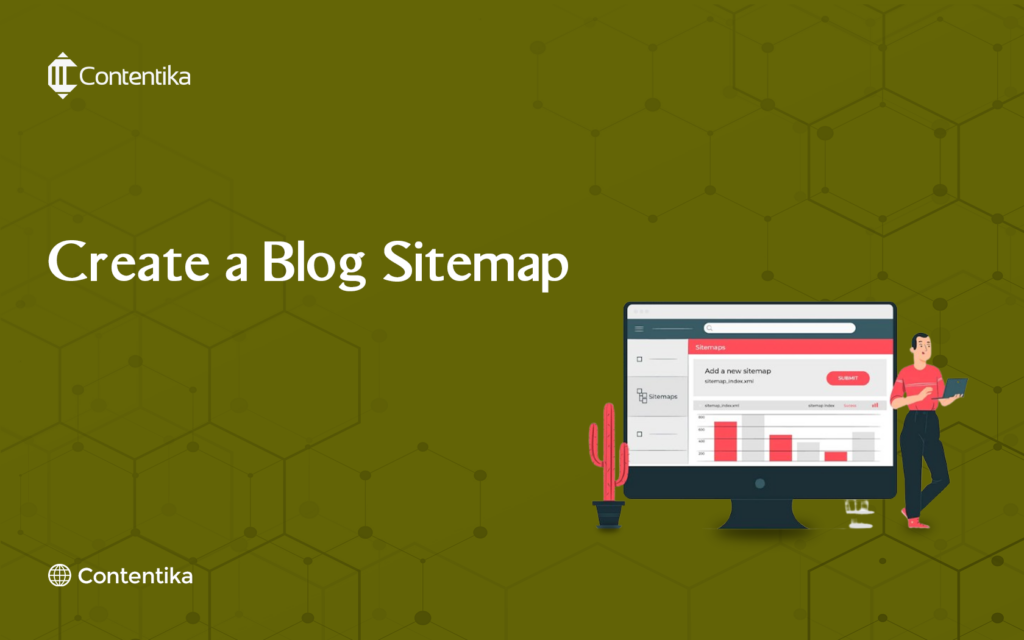 Creating a blog sitemap will help search engine algorithms crawl and index your content more quickly. A blog sitemap contains all the links to the posts on your website, making it easier for search engine bots to find them. You can create a blog sitemap by following these steps:
Reduce Bounce Rate
Although there is a debate as to whether bounce rates impact rankings on Google (same as many other common SEO tactics), reducing your bounce rate is still beneficial for your overall website performance and user experience.
You can reduce the bounce rate by ensuring your content is relevant to the query, providing clear calls to action, and optimizing page loading times.
Use the Right Tools and Plug-Ins
Using the appropriate SEO tools and plugins to optimize your content will help you get better results. Some popular SEO tools include Yoast SEO, All in One SEO Pack, SEOPress, Rankmath, etc.
These tools can help you with keyword research, optimizing titles and meta descriptions, creating sitemaps, setting up Google search console, etc. This will help ensure that you use the best SEO practices to optimize your content for better rankings on SERPs.
You should have at least one SEO plugin to serve as some sort of SEO guide as you optimize blog content.
Measuring the Success of Your SEO Efforts
Finally, it is important to measure the success of your SEO efforts. Many tools like Google Analytics and Ahrefs can help you track various metrics such as website traffic, organic search rankings, inbound links, keyword performance, etc. Regularly analyzing these metrics will help you understand how successful your SEO strategy is.
How to Do Keyword Research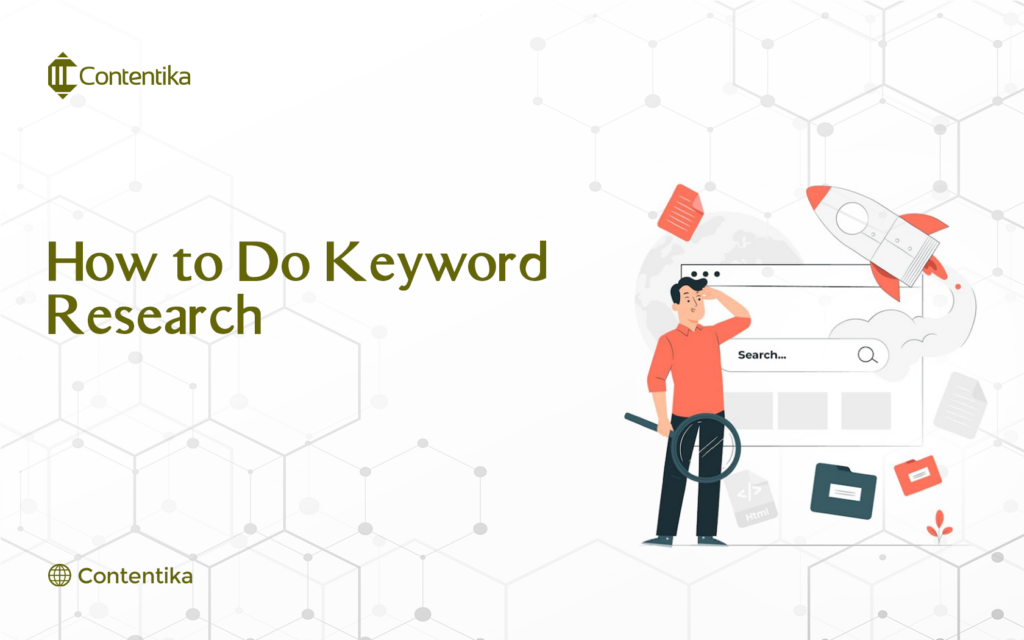 From the already highlighted practices for optimizing blog posts for search engines, one recurring concept has been keyword research. The question then is, what is keyword research, and how do you do it?
Keyword research is the process of finding and targeting the terms that people use when making a search engine query. The purpose of this is to understand what people are looking for and tailor your overall content marketing strategy toward it. It involves analyzing the competition for these keywords, looking at their search volume, and using them throughout your content for better optimization.
The main elements of keyword research that marketers must pay attention to are: volume, relevance, and authority. You can perform keyword research using various tools such as Google Keyword Planner, Surfer SEO, SEMrush, and Ahrefs.
The following steps are involved in keyword research:
Identify the Topic or Subject Area
Before you start the keyword research, you first need to try to put yourself in the position of your buyer persona and then identify the topic or subject area in which they will be interested.
This will help narrow down the list of keywords you should focus on. At this point, it is okay to focus on generic topics. For example, if you are writing a blog for a content marketing agency, topics such as "inbound marketing", "content marketing strategies", and "content marketing forms" are relevant to your target audience.
Brainstorm and Create a List of Potential Keywords
Once you have identified the topic, it is time to start brainstorming and coming up with potential keywords that could be relevant to your content. This can be done in many ways, such as using Google autocomplete, searching for related terms on search engines, or using keyword research tools like SEMrush. Note that even as you try to get keyword ideas, your focus should be to create quality content.
Research the Competition for These Keywords
Next, you will need to research the competition for these keywords, especially your primary keyword and anchor text. Analyzing the top ten pages Google pulls can help you understand how difficult it would be to rank for these terms and whether or not they are worth targeting.
Analyze Search Volume and Relevancy
The next step is to analyze the search volume of these keywords and the relevancy of each term. You want to target those terms that not only have a good amount of search volume and are relevant to your content. If you find any terms that are too broad, it would be best to avoid them as they could draw traffic away from your website.
Optimize Your Content With Relevant Keywords
Once you have identified and researched your keywords, it is time to optimize your blog post with them. Make sure that you not only use the targeted terms in your content and include related long-tail keywords for better optimization. Also, avoid keyword stuffing, as this could lead to penalization from search engines.
Types of SEO
As stated earlier, blog SEO, as a component of search engine optimization, can involve different types of SEO. Hence, to fully understand the concept of blog SEO, there is a need to understand the different types of SEO and how it links to Blog SEO.
(Insert infographic of types of SEO)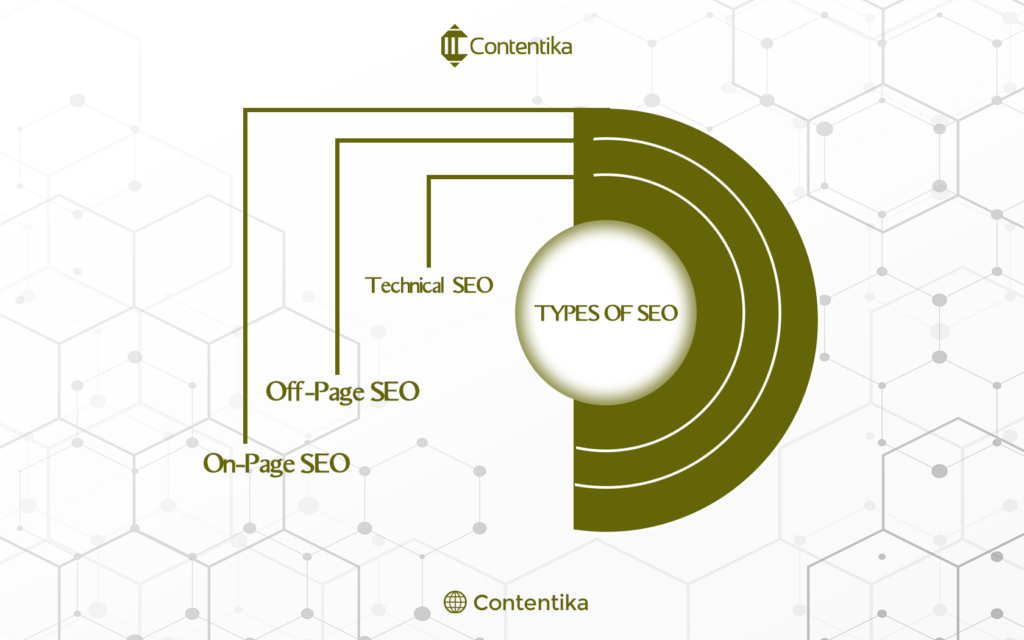 On-Page SEO
On-page SEO involves optimizing individual web pages to rank higher and increase traffic. It involves making changes directly on pages on your website, such as writing keyword-rich titles, meta descriptions, and meta tags, internal linking to other pages on your website, external links, URLs, featured snippets, and more.
Off-Page SEO
Off-page SEO is the entire process of working outside your website to increase its visibility in SERPs. Off-page SEO involves who is talking about your brand. It involves activities such as link building from other websites, backlinks, guest posts, influencer marketing, social media marketing and promotion, content promotion, and more.
Technical SEO
Technical SEO is the process of ensuring your website is well-structured so that search engine bots can easily crawl and index it. This includes optimizing its structure and architecture, fixing broken links and duplicate content issues, and optimizing page loading speed.
Other essential aspects of technical SEO include Secure Socket Layers, a security technology that creates an encrypted link between a web browser and web server; creating an XML sitemap; enabling AMP, registering your site with Google Search Console and Bing Webmaster Tools, and adding structured data markup to your site.
Why Is SEO Important?
Understanding the importance of Search Engine Optimization strategies for businesses, in general, will help us understand the importance of optimizing blog posts for search engines. Below are some of the reasons why SEO is important:
It Helps Businesses Build Trust And Credibility
Visibility is the primary goal of marketing for any business. The more your business is seen and recognizable by your audience, the better your chances of getting business from your target market.
When your website appears at the top of organic search engine results, it helps build trust and credibility with potential customers. It shows that you are an authority in your industry, which will give people more confidence in your business and services.
It Helps Businesses Understand Their Customers
Optimizing your content for search engines can help you understand more about the needs and interests of your target market. You can use tools such as Google Analytics to gain insights into which keywords people use to search for your content and tweak them accordingly.
This will help you better tailor your content to what people are looking for.
It Creates a Better User Experience
Search engine optimization not only helps potential customers find your website but also ensures that they have a better user experience. Optimizing content for search engines helps improve the structure and layout of web pages, making it easier for people to navigate and access information quickly. It also impacts the speed of the sites and the ability of users to access them through mobile.
It Impacts the Buying Cycle
SEO is an essential part of any digital marketing strategy for businesses. Search engine optimization affects the buying cycle by helping potential customers learn more about your business and your products. It can also help them make decisions faster and easier, as they can access all the information they need in one place.
Customers are more likely to interact with businesses that have provided them with helpful content. Having your content rank high in search engine results is one of the best ways to get discovered by potential customers. Even if someone does not know about your business, they may find your content on Google or Bing and decide to check it out.
Search Engines Are Constantly Evolving
Search engine algorithms are constantly evolving and becoming more sophisticated. This means that to stay ahead of the competition, businesses need to ensure they understand how search engines work and optimize their content according to the latest changes.
SEO is an important part of any digital marketing strategy as it helps businesses stay on top of trends and adapt accordingly.
Relationship Between Your Business Performance and the Web
Search engine optimization is not just about improving ranking on search engines; it is also about improving the overall performance of your business. SEO helps you identify potential customers, target them with relevant content, generate more organic traffic, and measure how successful your campaigns are.
This helps you better understand the impact of digital marketing strategies on your business and make decisions that can help improve.
It Is Relatively Cheap To Help Businesses Get Ahead
Search engine optimization is often much cheaper than other forms of digital marketing, such as pay-per-click advertising. It also has a longer lifespan and can help businesses get ahead in the long run.
SEO Is Good PR
Search engine optimization can be a great way to build your brand and reputation. When people search for something related to your business, it helps boost the visibility of your website and increase the number of people who are aware of you.
This can help establish trust with potential customers and make them more likely to do business with you. SEO is also a way to establish your brand's story and control the narrative for your brand.
It Works in the Long Term
Search engine optimization is one of the best ways to ensure your business stays ahead in the long term. It helps you build a strong presence on search engines and create content that will be helpful for customers for years to come.
This ensures that your website will continue to rank high, even after algorithm changes or shifts in user behavior. SEO also helps businesses take advantage of emerging trends and stay ahead of the competition.
It Is Measurable
One of the benefits of SEO is that it's measurable. You can track your rankings, website traffic, and conversions to see what strategies are working and which need improvement. This makes it easier to make data-driven decisions about where to invest time and resources for maximum return on investment.
Brings New Opportunities To Light
Search engine optimization can also help businesses find new opportunities. You can use keyword research to identify topics and keywords that are popular and have the potential to bring a lot of traffic to your website.
This helps you to create content around these topics and build relationships with other businesses in the same industry. Also, making a new blog post SEO-friendly helps improve your google search results considerably.
It Is Necessary for the Top Position on SERPS
Seventy-five percent of internet users will never go beyond the first page of Google for a search result. Search engine optimization is essential for businesses to achieve the top position on search engine result pages (SERPs).
This helps you increase visibility and reach a larger audience, which in turn, can help your business grow. SEO also ensures that your website will be found when people are looking for services or products related to yours.
Narrowing down the already stated points, we can see how blog optimization on search engines can be beneficial for businesses, especially because 93% of all web traffic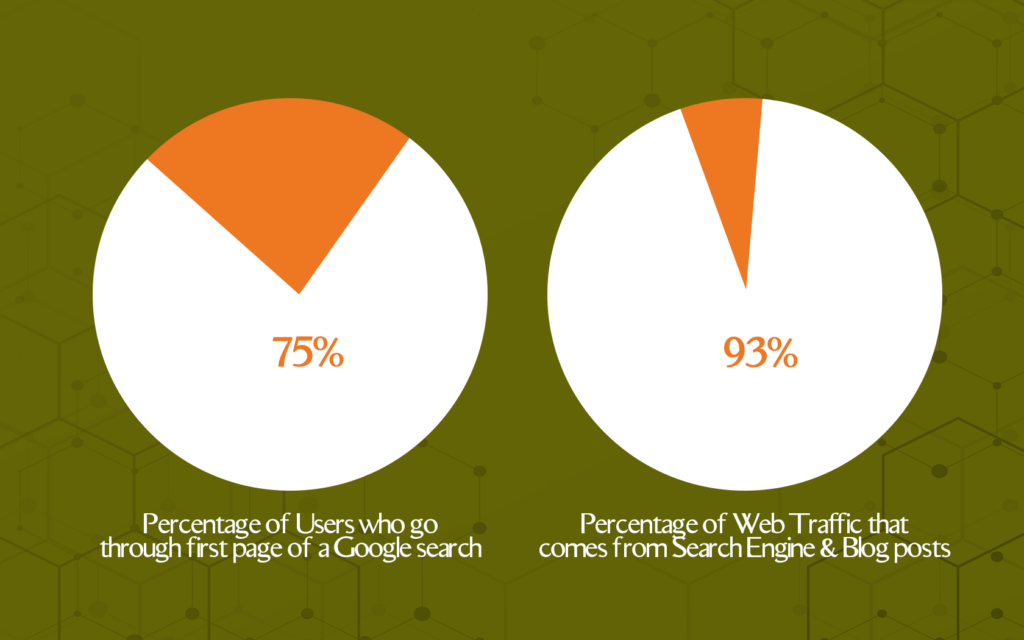 comes from search engines and blog posts are the more likely content form to come up as results to user queries.
Factors That Affect Blog SEO
Again Blogs are an essential part of any website, and they are usually the first point of information on search engines. SEO factors that can directly or indirectly impact your blog content include:
(Insert infographic of the factors listed below)
Website Architecture
This includes the structure of your website's HTML code, URL structure, and navigation hierarchy. These help search engines understand your site better. Your website architecture refers to how organized your website is and how the content on your site is structured and what should be prioritized.
Content Quality & Freshness
The content you provide on your blog should be informative, up-to-date, and relevant to what people are searching for. You should regularly refurbish and update the content on your site to stay relevant and improve your rankings on search engines.
Image Optimization
Optimizing images on your blog page can help to increase its visibility in search engine results. This can include resizing images, including alt tags, captions, optimized file names, and optimized titles, and structured data.
Mobile Responsiveness
Having a mobile-friendly design is essential for any website and blog. A mobile responsive site automatically adapts to fit whatever screen it is presented on. A site must be able to function optimally on mobile devices of any size and still be aesthetically pleasing.
Speed
Page loading speed is an important factor for SEO as it can affect the user experience and ultimately, your website's ranking as search engines (Google) always put users first. Pages load faster when you use a performance-optimized hosting solution.
Index Date
The index date is the last time Google crawled your website and updated its records. It is important to keep this updated regularly for better search engine rankings.
Recent Data
Linking your content to recent, relevant data signals to search engines that your site provides relevant, up-to-date information to your visitors, therefore boosting your rankings.
Dwell Time
The amount of time a user spends on your website and blog articles, and it can be affected by factors such as content quality, bounce rate, etc.
Frequently Asked Questions on Blog SEO
How Long Does It Take to Rank on Google?
Unfortunately, there is no definitive answer to this question as it can vary due to many different factors. Typically, it takes anywhere from 6 months to a year for a website to start ranking on Google.
What Are the Benefits of Blogging?
Blogging can help you increase your visibility online, establish yourself as an authority in your industry, and attract more customers. Additionally, it can help to build relationships, boost engagement, and improve your SEO rankings.
What Techniques Should I Use for Blog SEO?
Some of the techniques you should use for blog SEO include optimizing titles & meta descriptions, using relevant keywords throughout your content, linking internally and externally, regularly updating content, and optimizing images & videos.
How Can I Improve My Dwell Time?
Improving dwell time can be done by providing engaging content, improving the user experience, and creating a seamless navigation structure. Additionally, you should ensure that your website is mobile-friendly and loads quickly to avoid visitors bouncing off your page.
How Long Should My Blogposts Be for Search Engine Optimization?
The length of your blog posts should depend on the topic you are covering and how detailed you want to go. Generally, it's best to aim for at least 500 words as shorter posts may not be considered thorough by search engines.
How Do I Repurpose Blog Content for SEO?
Repurposing blog content for SEO can be done by expanding on existing topics, breaking up long posts into smaller chunks, updating old posts with new information, and republishing your content in different formats (e.g., podcasts or videos).
Wrapping Up
SEO strategies, although rapidly evolving, have remained fundamentally the same
backlinking, keywords, mobile responsiveness, speed of the site, and URLs, among others. Blogging remains the most effective way to put all of these strategies into practice cost-effectively.
By blogging, sites can optimize for important ranking factors such as organic click-through rate, index coverage, backlinks, and internal links. Blogging also helps to build relationships with readers, which can be beneficial in getting more traffic and attention.
Blogging provides a platform for businesses to create organic content that is relevant, interesting, and engaging to the target audience. By utilizing SEO strategies in blogs, businesses can effortlessly increase their visibility on search engine results pages (SERPs).
This increases the chances of being seen by potential customers and, thus, ultimately, grows their business. Moreover, blog content can be easily shared on social media platforms, which will further help increase website visibility and drive more traffic.
In other words, blogs are an effective way to boost SEO and engage with customers in today's competitive digital environment.