Digital marketing can be overwhelming, with a constant stream of new tactics and technologies to keep up with. But at the end of the day, all inbound marketing comes down to making good content and connecting with your audience in a tangible way.
Customers don't want to be bombarded with sales messages – they want valuable content that speaks to their needs and interests. And that's where inbound marketing comes in.
Building real relationships seems to be a lost art these days, but it's an integral part of successful inbound marketing.
Yet, building connections can be done by throwing a bunch of stuff at the wall and seeing what sticks- it's about creating a strategy that works for your business and then following through with consistent execution.
So, how can you make sure your inbound marketing efforts are successful? In this ultimate guide, we'll cover everything from creating a buyer persona to measuring your ROI. Let's dive in.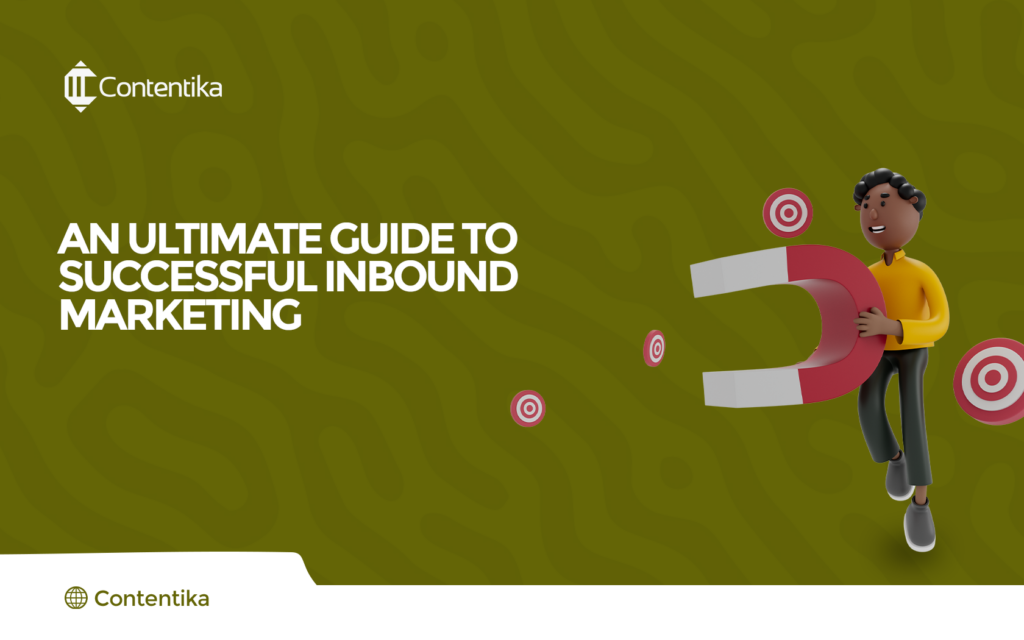 What is Inbound Marketing?
Inbound marketing is a type of marketing that focuses on creating and distributing valuable content to attract, convert, close, and delight customers.
It simply shows you the process of bringing customers to you instead of you going out and finding them. It serves the goal of attracting strangers and turning them into happy customers.
What's more?
Inbound marketing is holistic and consumer-centric. This means that it goes beyond just getting your business name out there.
NO! It's more about building relationships and creating a positive brand image that will last long after the sale.
When you offer such an exceptional customer experience, it's pretty easy for them to do business with you again and recommend you to others.
What Are The Benefits of Inbound Marketing?
Several benefits come with using inbound marketing to attract and convert customers. Some of these benefits include:
Increased Traffic: because inbound marketing helps you reach your target market where they already spend their time, it can increase website traffic.
It's Targeted: With inbound marketing, you can target your ideal customer with laser precision. This is because you have control over the distribution of your content.
Higher Conversion Rates: since you are attracting qualified leads who are already interested in what you have to offer, they are more likely to convert into customers or subscribers. In practical terms, Inbound marketing generates 3times as many leads per dollar spent as outbound marketing.
Lower Costs: inbound marketing is generally more cost-effective than outbound marketing because it doesn't require as much effort or money to reach your target market. As a matter of fact, inbound marketing is a more affordable option than traditional outbound marketing methods like print ads, TV commercials, and radio ads.
Greater Return on Investment (ROI): because inbound marketing is more effective and efficient, it generally results in a higher ROI than outbound marketing.
Improved Brand Awareness: as you attract more visitors to your website and build relationships with them, you will also see an increase in brand awareness and recognition.
Inbound Marketing & Outbound Marketing
Inbound marketing and outbound marketing are two sides of the same coin. Outbound marketing is the traditional form of marketing that involves interruption tactics like cold-calling, TV commercials, and pop-up ads.
Inbound marketing, on the other hand, Inbound marketing focuses on building customer relationships by giving them helpful content.
The main difference between the two is that inbound marketing takes time and outbound marketing gives you results right away. However, in the long run, inbound marketing is more effective because it builds trust and credibility with the customer, which leads to more conversions.
Outbound marketing is usually less effective than inbound marketing because it is more disruptive and can be expensive. Inbound marketing is generally more effective because it's more targeted and efficient.
Inbound Marketing & Content Marketing
Inbound marketing and content marketing are often used interchangeably, but they are two different things.
Inbound marketing is a more holistic approach that covers all aspects of the customer journey, while content marketing is just one piece of the puzzle. This means that inbound marketing and content marketing are that inbound marketing covers the entire customer journey from awareness to purchase. In contrast, content marketing focuses on the relationship between a business and its customers.
Be that as it may, inbound marketing is a type of marketing that focuses on attracting customers to your business. On the other hand, you can use content marketing to support your overall marketing goals. It involves creating and sharing valuable content to attract and retain customers – blog posts, ebooks, infographics, etc.
Although content marketing is often used as part of an inbound marketing strategy, you can use it independently.
Why is Inbound Marketing Important?
Inbound marketing has become increasingly important as the world of marketing has changed. Outbound marketing tactics like cold-calling, TV commercials, and interruptive ads were the norm in the past.
Today, that has completely changed!
Potential customers are much more likely to do their research online before ever contacting a company. Why? Because they can.
The internet has enabled customers to find the information they need without talking to a salesperson.
Interestingly, they often don't even have to leave their living room to do it.
That's why inbound marketing is so important. It's a way to reach your target audience where they are – online.
So, inbound marketing is crucial because it helps you:
Attract strangers and turn them into visitors.
Convert visitors into leads.
Convert leads into customers.
Close customers into promoters.
Get promoters to do your marketing for you (word-of-mouth).
Whatever your product or service, inbound marketing can help you attract strangers and turn them into customers.
If you're not using inbound marketing, you're missing out on a huge opportunity to grow your business.
How Can You Use Inbound Marketing?
There are several ways you can use inbound marketing to attract and convert customers. Some common methods include:
Blog Posts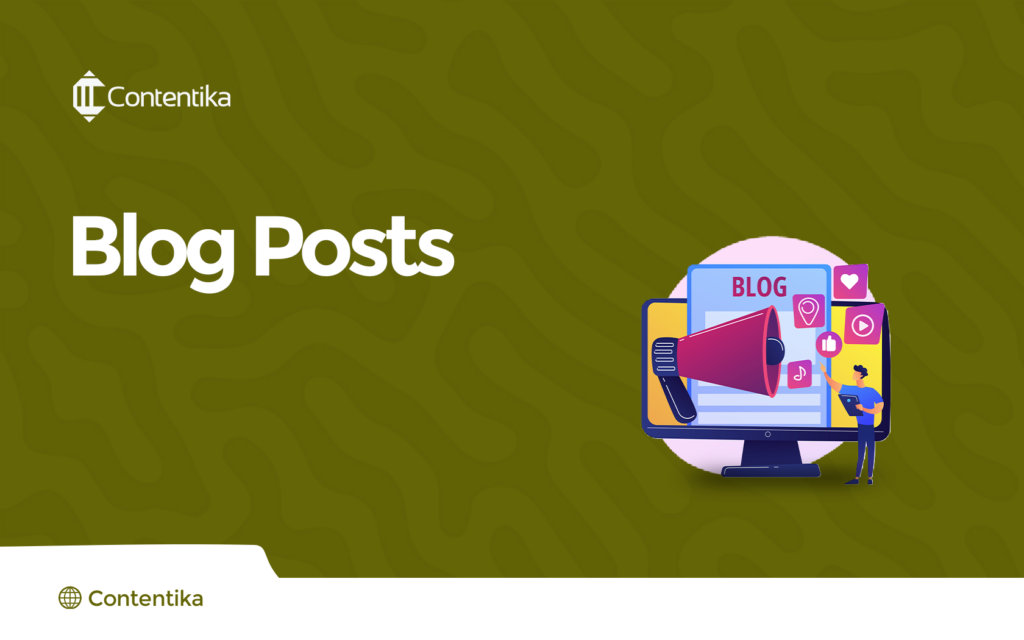 Blogs are a great way to reach your target audience and show that you are an expert in your field. You can do this by regularly creating, publishing, and distributing relevant content in different forms, such as articles, infographics, videos, and others.
SEO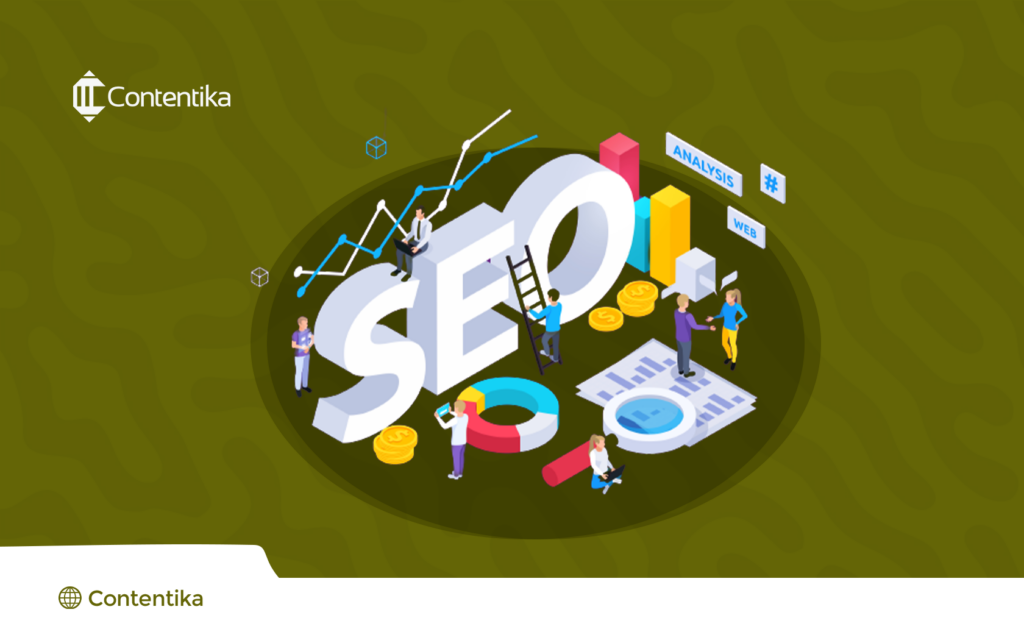 "SEO" stands for "search engine optimization." It is an excellent way to get search engines to notice your website and the content you post. When you optimize the content on your website, you can reach your target market once they search for information related to your business.
In other words, SEO makes your content appear higher on search engine results pages (SERPs). By doing this, your website may increase in search results, leading to more traffic.
To effectively achieve this, you have to choose the right keywords, create an engaging title/headline and make the format of your content easy to read.
Social Media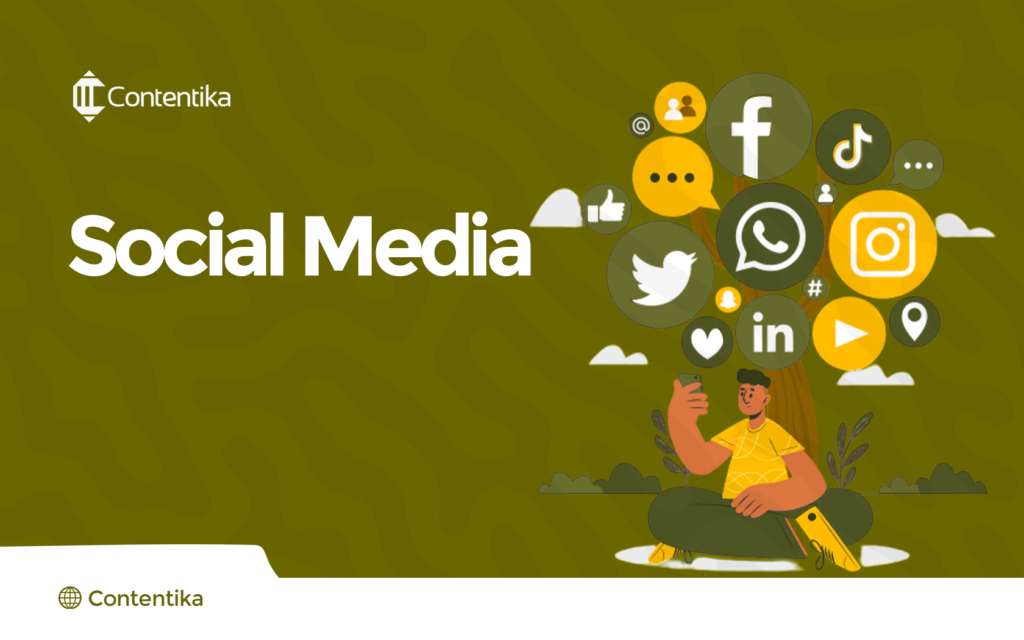 Social media platforms like Twitter, Facebook, and LinkedIn are excellent ways to share your blog posts and other pieces of content with a broader audience. Recent statistics show that While 91 percent of companies use some kind of social media for marketing, 96 percent of people who discuss brands online follow and interact with those brands.
Social media provide that platform for building relationships with potential and current customers and promoting your business.
You can also build relationships with current and potential customers by answering their questions and concerns through social media. By this, you show them that you care about their needs and can provide solutions for them.
Email Marketing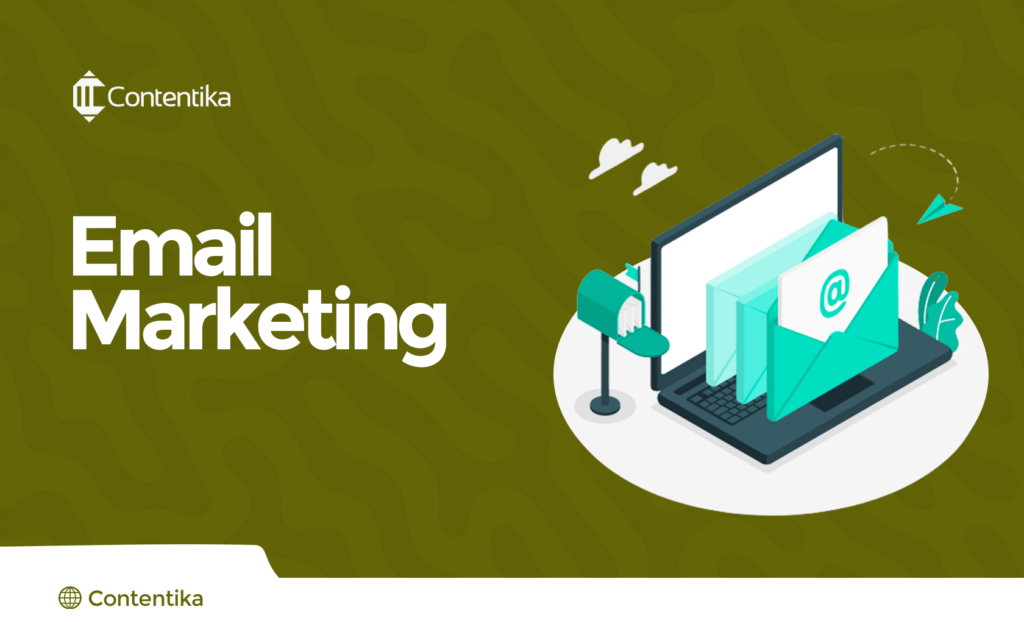 Email marketing is a great way to stay in touch with your customers and promote your business.
To be successful, you need to build a list of subscribers who have opted in to receive your emails. Also, your email content should be compelling and encourage your subscribers to take action.
Newsletters, product announcements, special offers, promotional offers, and customer testimonials are all common types of email content.
Lead Capture Forms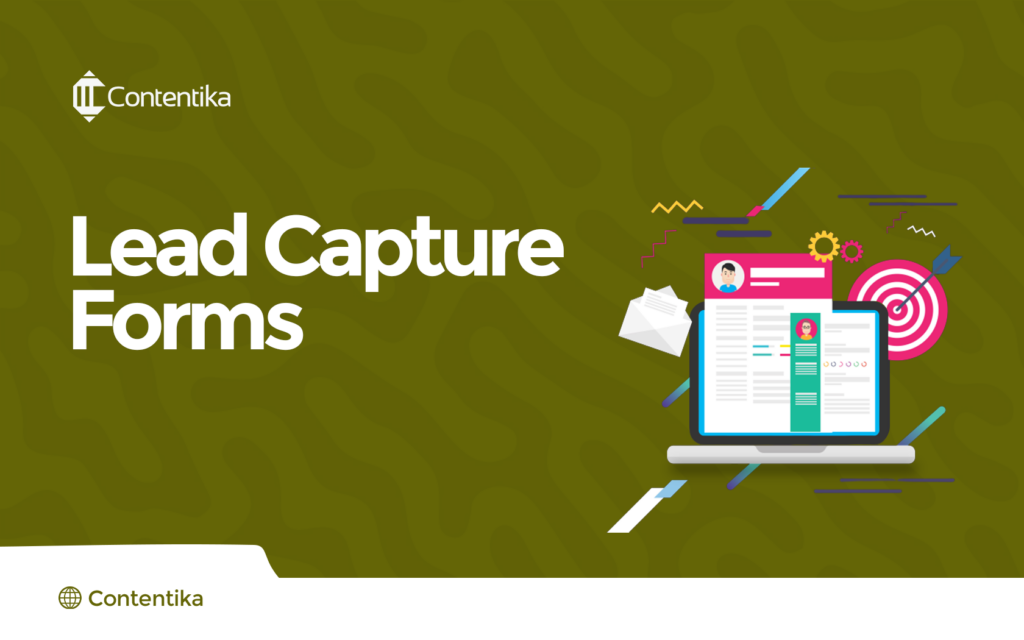 A lead capture form on your website or blog lets you collect contact information from visitors. You can use this information to follow up with potential customers and convert them into leads.
Conversion Optimization
Conversion optimization is about making it as easy as possible for the visitors to your website to become leads and customers.
You can turn more visitors into paying customers by streamlining the process and providing relevant, targeted content. This includes testing different call-to-action (CTA) buttons and developing landing pages like this.
Automation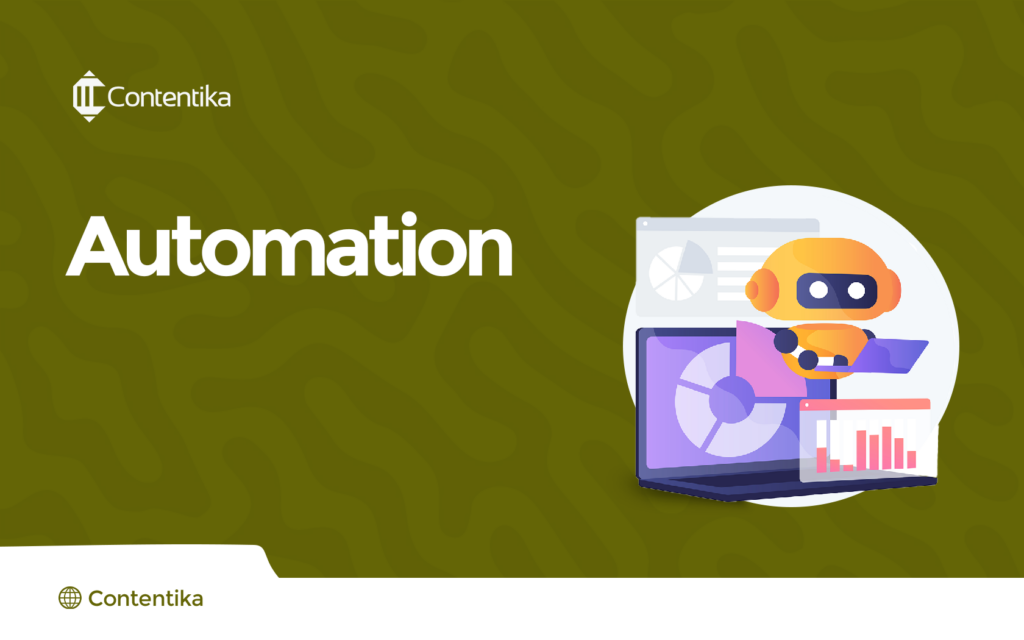 Automation lets you use software to do things like email marketing, social media, and lead capture automatically. It can help save you time by doing repetitive tasks so you can focus on other areas of your business.
Attribution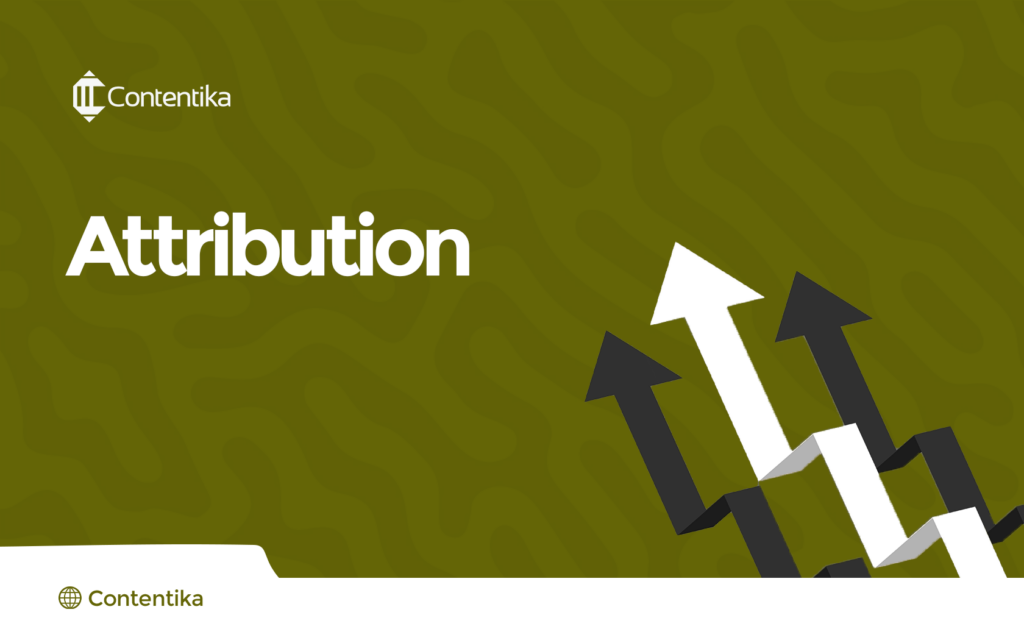 Attribution is the process that enables you to assign credit for a lead or sale to the appropriate marketing channel – like email, social media, or paid search.
This is important as it helps you understand which channels are doing a great job at generating leads and sales.
There are different attribution models, but the last-click model is the most common. With this model, the last channel a customer interacts with before making their purchase gets credit for the sale.
With this, you can understand which channels are effective and where you should spend your time and resources.
Inbound Marketing Methodology
There are different methodologies that you can use for your inbound marketing campaigns. But, one of the most popular and effective is the AED method.
The AED method stands for Attract, Engage, and Delight. And it's a simple way to structure your inbound marketing campaigns more effectively.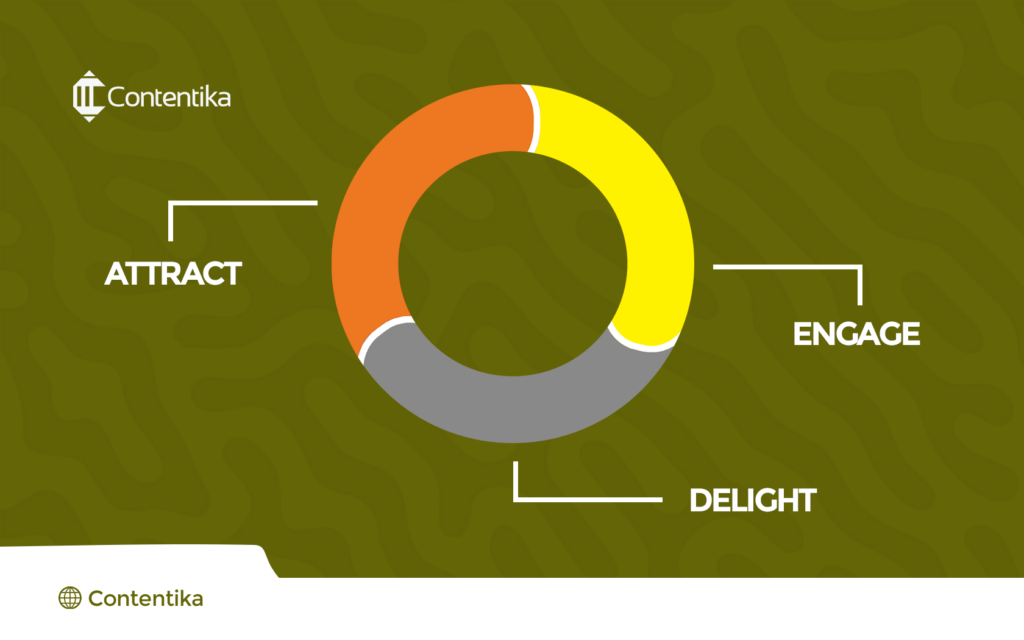 Attract
The attract stage is all about getting found by your target market. This is done through search engine optimization (SEO), blogging, social media, and other methods.
This content must be valuable to them and should include guides on how to use your products, information about how your solution can solve their challenges, testimonials from customers, and information on discounts, deals, and promotions.
By creating and sharing this type of content, you will be able to reach your target market more effectively.
Engage
The engagement stage is about building relationships with your leads. This is done through email marketing, social media, and other methods. It's essential to keep your leads engaged, so they don't forget about you or your product.
You can send them helpful content, such as blog posts, eBooks, guides, and white papers. You can also stay in touch with them through social media and email.
Delight
The delight stage is all about continuing to provide value to your customers after they've made a purchase. The goal is to ensure that your customers remain delighted so they remain happy, satisfied, and supported long after their patronage.
This is done through excellent customer service, sending out birthday coupons, or offering loyalty programs. By delighting your customers, you can create a group of people who will spread the word about your product or service to others.
Inbound Marketing Tools and Workflow
You can use several different tools to help with your inbound marketing efforts. Here are a few of our favorites:
HubSpot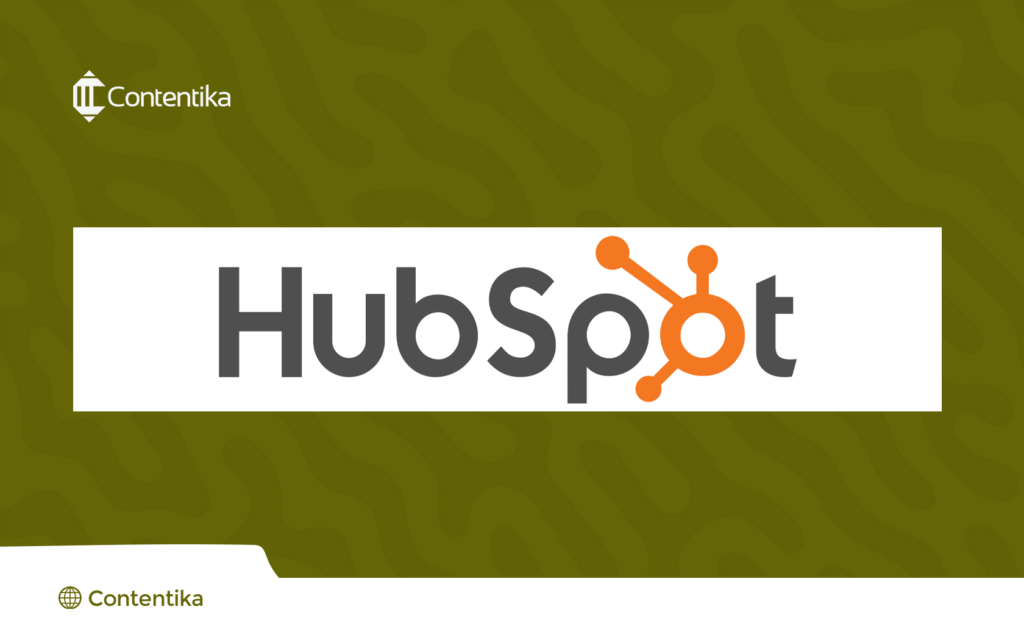 HubSpot is an all-in-one inbound marketing platform with features like blogging, social media, search engine optimization (SEO), lead capture forms, and calls-to-action.
HubSpot has over 15,000 users across 120 countries and offers a free trial. With HubSpot, you can track your results and better understand what's working and what's not.
WordPress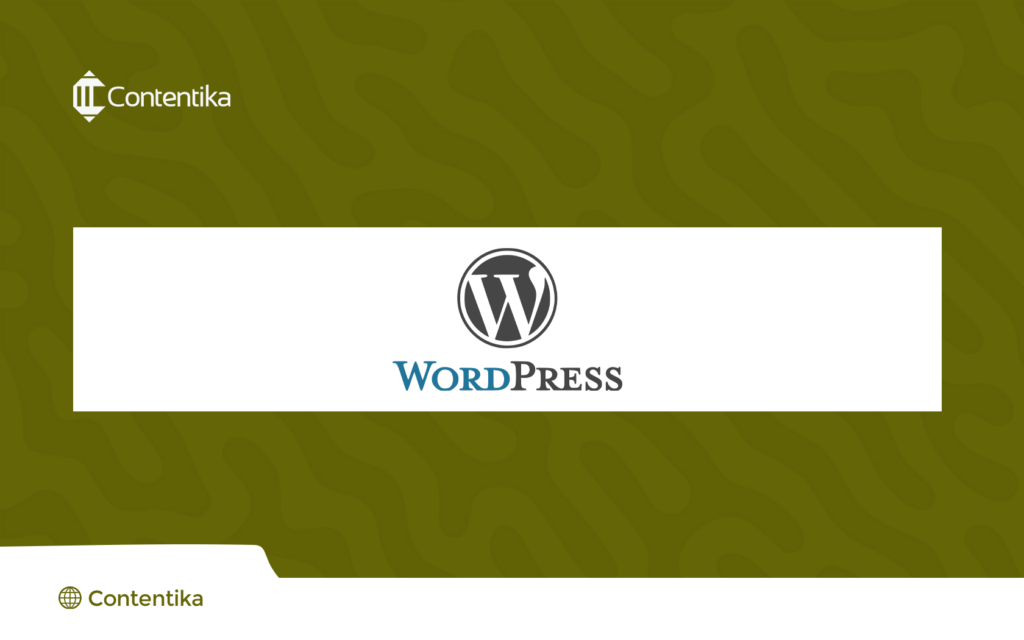 WordPress is a popular content management system that helps you easily create and manage your website and blog content. WordPress is important because it has a lot of features and add-ons that help with inbound marketing. These include SEO, social media, and lead capture from plugins.
MailChimp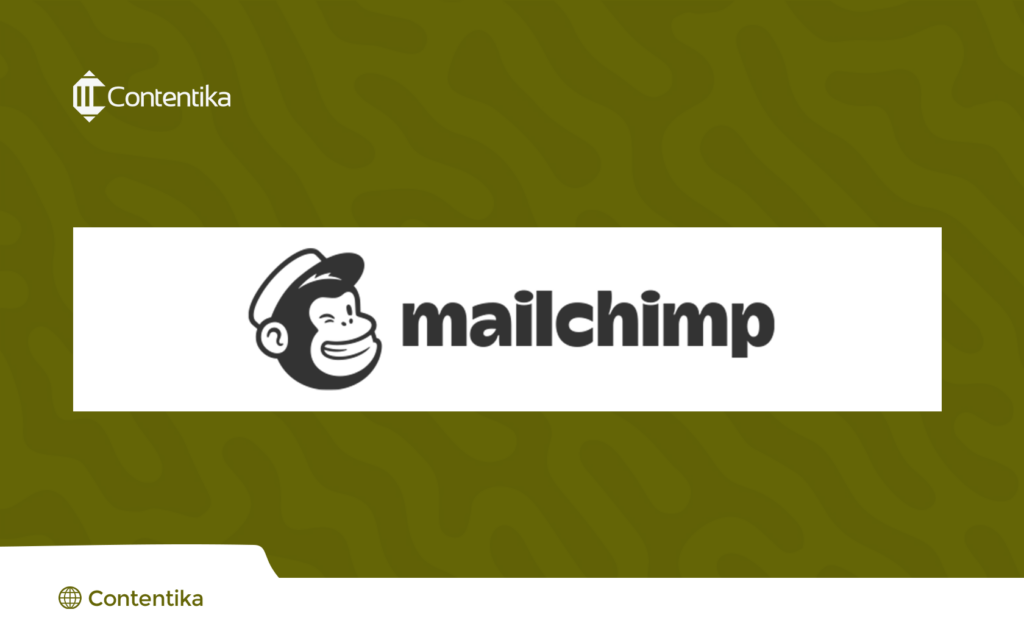 MailChimp is an email marketing service that helps you easily create and send newsletters, email campaigns, and other automated emails. This is a great tool for staying in touch with your leads and customers.
Buffer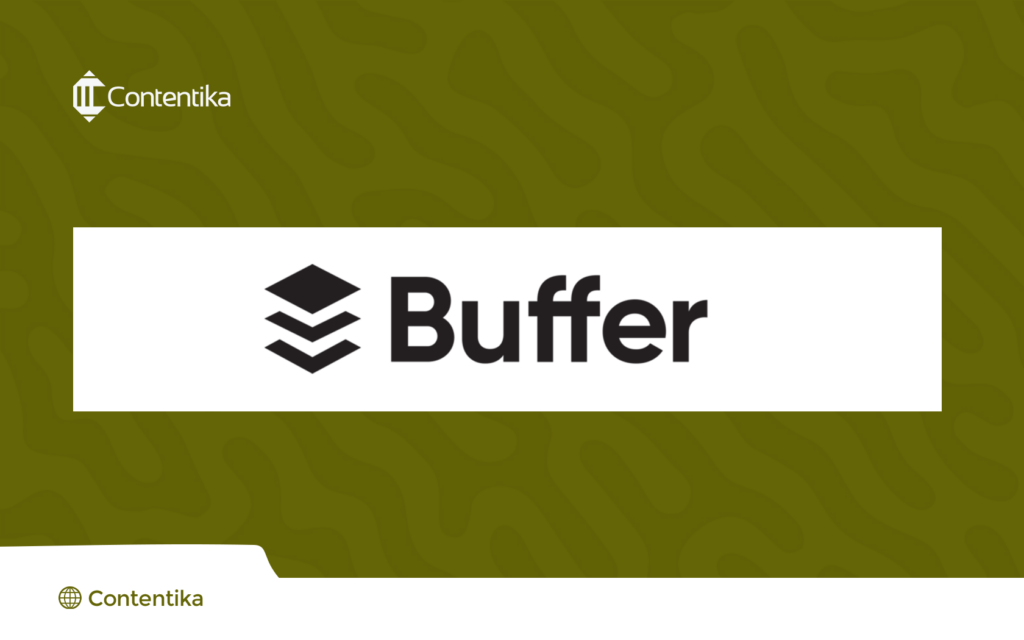 Buffer is a platform that helps you schedule posts public social media updates, and measures your analytics. With Buffer, you can connect your social media accounts and schedule posts in advance.
This way, you can ensure that your content is published even when you are not online.
It also has a handy feature that allows you to see how your social media posts perform over time to adjust your strategy accordingly.
Alternatively, you can use a tool like Hootsuite Insights or BuzzSumo to track social media mentions, analyze your competition, and more.
Google Analytics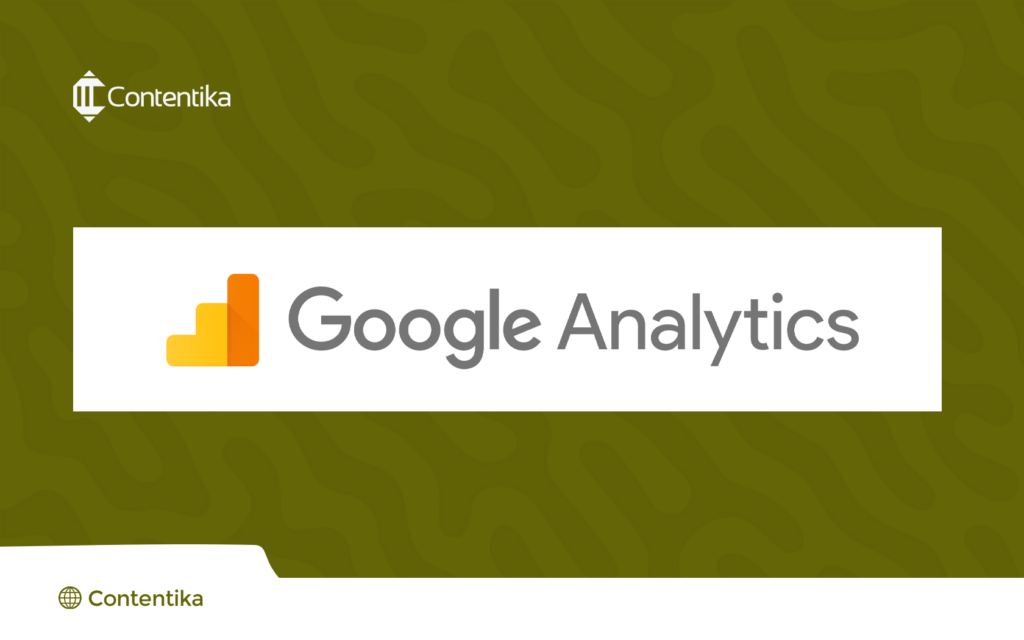 Google Analytics is a free tool that allows you to track your website traffic and see how visitors find your site or where they are coming from. With Google Analytics, you can also see which pages are most popular, what visitors do on your site, and where they're coming from.
Getting Started With Your Inbound Marketing Strategy
If you're interested in getting started with inbound marketing, there are a few things you can do to get started:
Define Your Buyer Personas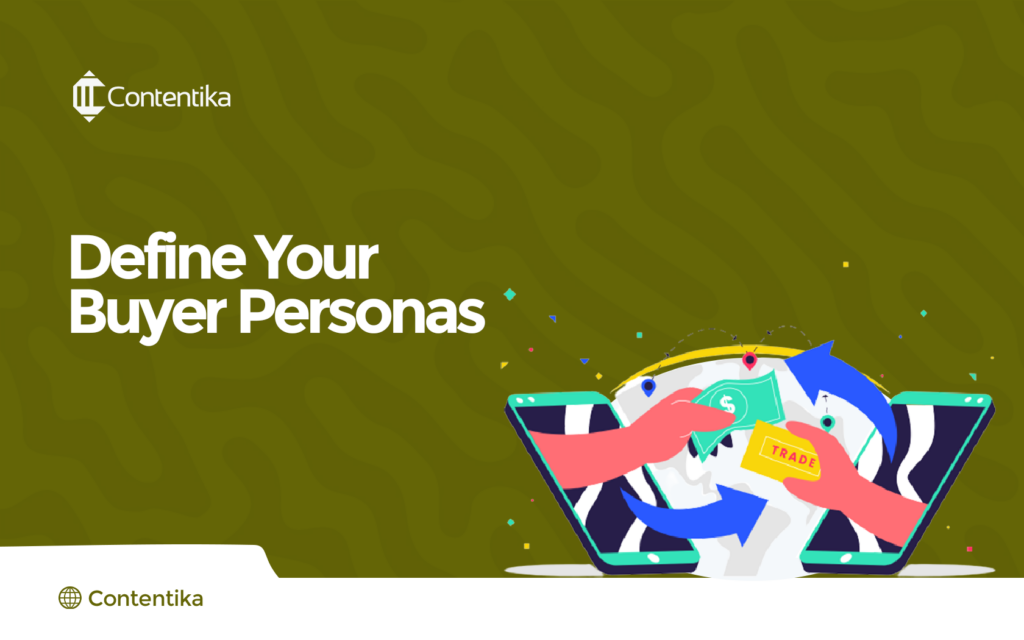 A buyer persona is a semi-fictional character that represents your ideal customer. When creating your buyer persona, include information like their demographics, interests, pain points, and goals.
You must clearly understand your target audience and what they're looking for.
Once you know this, you can begin creating valuable content that will attract them to your business. This will help you figure out your ideal customer and make the content they will like.
Set Your Goals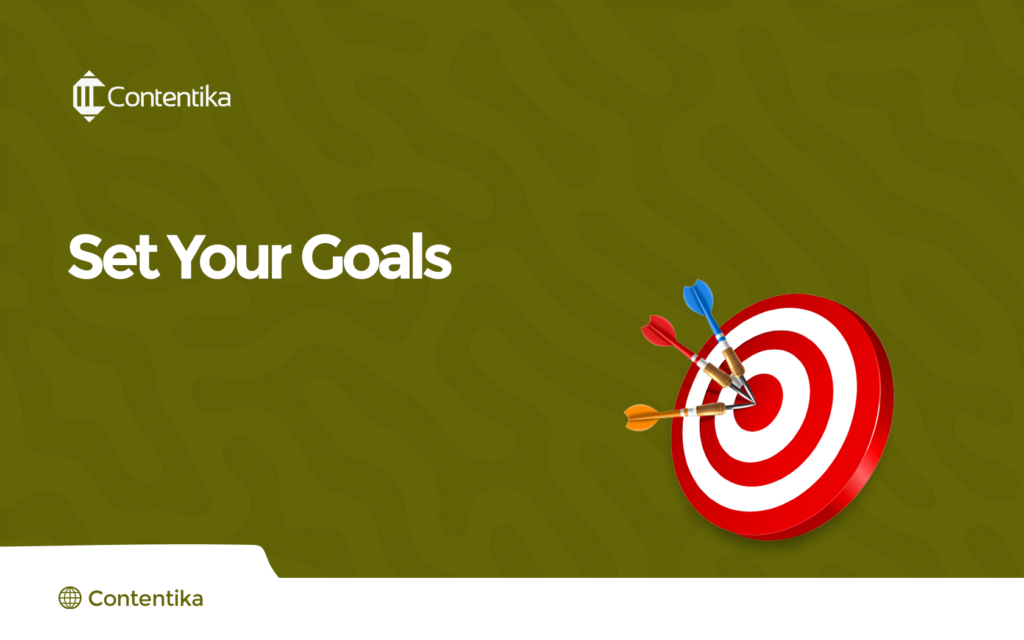 Once you know who you're targeting, you need to set goals for your inbound marketing strategy. These goals will help you measure your success and determine whether or not your efforts are paying off.
What are you hoping to achieve? Do you want to generate more leads? Drive more traffic to your website? Increase sales?
Once you know your goals, you can start developing a plan for achieving them.
Have Realistic Expectations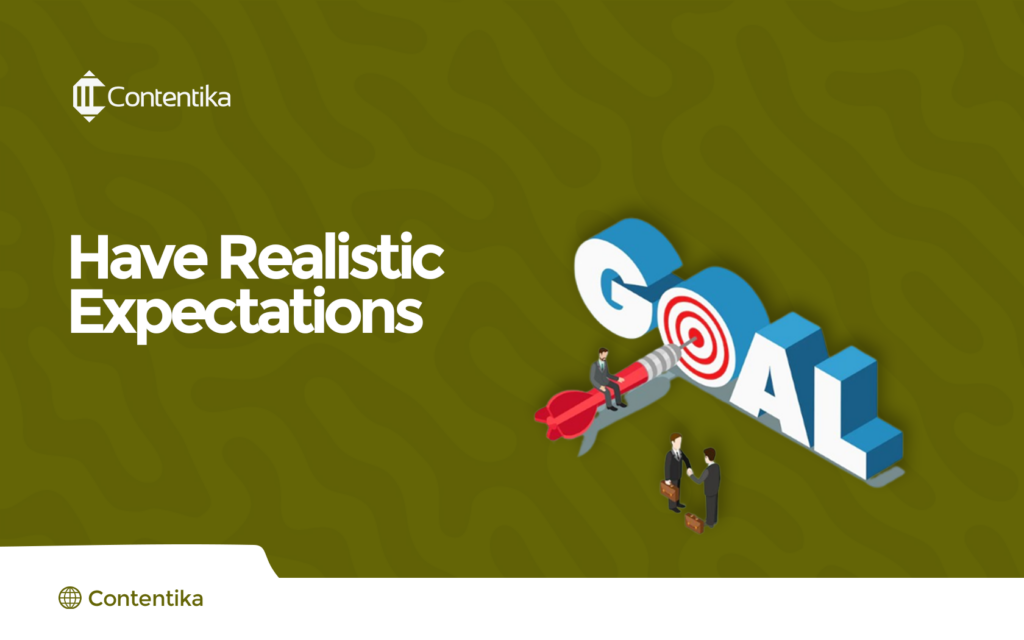 It's also important to have realistic expectations for your inbound marketing campaign.
While it can be a great way to generate leads and sales, it's not a magic bullet that will solve all your marketing problems. It takes time, effort, and patience to see results.
So, don't expect overnight success. Instead, focus on gradually building your audience and improving your content over time.
Create a Content Strategy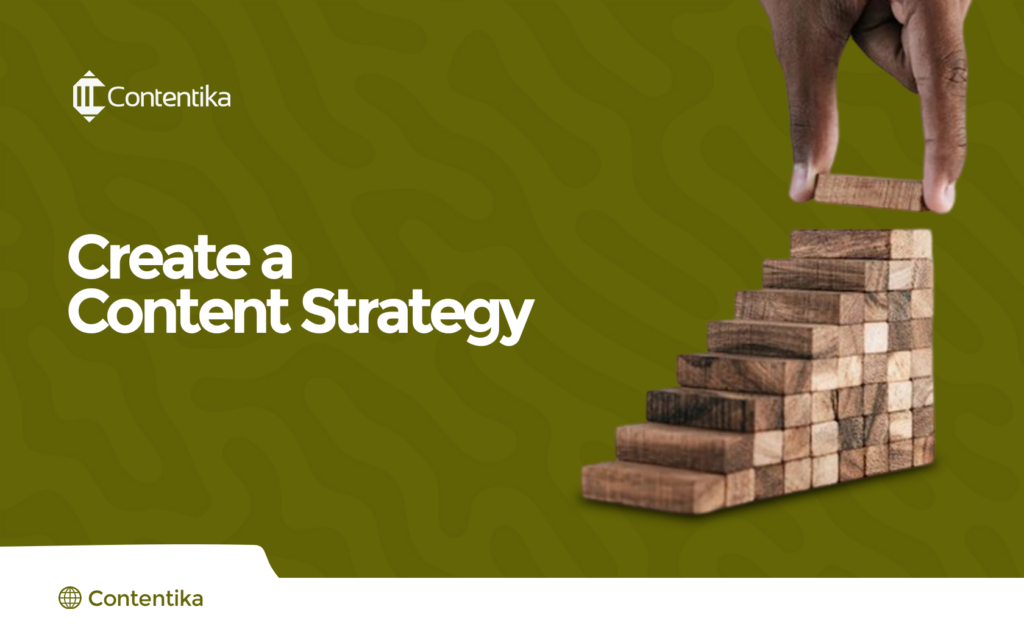 The content strategy involves planning the types of content you'll make when you publish it and where you'll promote it. It is one of the essential elements of inbound marketing.
Whenever you intend to create any content, keep the following in mind:
The buyer persona
What kind of content will they be interested in?
What will help them achieve their goals?
This will help ensure that your content is aligned with your business goals and that you're creating content that your target audience will find valuable.
Once you know your target customer, you must create content that resonates with them.
Publish Regular Blog Content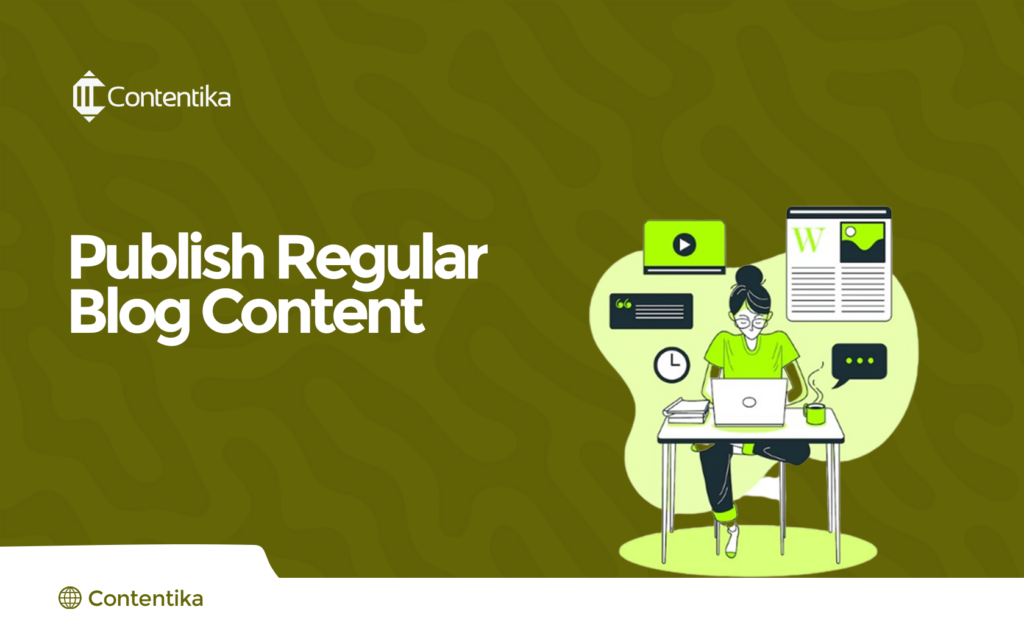 One of the best ways to get more people to visit your website is to update your blog regularly. Creating informative or entertaining blog posts can give potential customers a reason to visit your site.
Also, if you put calls to action (CTAs) in your blog posts, you can get people to do things like sign up for your email list or check out your product pages.
Choose Your Channels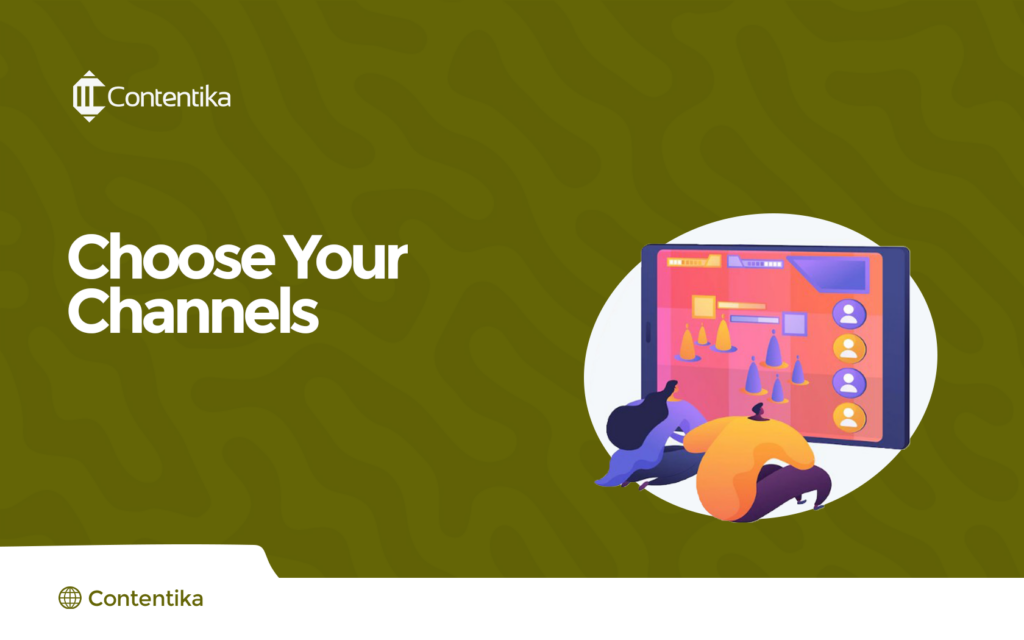 There are a variety of different channels that you can use for your inbound marketing efforts, such as social media, email marketing, and content marketing.
You'll need to choose which channels will work best to reach your target audience and achieve your goals.
Set Aside a Budget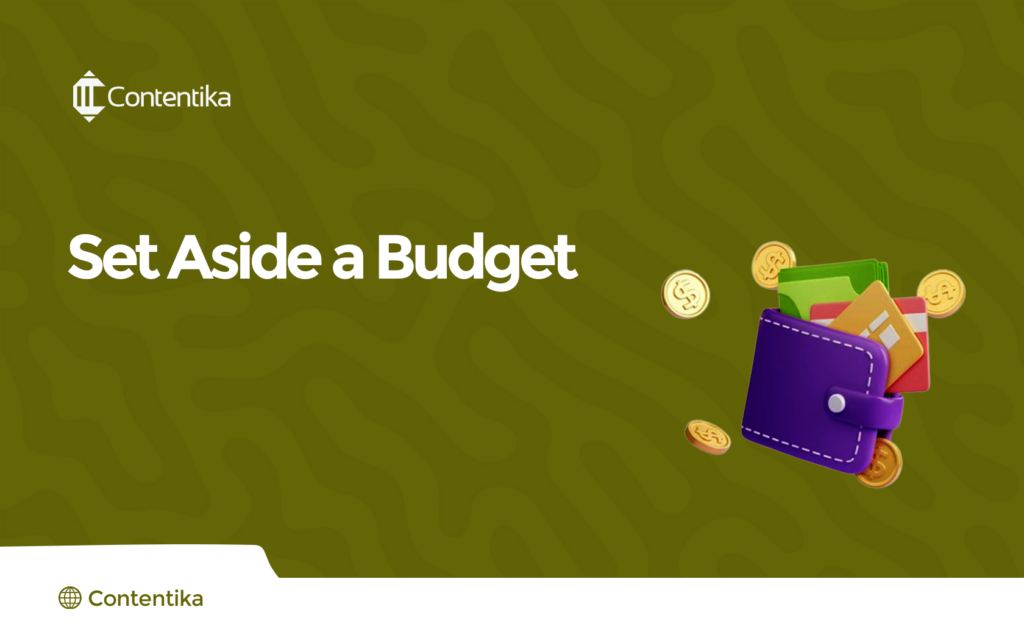 Like any other marketing campaign, you'll need to set aside a budget for your inbound marketing efforts.
How much you spend will depend on a number of factors, including the size of your business and the scope of your campaign. As a general rule of thumb, you should expect to spend at least 10% of your overall marketing budget on inbound marketing.
You'll also need to factor in the cost of any paid tools or services you might need, such as a customer relationship management (CRM) system or an email marketing platform.
Promote Your Content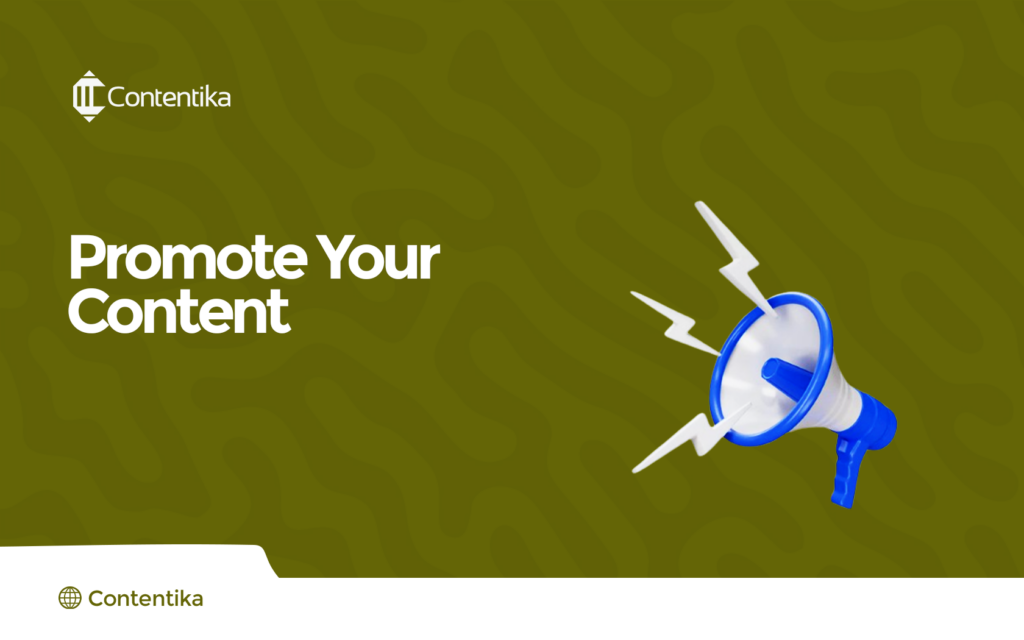 Once you've created your blog posts and resources, it's important to promote them through various channels so that they can reach your target audience. This can be done through social media, email marketing, paid advertising, and other online channels.
Promoting your content through multiple channels will make you more likely to reach a larger audience and your inbound marketing goals.
You'll also need to ensure that your website is optimized for search engines so potential customers can easily find you when they're searching online.
Keep Testing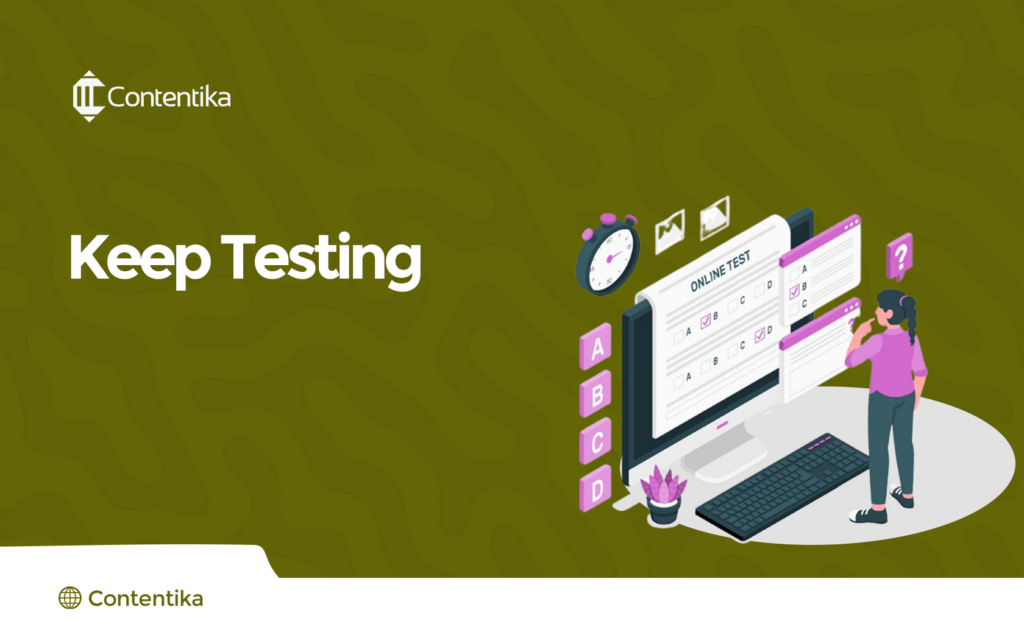 Inbound marketing is constantly evolving, so what works today might not work tomorrow. That's why it's critical always to test new tactics and strategies to see what produces the best results.
You can ensure that your inbound marketing efforts are always successful by testing and changing your approach.
So don't be afraid to experiment with different tactics and see what works best for your business.
Measure Your Results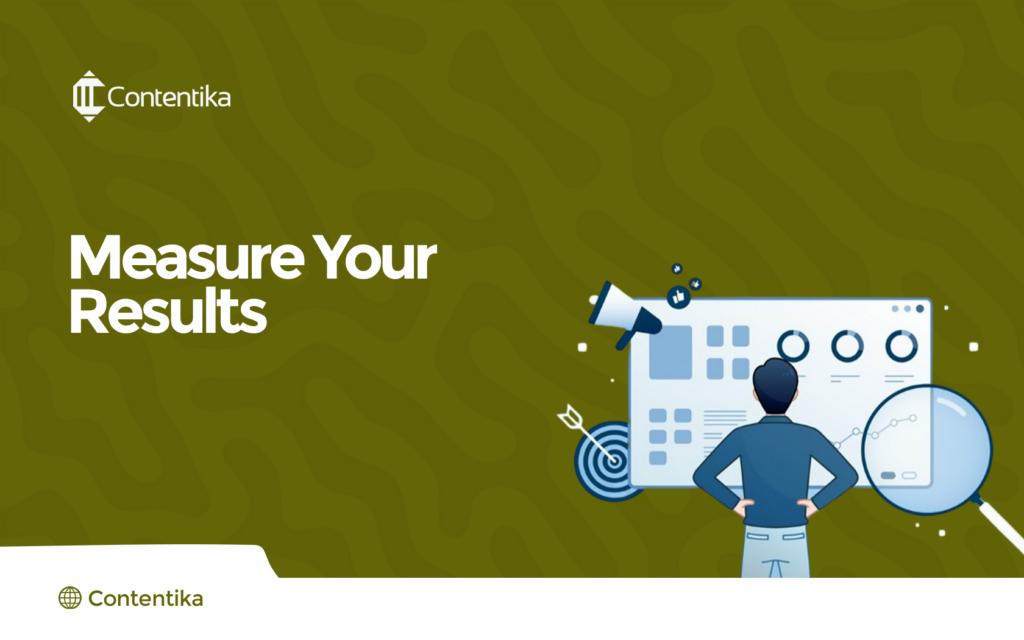 Inbound marketing is a data-driven process. This means you need to measure your results constantly to adjust your strategy.
Also, measuring your results is vital to see what's working and what's not.
You can track several different metrics, but some of the most important ones include website traffic, leads, and conversions.
By tracking these metrics, you'll see which parts of your inbound marketing campaign are working and which need improvement.
This is an integral part of the process because it lets you keep improving your campaign and ensure it works as well as possible.
Tools like Google Analytics and other marketing platforms help track your progress and make necessary changes.
If the thought of creating and running an inbound marketing campaign makes you feel overwhelmed, you might want to work with an agency. An agency can handle every part of your inbound marketing campaign, from making content to generating leads to ensuring your conversions are as good as they can be.
Trends in Inbound Marketing
In recent times, there have been significant shifts in the landscape of inbound marketing.
And it is crucial if you want to be successful in your inbound marketing efforts to stay on top of the latest trends.
Here are some of the most important trends that you should be aware of:
1. The Rise of Artificial Intelligence: Artificial intelligence is starting to play a role in marketing, with things like chatbots and personalized recommendations.
How does this help you?
Artificial intelligence can help you to automate some of the tasks associated with inbound marketing, such as lead nurturing and customer segmentation.
If you don't adapt, as occasion demands, you may likely fall behind your competitors.
2. The Growth of Visual Content: With the rise of platforms like Instagram and Snapchat, visual content is more important than ever. And it's not just about photos and videos either; infographics, live-streaming, and even virtual reality are all becoming essential parts of inbound marketing.
How does this help you?
Make sure you're creating visual content that is relevant to your target audience, and that can be distributed across multiple channels.
3. The Rise of Mobile: More and more people are using their smartphones and tablets to access the internet.
And as a result, mobile-friendly content and responsive design are becoming increasingly important.
How does this help you?
If you want your inbound marketing campaigns to be successful, you must ensure that your website and all your content are optimized for mobile devices.
One fire-proof way to achieve this is by using responsive web design – meaning that your website will automatically adjust to the screen size of the device it is being viewed on.
4. The Popularity of Content Personalization: Thanks to data collected from cookies and other tracking methods, businesses can now personalize the content their target audiences see.
This is often done using automated software such as marketing automation platforms such as HubSpot.
How does this help you?
By personalizing your content, you can make sure that your target audience always sees the most relevant and exciting content.
This will help to improve your conversion rates.
4. The Growth of Account-Based Marketing: Account-based marketing is a targeted approach to marketing that focuses on specific accounts rather than individual leads.
This is often done by sales and marketing teams working together to create a customized strategy for each account.
How does this help you?
To be more successful with your inbound marketing campaigns, ensure you're targeting specific accounts rather than just general leads.
This will help you to create more customized content and strategies that are more likely to convert.
5. The Importance of Data-Driven Marketing: Data-driven marketing is all about using data to decide your marketing strategy. This includes things like A/B testing, customer segmentation, and target market analysis.
How does this help you?
Data-driven marketing can help you to fine-tune your inbound marketing campaigns so that they are more effective.
6. The Rise of Omnichannel Marketing: Omnichannel marketing is an approach to marketing that uses multiple channels to reach target audiences. This could include email, social media, paid advertising, and direct mail.
How does this help you?
If you want to reach your target audience on multiple channels, you need to use an omnichannel approach.
It will help you to reach more people and to create a more cohesive marketing strategy.
7. The Importance of Customer Experience: Customer experience is becoming increasingly important as a way to differentiate businesses from their competitors. This involves providing a seamless customer journey, being responsive to customer needs, and creating a brand that customers can trust.
How does this help you?
It will help you to create a brand that customers can trust and provide a seamless customer journey. As a result, improves your conversion rates.
Bottomline
Inbound marketing is a powerful tool you can exploit in your business to reach its target market, convert them into customers or subscribers, and continue building relationships.
Staying up-to-date with the latest trends and using them in your strategy can help you stay ahead of the competition and be successful in your marketing efforts. Since you cannot leave everything to chance, it is important to always have data-driven decision-making as the foundation of your inbound marketing campaigns.
And lastly, don't forget the importance of providing a great customer experience – it could be what sets you apart from others in your industry.
FAQs on Inbound Marketing
What is Inbound Marketing?
Inbound marketing is a marketing strategy that focuses on driving traffic and generating leads through the use of content, SEO, and other digital marketing tactics.
How Can Inbound Marketing Help my Business?
Inbound marketing can help your business by driving traffic to your website and generating leads.
What Are The Best Inbound Marketing Tools?
Some of the best inbound marketing tools include SEO, social media management, and content creation tools.
How Much Does Inbound Marketing Cost?
The cost of inbound marketing can vary depending on your budget and the scope of your campaign. However, it is generally more cost effective than traditional marketing methods.
How Long Does it Take for Inbound Marketing to Work?
The results of an inbound marketing campaign can vary, but it typically takes a few months to see results.
Is Inbound Marketing Right for my Business?
Inbound marketing can be beneficial for any type of business. However, it is particularly well-suited for businesses that sell products or services online.
What Are The Most Important Inbound Marketing Metrics?
The essential inbound marketing metrics include website traffic, generated leads, and conversion rate.
How Can I Measure my Inbound Marketing Results?
There are a number of ways to measure the results of your inbound marketing campaign, including website traffic, leads generated, and conversion rate.
What is the Future of Inbound Marketing?
The future of inbound marketing is data-driven. Data will continue to play a significant role in inbound marketing, helping you better understand your target audience and create more personalized content.