Writing engaging content that resonates with readers and helps search engines discover your website is fine art. But by following this must-have checklist, you can craft impressive blog posts every time.
From identifying your target audience to optimizing for SEO purposes, this guide walks you through all aspects of creating perfect blog posts.
By giving yourself adequate preparation and taking each step seriously, you'll be able to create content that stands out from others in the industry and keeps people coming back for more. Let's get started!
Why is Creating a Blog Post Checklist Important?
Creating a blog post checklist is important because it helps ensure your blog post is as successful as possible. By including all the necessary elements in your post, you increase your chances of ranking well in search engines and engaging your readers.
Benefits Of Having A Blog Post Checklist For Your Blog
There are many benefits of using a blog post checklist, including:
A blog post checklist allows you to be more organized when creating blog content. This way, you can save time by not having to search for things you need while working on a blog post.
In addition to helping writers create perfect blog posts every time, a properly structured checklist can also help improve the overall quality of your output as well as save time by avoiding unnecessary revisions or rewrites.
A blog post checklist ensures that you do not forget any important steps in the blogging process.
It provides everything you need to blog efficiently and publish a blog post successfully.
A blog post checklist ensures that your post is error-free and complete before hitting publish.
When used properly, a good blog post checklist can greatly improve your blog writing skills and help you create compelling content that resonates with readers.
Tips For Using a Blog Post Checklist
Here are some tips for using a blog post checklist for maximum efficiency.
Create your blog post checklist in an easily accessible format such as a Google Doc or an Excel sheet.
Make sure that all the items on your checklist are relevant to the type of content you're producing. For example, if you're writing a how-to article, consider including steps or instructions that apply specifically to this type of content.
Use different colors or symbols to denote what elements need attention or which have already been completed. This helps give a more visual context to your tasks.
Finally, don't forget to review and update your blog post checklist regularly as trends and best practices can change over time.
With these tips in mind, you'll be well on your way to creating perfect blog posts every time.
Checklist For A Successful Blog Post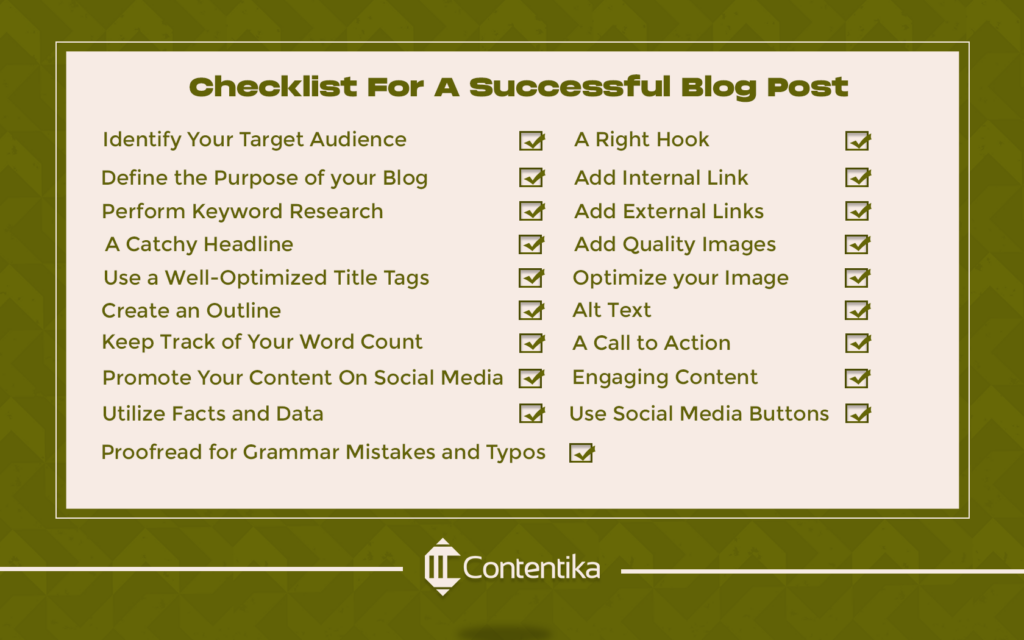 A few key things should be included in every blog post checklist. These items are essential to creating a successful blog post that will engage your readers and help you achieve your blogging goals.
Below, we'll discuss each of these items in detail so you can be sure to include them in your next blog post!
1. Identify Your Target Audience
Before you start writing your blog post, you need to identify your target audience. Who are you writing this post for? Your target audience will determine your article's tone, style, and overall approach. For example, if you're writing for a business audience, you'll want to use a more formal tone than if you're writing for a general audience.
Keep your target reader in mind throughout the writing process – from coming up with ideas to crafting headlines and calls to action. Doing so helps you produce a blog post that resonates well with them.
2. Define the Purpose of your Blog
Take a moment to define the purpose of your blog post. What do you want to achieve with this piece of writing? Are you looking to inform or entertain your audience? Whether you're trying to drive more traffic to your website or increase brand awareness, make sure you know your goal before you start writing.
Once you know what you hope to accomplish, you can gather the necessary materials. For instance, if you're writing an informative post, you'll need to research and find reliable sources of information. If you're writing a more personal post, on the other hand, you may want to collect some photos or stories that will help illustrate your point.
3. Perform Keyword Research
Keyword research is finding the right keywords to target for your specific topic. Several keyword research tools are available, but some of the most popular include Ahrefs, UberSuggest, SEMRush, Moz, Google Keyword Planner and Wordtracker.
You first need to identify your primary keywords. This is the main keyword you want to target for your blog post. Once you have your primary keyword, you can use keyword research tools to find related keywords you can also target. These related keywords are called target keywords.
Target keywords are important because they help you expand your blog post's reach and improve your chances of ranking in search engines. When performing keyword research, always keep your audience in mind.
Choose keywords relevant to your topic that your audience is likely to search for. If you're unsure which keywords to choose, ask yourself what questions your audience will likely have about your topic. By answering these questions, you'll be able to identify the best target keywords.
4. A Catchy Headline
This is what will first capture the reader's attention and encourage them to click through to read your blog post. Spend some time brainstorming blog post ideas that are both catchy and relevant to the topic.
Your headline should be relevant to the content of your blog post. It should accurately reflect what the reader can expect to find if they click through to read your post. Your headline should also include your primary keyword or phrase. This will help your blog post rank higher on search engine results pages.
Keep in mind that your headline should be both attention-grabbing and relevant to the topic of your blog post. It's also important to make sure your headline is SEO-friendly.
5. Use a Well-Optimized Title Tags
Your title tag is what appears in the search engine results pages (SERPs), and it should be well-optimized to ensure that your blog post stands out.
Your title tag should be no more than 60 characters long and accurately reflect your blog post's content. Make sure to include your targeted keyword in your title, as this will help your post rank higher in the SERPs.
When crafting title tags, there are a few things to remember. First, ensure that the title tag accurately reflects the content of your blog post. A title that is misleading or irrelevant will only serve to frustrate readers.
Second, keep it short and sweet. A title that is too long or complex will be truncated in the SERP, so ensure that your most important keywords are front and center. Finally, don't forget to include your brand name or blog name. This will help readers identify your blog quickly and easily.
6. Create an Outline
Creating an outline before you start writing can be a helpful way to organize your thoughts and ensure that your blog post is on track.
Start by brainstorming a few key points you want to make in your post, and then create sub-points for each. You can start fleshing out your ideas and turning them into full-fledged paragraphs.
If you get stuck at any point, refer back to your outline to ensure you are staying on track. An outline will also help you ensure that your blog post is well-organized and easy to follow.
7. A Right Hook
Your introduction is your opportunity to make a good first impression. It should be attention-grabbing and compel the reader to want to read more. To do this, you can use several techniques, such as telling a story, using strong language, or making bold statements.
The most important thing to remember is that your introduction should accurately reflect the content of your blog post. In other words, don't make false promises – if your blog post doesn't deliver on what your introduction promises, you'll lose readers.
8. Engaging Content
Once you have hooked the reader with your captivating introduction, it's important to keep them engaged with interesting and informative content.
Write clearly and concisely, using simple language that all readers can easily understand. Break up large chunks of text with headings and subheadings to make it more visually appealing, and don't forget to proofread your blog post before publishing it to catch any spelling or grammar errors.
Bullet points are key. People love lists, and bullet points make information easy to digest. Long-form content is also important. So aim for 1,000 words or more when writing blog posts.
9. Utilize Facts and Data
To make your blog post more credible, be sure to support the body of your post with facts and data. Citing statistics and studies will help add weight to your argument and make your blog post more convincing.
Include a link to the original source when you include data in your blog post. This will not only help readers verify your claims, but it will also help improve your search engine rankings.
10. Keep Track of Your Word Count
When writing a blog post, it's important to keep track of your word count. Not only does this help ensure that your blog posts are well-written and engaging, but it also helps to improve your search engine rankings.
Google tends to rank longer articles higher because the more words you have in your post, the more likely it is that Google understands what the text is about. So what's the best way to keep track of your word count? First, ensure that you have a word processing program that can easily count the number of words in your document.
Alternatively, several online word count tools can be very helpful. Once you have a word count tool, use it every time you write a new blog post. This will help you ensure that each post contains the right content.
11. FormatYour Post Using Subheadings
When formatting your post, be sure to use a proper tag hierarchy. This means using H tags (HTML tags used to designate headings and subheadings) to format your content.
Format your post using H2 and H3 tags for subheadings. Not only will this help break up your content for readers, but it will also help boost your search engine rankings for SEO purposes.
Using proper tag hierarchy helps improve the readability of your post and makes it easier for search engines to understand your content.
12. Add Internal Link
Internal links are links that point to other posts on your website. Internal linking your blog post helps improve the user experience for readers by providing them with additional resources related to the topic they are reading about.
Internal linking also helps boost your search engine rankings by helping Google understand the relationship between different pages on your site. When adding internal links to your blog post, use keyword-rich anchor text. This is the text through which you can access the link. Using keyword-rich anchor text can help improve your search engine rankings for those keywords.
13. Add External Links
Adding external links is one way to make your blog post more successful. This will help increase your post's credibility and give readers more resources to check out. When adding external links, be sure to add those from high-quality websites relevant to your topic.
It also helps build relationships with other website owners, which can lead to valuable backlinks. Just be sure to add links sparingly and only when they truly add value for readers. Otherwise, your blog post will come across as spammy.
So how do you know if you include enough external links? A good rule of thumb is to include at least one external link for every 500 words in your post.
So, if you're writing a 3000-word post, aim to include at least six external links. With that said, don't go overboard – too many links will only serve to distract and frustrate your readers. When it comes to external linking, quality trumps quantity every time.
14. Add Quality Images
High-quality images are also important elements for publishing a successful blog post. Your featured image is especially important, as it's often the first thing people will see when they come across your post in the search results.
Make sure your featured image is high resolution and relevant to the topic of your post. In addition, be sure to use an image compression plugin to optimize your images for the web.
This will help to ensure that your pages load quickly, even if they're heavy on imagery. By adding high-quality images to your blog posts, you can give yourself a big advantage in the search results and the overall engagement of your audience.
15. Optimize your Image
As a blogger, you know that search engine optimization (SEO) is important to rank high in search results and drive traffic to your blog. However, optimizing your images for search engines is often overlooked.
Search engines can't read images, so they rely on these descriptions to know what your images are about. By simply including keywords in your image file names and alt text, you can make your blog post easier to find for both search engines and potential readers.
For example, if you are writing a blog post about healthy recipes, you might name your image files something like "healthy-recipe-1.jpg" or "healthy-recipe-2.jpg."
16. Alt Text
Whenever you upload an image to your blog, include optimized alt text. Alt text is the text that appears when an image doesn't load properly. It's also what Google uses to index images for search purposes.
Including keyword-rich alt text on your images helps improve your search engine rankings and gives you another opportunity to include your target keywords on your page.
When writing your alt text, keep it short and descriptive. A good rule of thumb is to keep it under 125 characters. Ensure your alt text is relevant to your post's image and topic.
17. Add a Good Meta Description
A meta description is a short summary of a blog post or article. It should be interesting, reflective of the post's content, and persuasive enough to make readers want to click through to read the full article.
The meta description is also an important component of SEO, as it gives search engines a good idea of what the blog post is about and helps to ensure that your post appears in relevant search results.
When writing meta descriptions, include your target keyword (or keywords) and make sure that it flows well and is free of grammatical errors. A well-written meta description can be the difference between a successful blog post and one that falls flat, so it's worth taking the time to get it right.
18. A Call to Action
End your blog post with a strong call to action, such as inviting readers to leave a comment, share your article on social media, or sign up for your newsletter. By including a call to action, you can encourage reader engagement and boost traffic to your website.
19. Promote Your Content On Social Media
You need to have a social media strategy in place. This means knowing which social media channels you'll use to promote your blog post and what kind of content you'll share on each one. For example, if you're sharing an Instagram post, write a compelling description that will entice people to click.
20. Use Social Media Buttons
If you want people to share your blog post, you need to make it easy for them to do so. The best way to do this is by adding social media buttons to your post.
Several WordPress plugins allow you to easily add social media buttons to your blog posts. These plugins usually allow you to choose which social media buttons to display and where to place them on your post.
Be sure to place the buttons in a prominent location near the top or bottom of your post. You want people to be able to share your content without having to search for the social media buttons.
In addition, be sure to include alt text that describes the image and includes your primary keyword.
21. Proofread for Grammar Mistakes and Typos
No matter how well you write, everyone is susceptible to mistakes. That's why it's important to proofread your blog post before you hit publish.
Reading your post aloud is a great way to catch errors you might not have noticed otherwise. You can also use a spell checker tool, such as Grammarly, to help identify and correct errors in your writing.
Take the time to proofread your post before you publish it. By doing so, you can be confident that your readers will see your best work.
Conclusion
A blog post checklist is essential for any blogger who wants to publish a successful blog post. By ensuring that you have included all the necessary elements in your posts, you can be sure that your content is effective and professional.
Additionally, by using tools like Google Analytics and Google Search Console, you can track your blog's performance and make changes to improve it. So what are you waiting for? Get started today and make your blog the best it can be!